Shoosmiths supports rising stars of women's football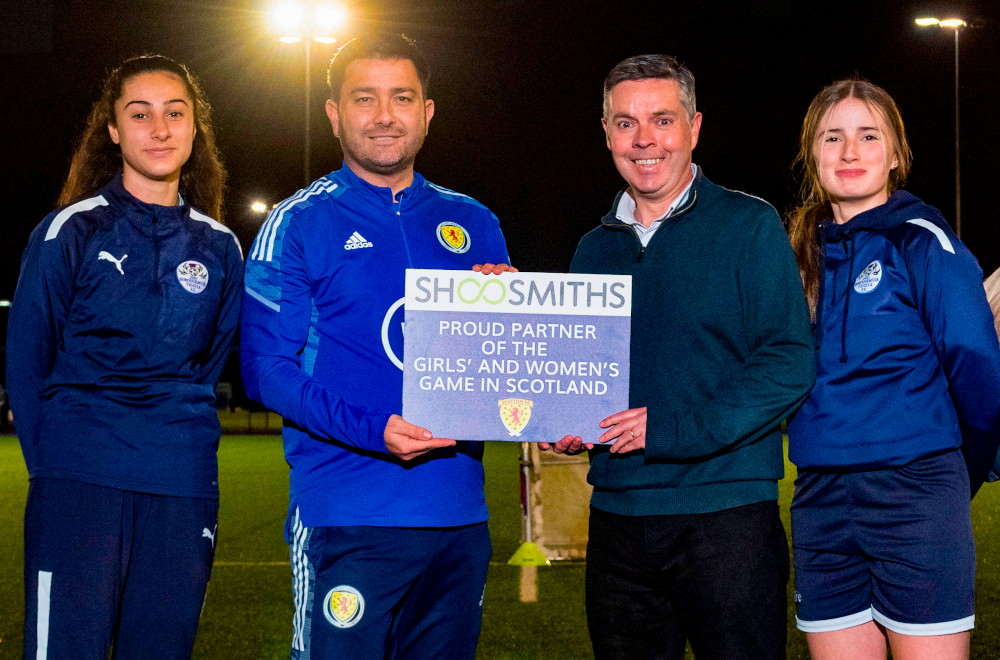 Pedro Martinez Losa, head coach of the Scotland Women's National Football Team, was recently in Edinburgh to deliver a coaching session for talented U-18 players of Boroughmuir Thistle who are part of the National Academy Programme (NAP). He told the young players "to aim high and have the confidence and attitude to always show your best".
During his visit to the Peffermill Playing Fields in the south of Edinburgh, Mr Losa also participated in a Q&A session with the promising youths. The evening was organised by the Scottish FA in conjunction with leading law firm Shoosmiths that has offices in Glasgow and Edinburgh and is in the fourth year of a successful partnership to help support the further growth of the women's game in Scotland.
Mr Losa said: "I was delighted to attend the training session with Boroughmuir Thistle. The standard of training and attitude of the team was exemplary and it was a real pleasure to be part of it."
Referring to role models like former Scotland player and now coach, Leanne Ross: "It's about creating the opportunities to give more girls the self-belief and (inner) fight to be the best you can be."
"There is a lot of work you can do (as a coach) with personalities – for the player it's about how much you want to be part of the culture and how much you are willing to put on the table (to succeed)."
Robin Mitchell, real estate partner at Shoosmiths in Edinburgh, added: "It has been fantastic to welcome Pedro to a training session of the U-18 Boroughmuir Thistle NAP squad and for the girls to hear his thoughts on what it takes to progress and perform at the highest level of the game. As a law firm, Shoosmiths greatly values teamwork, leadership and talent development - all attributes that can be encouraged through participation in women's football.
"We are very proud to be working in partnership with the Scottish FA to help encourage more females to train as coaches and referees. It will further strengthen the grassroots structure of the sport and ensure more young women - like the squads at Boroughmuir Thistle - can enjoy being active and play football throughout Scotland."
In 2019, Shoosmiths signed a four-year deal with the Scottish FA focused on supporting the training of at least 20 new referees and 200 new coaches in women's youth and senior football by 2023.