David J Black: Edinburgh Book Festival – doing the legals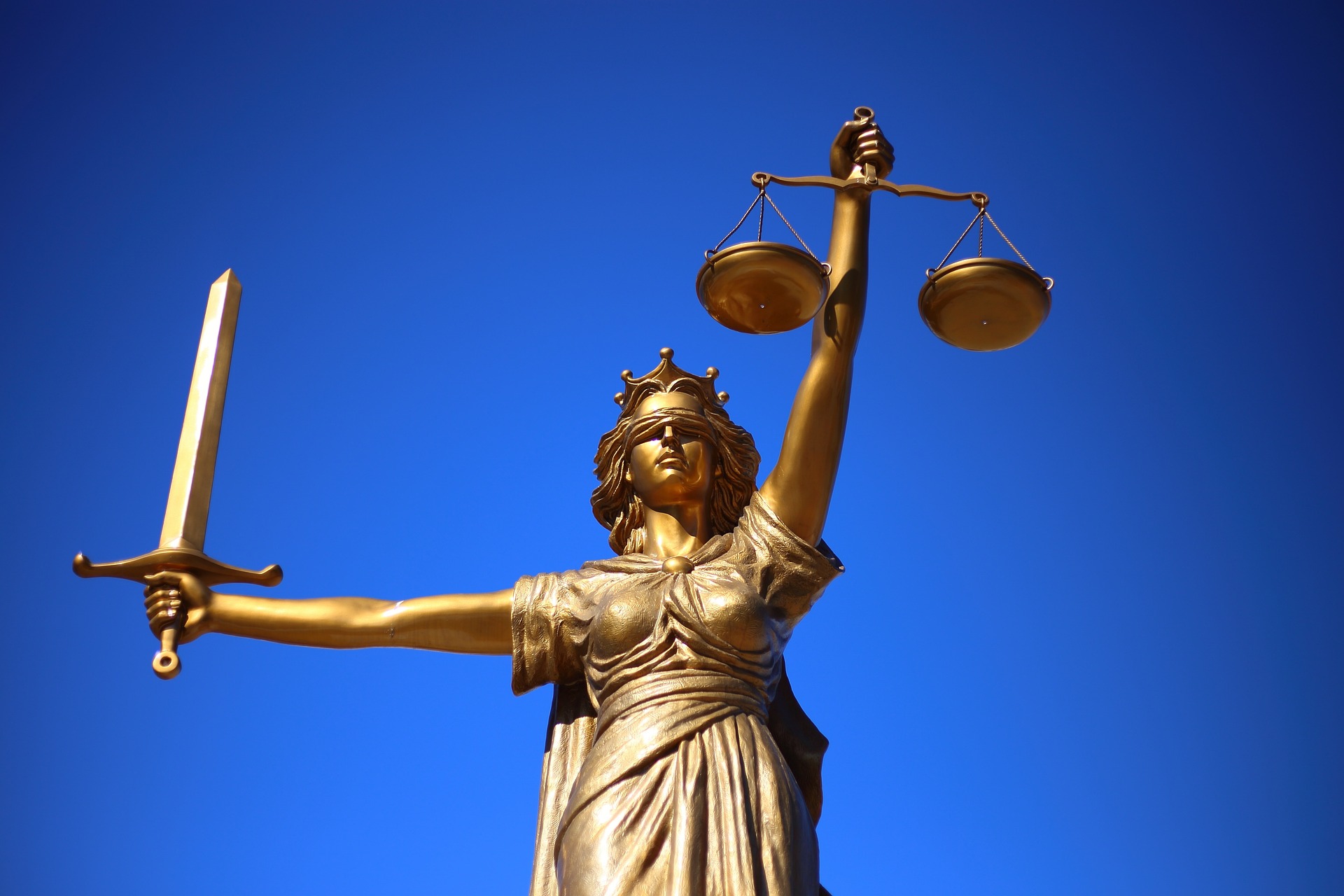 The Last Colony by Philippe Sands
Control: The Dark History and Troubling Present of Eugenics by Adam Rutherford
Overruled: Confronting Our Vanishing Democracy in 8 Cases by Sam Fowles.
Justice need not be static. In Scotland the lady, sans her blindfold, but with a vestige of the tell-tale scales in her left hand, once stood proudly over the doorway of Scotland's 1639 Parliament with her companion Mercy until that building was 'improved' (i.e. largely demolished) to accommodate Robert Reid's austere 1808 neoclassical overhaul for the Court of Session and its appurtenances.
Much of the doorway was carted away by Lord Advocate Robert Dundas to ornament his estate with a few chuckies going to Walter Scott, while the effigies of Justice and Mercy went off to languish for a few years in a Drummond Place back garden. The careworn ladies were later removed to a corridor by Parliament Hall before coming to rest in the Museum of Scotland, and judicial obscurity, after your scrivener tried, and failed, to persuade the museum authorities that the entire Parliament House doorway should adorn the opening between the old Chambers Street museum and the new Museum of Scotland. This almost happened, but the idea was stamped on for fear it might offend a Conservative Secretary of State, or over-excite nationalist elements. Welcome to Scotland, the land of lost opportunity!
The sculptor of this judicial brace, Alexander Mylne, was one of a family of architects and stonemasons which seemed to have a penchant for public statuary in their DNA – a later kinsman, William Milne Calder, was responsible for the giant statue of William Penn on America's highest stone structure, Philadelphia City Hall – but that's a story for another day.
The point of this wayward preamble is that it leads us to an interesting legal theme about Justice and Mercy which emerged from the recent Edinburgh Book Festival, for those who cared to look. It must be said by way of distraction that there was much visitor-grumbling about the loss of the Charlotte Square venue (couldn't they just have moved it a few hundred yards east to Queen Street Gardens?) yet the grumbling could be amusing. One patron I came across was visibly, and volubly, aggrieved that an event billed as 'Call my Agent' had no connection with the Netflix series starring feisty Camille Cottin, but comprised a panel of four exclusively middle class young and unco bonny female literary agents from London much exercised about such things as – err – inclusivity.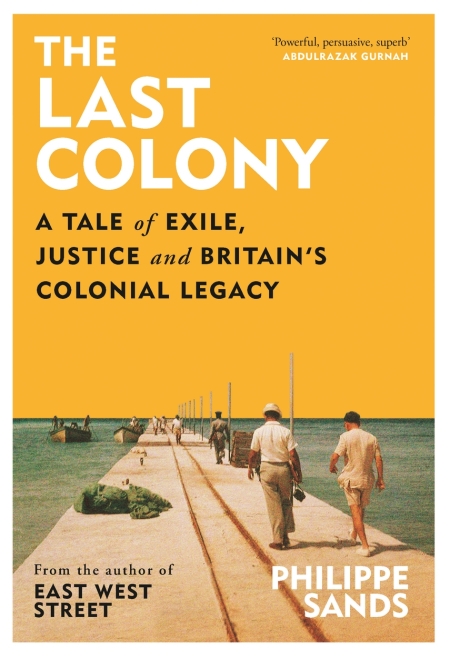 That said, the theme which emerged from three events in particular suggest that Edinburgh could possibly add to its many festivals yet another – a Festival of Law and Ethics. If this sounds as dry as dust to some, then they clearly missed one of the most astounding performances which has ever graced this or any other Edinburgh festival. Based on Philippe Sands QC's (KC's?) latest book The Last Colony it featured the author with Bridgerton's Adjoa Andoh and French pianist Guillaume de Chassy. Those who have read Mr Sands' East West Street with its compelling account of the circumstances which led to the Nuremberg trials will already know that this man is as close as our age gets to Emile Zola.
Staged in the elegant, yet sober, main auditorium of Tollcross's Methodist Central Hall it conveyed, with piquant emotional intensity, the story of Madame Liseby Elyse, who, aged 20, and pregnant, was cruelly and arbitrarily (and indeed illegally) evicted by the UK government from her 'paradise island' of Peros Banhos, part of the Chagos archipelago. Her child would be lost, her heart broken.
Phillipe Sands' recitation of the legal process undertaken in New York's UN General Assembly and the Court of Justice in the Hague in pursuit of the restoration to the Chagossians of their rightful home was interwoven with the harrowing testimony of Liseby and the music of M. de Chassy. It ended with a standing ovation and much of the audience choking on its tears.
At the very least this tale of infamy and Whitehall insouciance should have its US theatrical debut in the elegant drawing room of Dumbarton Oaks, Washington DC, birthplace of the UN in 1944. It could be hosted by First Lady Jill Biden or VP Kamala Harris perhaps – or which failing Alexandria Ocasio-Cortez – with select A-lister attendees paying $5000 a ticket to help fund the reconstruction of Peros Banhos' derelict church. Let's hope a few of them get round to reading the book, at least. This case could have a far reaching effect, possibly even setting a precedent for Palestine's angst.
Adam Rutherford's Control: The Dark History and Troubling Present of Eugenics, a geneticist's take on that perverse determinist cult located at the murky crosscurrents of morality and ethics, gross medical malpractice, master race theory, and the politically sanctioned enslavement and murder of entire communities, tackles an area familiar to his fellow UCL professor, Philippe Sands.
For a writer and broadcaster whose mission to popularise science through such BBC radio highlights as The Curious Cases of Rutherford & Fry eugenics may seem like a grim departure from a programme format featuring such readers' queries as 'how do I improve my sense of direction' or 'when I itch, should I scratch?'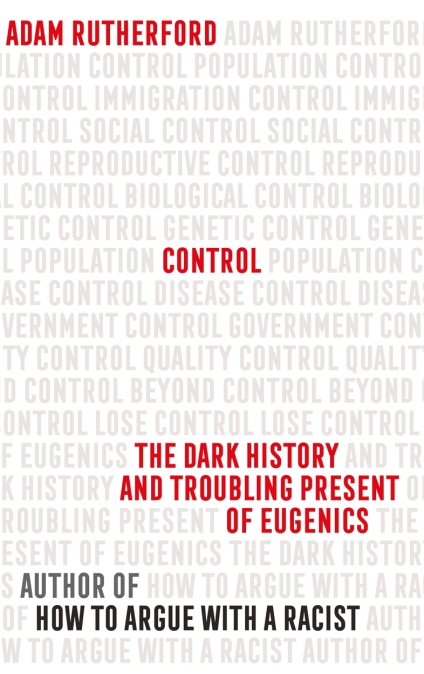 You can be sure there is no lack of gravitas or serious intent here, however. "All science is political" declares the author passionately, "in all science – and especially the scientific study of humans – we inherit knowledge infected by the contingencies and political obsessions of our scientific forebears".
We might seek to re-assure ourselves that the national and international legal orders have moved on. The Universal Declaration of Human Rights, drafted by a UN committee chaired by Eleanor Roosevelt, was endorsed, to a greater or lesser extent, by all 193 signatory nations, and codified in 30 articles which detailed the "basic rights and individual freedoms" of every one of the planet's inhabitants, now "born free and equal in dignity and rights – regardless of nationality, place of residence, gender, national or ethnic origin, colour, religion, language, or any other status".
From that point on it was solemnly agreed and decreed that the world would change, with no more genocidal holocausts, Armenian massacres, Indian partition catastrophes, or bombings of innocent civilians, and certainly no more racially perverse eugenics. These founding principles would be endlessly re-affirmed, and given full legal effect in the international Bill of Human rights, which came into force in 1976, a year after the end of the Vietnam War.
Unfortunately human nature is not so amenable to persuasion, or even coercion. Adam Rutherford states that his book is "about two forces that shape us: control and freedom". Eugenics, an expression of the former of these binary opposites, comes in various guises, and not simply the fulfilment of the white supremacists' assertion of their own imagined racial exceptionalism. There are grey areas. Dr Rutherford cites by way of example democratic Denmark's current policy of eliminating foetuses at risk of being born with Down's Syndrome. He doesn't regard this as strictly eugenic, though it can't be far off.
The author describes the now notorious eugenics of "racial hygiene", venerated and vilified for over a century, as "a project with a short history, but a long past". This is manifestly true, since its origins stretch back to antiquity. Plato advocated selective breeding; The Aeneid claimed that Rome's military adventurism was synonymous with its divine destiny; the Israelites believed they were the chosen people, and so on from there; Thomas More wrote of Utopia, Rousseau sought the perfectibility of mankind, Kames and Hume devised "a science of man" and Smiles a prescription for "self-help", while the phrenologist Robert Owen put his character-improving doctrines into effect at New Lanark.
It would be Francis Galton, cousin to Charles Darwin, who subverted and cherry-picked such theories, good and bad, to come up with a "scientific" system of eugenics which he described as "the study of agencies under social control that may improve or impair the racial qualities of future generations either physically or mentally". We are told, too, that the polymathic Galton also invented the dog whistle, which somehow seems oddly apposite in the context of racism.
After Galton, "the pathway of eugenics led directly to the gates of Auschwitz" states the author, whose own academic institution has only recently (2020) scrubbed his name from its campus. It didn't end at Auschwitz of course. Since the UN's 1948 Genocide Convention the world has witnessed the Cambodia genocide by the Khmer Rouge, Srebenica's "ethnic cleansing", Myanmar's atrocities against its Rohingya Muslim minority, China's oppression of the Uyghurs, and the 1994 Rwandan genocide, the latter analysed in all its chilling detail by Helen Hintjens in her contribution to the book Global Challenges: Peace and War (Brill: 2013). Nor should we forget 1970s Britain, and a speech by Sir Keith Joseph that Galton would certainly have applauded:
Our human stock is threatened – a high and rising proportion of children are being born to mothers least fitted to bring children into the world and bring them up. They are producing problem children, the future unmarried mothers, delinquents, denizens of our borstals, sub-normal educational establishments, prisons, hostels for drifters. If we do nothing, the nation moves towards degeneration, however much resources we pour into preventative work and the over-burdened educational system. It is all the more serious when we think of the loss of people with talent and initiative through emigration as our semi-socialism deprives them of adequate opportunities, rewards and satisfactions.
In Edinburgh we continue to honour one particularly reprehensible eugenicist with a council applied bronze plaque at 3 Abercromby Place, birthplace of Marie Stopes who not only sent love poetry to Adolf Hitler, but largely envisaged contraception as a means of controlling the numbers of the poor, and founded The Society for Constructive Birth Control and Racial Progress. It's impossible not to admire Muriel Spark's witty reaction on learning that the irritating Ms Stopes was an advocate of contraception: "What a pity her mother hadn't thought of it first."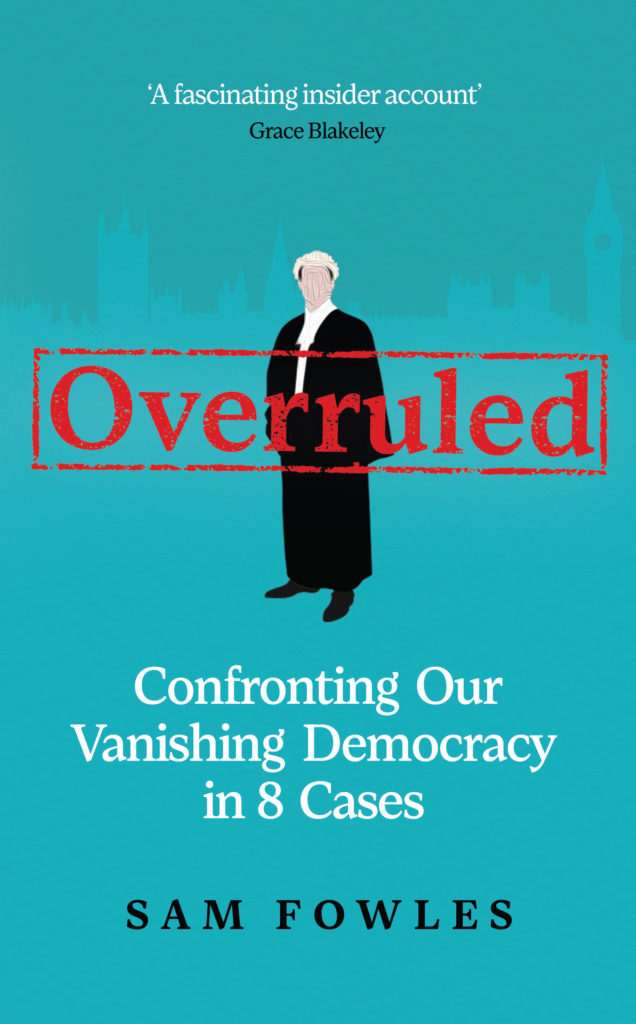 Another example of jurisprudence with a conscience and the determination to match is Sam Fowles' Overruled: Confronting Our Vanishing Democracy in 8 Cases, a recriminatory overview of a modern British justice system which is at times so pitted with flaws and defects that it is scarcely worthy of the name. 'Does Power Inevitably Corrupt' was the event which he shared with Professor of Chinese Studies Kerry Brown, formerly with the British Embassy in Beijing, and ex-BBC foreign correspondent David Loyn, an expert on the Afghanistan conflict. It was not a format which lent itself to close study of its three themes in the space of an hour, but enough to whet the appetite.
Sam Fowles talks and writes with the fluency and passion we associate with Michael Mansfield and John Mortimer. He paints a picture of the ruling order of a country which many of us blithely assume is a liberal democracy governed by the rule of law, and illustrates how truth itself can be deemed subversive. Not so many decades ago it might have been observed that this is not the sort of book we would wish our wives and servants to read.
The egregious injustice of the Post Office Horizon scandal in which 960 innocent sub-postmasters and postmistresses were relentlessly persecuted, unlawfully imprisoned, and driven into bankruptcy is dealt with in the introduction. The author represented several of the victims and provides an inside view of a gothic outrage which the BBC's Nick Wallis laid bare on radio and TV.
Anyone familiar with these grotesque events will perhaps recall the shameful lack of accountability enjoyed by Post Office CEO the Reverend Paul Vennells. It reads like an Armando Iannucci script. Having endlessly stonewalled, prevaricated, and covered up, Vennells finally stood aside as CEO, pocketing a £420,000 golden handshake to top up generous revenues from other public and private sources, like her £196,000 p.a stipend from her stint as chair of Imperial College Healthcare NHS Trust. She was however forced to relinquish this and other positions on the board of Hymns Ancient and Modern, as a member of the Church of England's Ethical (sic) Investor Advisory Group, and as an adviser to Downing Street, though she hung on to her CBE, conferred in 2019 for services to the Post Office – some little comfort, no doubt, as she retreated to the Grade II listed 16th century Bedfordshire mansion she shares with her wealthy digital technology husband.
Mr Fowles touches on other cases he has spent time on, often pro bono, such as a bid by the inhabitants of Britain's smallest city, St Davids, to oppose the construction of a large hotel which threatened to undermine local businesses. The objections had merit, but the case was abandoned due to "inequality of arms" – the locals, unlike the developer, simply couldn't afford to pursue the matter in court. The Cameron government, in particular, is blamed for obstructing access to the law for the less privileged by dint of greatly increasing the costs of judicial review, among other things. For Sam Fowles this concerns more than a planning blip. It's about the erosion of democracy.
The first three chapters of Overruled concern the infamous prorogation case, and begin in best Runyonesque style with a race from London to Balmoral between three government ministers seeking the Queen's assent to the closing down of parliament, and a Scottish court messenger who had been instructed to inform Her Majesty that to do so would be unlawful. The messenger was disbarred from the royal presence. Boris Johnson would have his way – at least initially.
A claim was lodged in the Court of Session by SNP justice spokeswoman Joanna Cherry QC on behalf of a cross party group of outraged politicians, supported by Jolyon Maugham of the Good Law Project, and led by Aidan O'Neill QC. Cherry v Advocate General was followed in England by (Gina) Miller v The Prime Minister. When both cases produced irreconcilable outcomes the Supreme Court intervened. The President, Lady Hale, agreed with Lord Carloway's Court of Session opinion.
Sam Fowles, who had qualified at the English bar, was assigned to Aidan O'Neil's team to "distil exactly how Johnson's prorogation stuck a knife into the heart of British values" though there was obviously more than that at stake, given that it was a French jurist, Baron Montesquieu, who set out the principle of the separation of powers, a cornerstone of legal process across the world, though no longer, it would appear, in Britain. Johnson, prompted by the Brexit-driven European Research Group and the somewhat sinister Judicial Power Project (described by Jolyon Maugham, as an "ugly, dark funded project to undermine one of the last controls of executive power") sought to push through a no-deal Brexit and "set right" the Supreme Court's "error", infamously summed up in the Daily Mail front page which denounced three High Court judges as "Enemies of the People".
There was, too, the subtle difference between English and Scots law which some, like the philosopher George Davey, have long attributed to Scotland's somewhat in abstracto "democratic intellect". Aidan O'Neil suggested that Mr Fowles consult Robert the Bruce, a monarch who emphatically ruled with the consent of the governed.
This abiding precept would persist until James VI's fixation with the divine right of kings, despite John Skene's 1609 Regiam Majestatem, which had clearly been drawn up to remind the London-based monarch where he'd come from, judicially speaking. The concept of a legal system serving the interests of all was not always scrupulously applied, of course, but it was much cited, as in the statutes of King William the Lyon (who reigned from 1165) which ordained that "Justice should be done equalie (and) sal be done commonlie to all pure (poor) men and rich men."
Mr Fowles has written a wide ranging and very readable account of the moth holes in the UK's deteriorating legal system. Perhaps it's not as schematic as 8 cases in the sub-title would suggest – just as the Horizon scandal is dealt with in the introduction, so are his well reasoned proposals for the reform of the House of Lords annexed in the conclusion, while the overlapping first three chapters on the prorogation of Parliament (about 75 pages, including endnotes) could have been expanded into a single, authoritative 'book of record'.
Perhaps that's on its way – we should certainly hope so.