Yousaf amends controversial hate crime legislation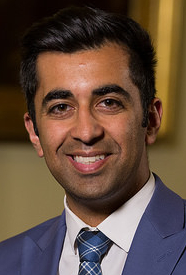 A climbdown by the Scottish government on the Hate Crime and Public Order (Scotland) Bill has been confirmed by Justice Secretary Humza Yousaf.
The 'stirring up' offence in the bill has now been limited to situations where 'intent' is present. The bill previously stated that an offence would also be committed "where it is a likely consequence that hatred will be stirred up against such a group".
Details are contained in a letter published yesterday from Mr Yousaf to Holyrood's Justice Committee.
Mr Yousaf wrote: "If approved by Parliament, these changes will have the effect that the stirring up hatred offences relating to these characteristics would require an intention on the part of the accused to stir up hatred as a necessary requirement for the offence to be committed."
Spokesman for the Free to Disagree campaign, Jamie Gillies, said: "This official confirmation that the 'stirring up' offences are to be amended is welcome. We are grateful for Mr Yousaf for being willing to listen to concerns from a range of stakeholders and limit the offences to 'intent'.
"There are several issues remaining with the draft legislation and we look forward to working with others in the coming weeks to see these addressed."
Free to Disagree has detailed a number of outstanding issues with the bill. It said that religious debate will be stifled because of inadequate provision for free speech covering religion and noted that the Scottish National Party backed a more robust free speech clause in English legislation.
It also said there should be a definition of hatred given that "in the current febrile climate, all kinds of mild disagreement gets labelled 'hatred'".