Scottish government urged to formally adopt definition of Islamophobia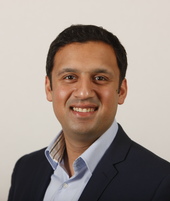 The Scottish government, local authorities and political parties have been urged to formally adopt a definition of Islamophobia to help tackle prejudice and hatred.
Baroness Sayeeda Warsi and Wes Streeting from Westminster's All-Party Group (APPG) on British Muslims visited Holyrood today to meet political leaders to argue for the working definition to be adopted.
The definition was produced after months of consultation, and Labour MSP Anas Sarwar submitted evidence on behalf of Holyrood's Cross-Party Group (CPG) on Tackling Islamophobia.
It classifies discrimination against Muslims as a form of racism, and reads: "Islamophobia is rooted in racism and is a type of racism that targets expressions of Muslimness or perceived Muslimness."
To date, the definition has been adopted by the UK Labour Party, the UK Liberal Democrats, the SNP Westminster Group, Plaid Cymru, Mayor Sadiq Khan and several English local authorities, plus organisations including the Muslim Council of Britain.
The APPG delegation is scheduled to meet with representatives of the Scottish government, the Scottish Parliament and Scotland's main parties.
Anas Sarwar MSP, chair of Holyrood's Cross-Party Group on Tackling Islamophobia, said: "A failure to define Islamophobia risks allowing those with ill-intent to define it for us. With racism on the rise in Britain and across the world, it is the responsibility of all political parties and public bodies to ensure we do everything we can to promote a more tolerant and inclusive society.
"Adopting the definition of Islamophobia in Scotland will help demonstrate to our diverse communities that we as lawmakers recognise Islamophobia exists, and that it will always be challenged. We can't leave the fight against prejudice and hate to the Muslim community alone – it's a fight for all of us."