More than £102,000 raised at Digby Brown's record-breaking Winter Dinner Dance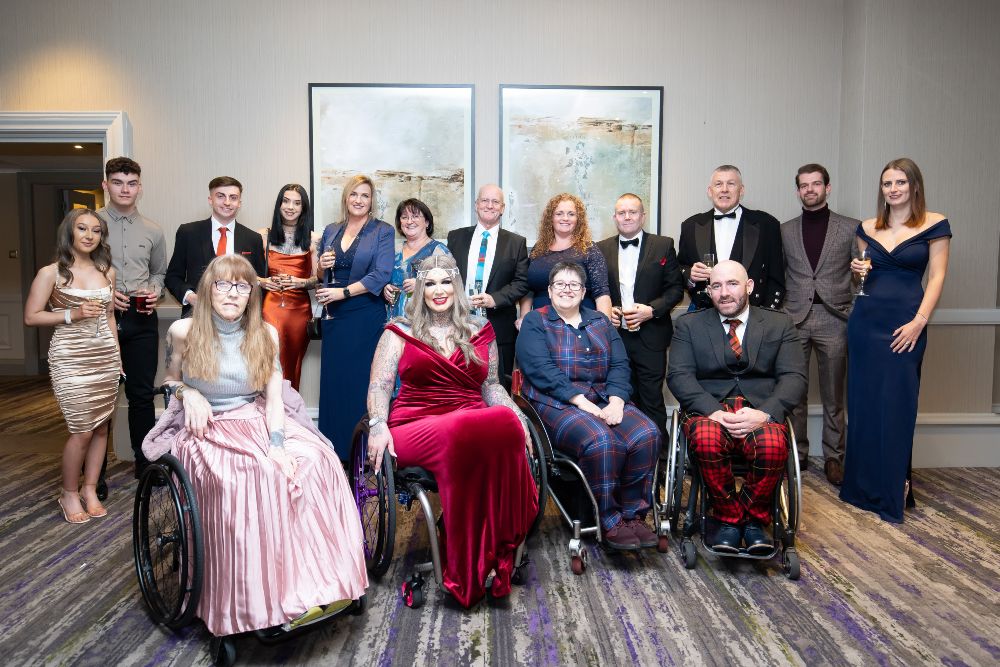 Digby Brown raised a landmark £102,101 for Spinal Injuries Scotland at its 19th Winter Dinner Dance last week.
Around 540 guests attended the glitzy bash at the Doubletree by Hilton in Glasgow and dug deep to support survivors of spinal cord injuries.
Hosted by top broadcaster Des Clarke, attendees enjoyed a live band, games and a special guest performance from Mock The Week comedian Andy Parsons.
The latest total shatters the previous record of £83,000 raised in 2019 and nearly doubles the £59,000 generated at last year's reduced-capacity event (due to Covid).
Chris Stewart, partner and head of the firm's Serious Injury department, said: "Not only was the Winter Dinner Dance back this year in all its glory but it was bigger and better than ever before!
"The night, as always, was filled with fun and laughter from start to finish and everyone who came along supported generously.
"To raise more money than ever before, especially in the current economic climate, speaks volumes about the generosity of our guests and the importance they place on the work of Spinal Injuries Scotland."
The annual event, organised by Digby Brown for nearly two decades, commemorates the incredible work of Spinal Injuries Scotland (SIS) and its passionate team of volunteers.
Through its work at the Queen Elizabeth Spinal Injuries Unit in Glasgow and outreach programmes the charity provides bespoke hands-on support to help spinal cord injury survivors and their families adjust to a new way of life.
One SIS volunteer is Nathan Macqueen – despite suffering a spinal cord injury in a motorbike crash at the age of just 17 he has become an internationally recognised gold medal-winning athlete in para-archery.
Addressing the Winter Dinner Dance, he said: "The peer support team from the charity gave me a second chance and helped me realise that life could go on after a spinal injury.
"I'm thankful to Spinal Injuries Scotland for being there for me from the start. I can safely say I wouldn't be the man I am today without them."
In addition to table sales, Digby Brown helped raise the incredible £102,101 via a tombola, a prize-draw raffle and a digital auction. Among the auction prizes were signed sports tops, day trips, hospitality event tickets and a coveted diamond necklace.
Maureen Morrison, operations manager at Spinal Injuries Scotland, said: "It's events like these that help the charity to continue providing support to people all over Scotland.
"We are so thankful to Digby Brown for the amount of work that goes into the Winter Dinner Dance.
"Without this event, I personally wouldn't like to think were we would be."
Kirsten Smith, corporate social responsibility manager, added: "The generosity and enthusiasm of all the attendees made for an incredible atmosphere on the night and a phenomenal amount of money raised.
"These events simply don't just happen and are reliant on in-depth planning and organisation so I would like to extend a huge thank you to all who worked hard in the run up to the event and on the night to ensure our most successful Winter Dinner Dance to date."