Our Legal Heritage: The bitter divorce that led to the murder of a Lord President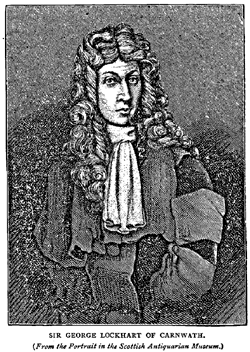 No matter how bitter, few divorces end with the murder of the presiding judge. But in one case from Scotland's bloody legal history, an irate husband, incensed at having to pay aliment to his ex-wife, took the ultimate revenge on the sitting judge: The Lord President Sir George Lockhart of Carnwath.
Lord President Sir George Lockhart
Sir George Lockhart was a renowned and highly respected legal practitioner of the 1600s; his advocacy skills were regarded as among the finest in the country. Knighted in 1663 by King Charles II and made Dean of Faculty less than 10 years later, Sir George was an esteemed member of the legal profession.
He was so respected, in fact, that when he was disbarred in 1674 after an incident which offended judges, 50 advocates withdrew from the bar in support of him. The incident arose after the court decided a case against Sir George's client and he requested an appeal. At that time, requesting an appeal to Parliament was thought to be highly disrespectful towards the judges and the King. Sir George was readmitted to the bar in 1676 – and quickly rebuilt his practice.
He was involved in a number of high profile cases and eventually attained the office of Lord President in 1685. The case he is most remembered for, however, is the one which led to his brutal murder.
John Chiesley of Dalry
John Chiesley was a man well-known for his "violent and ungovernable passions". He was considered to be "perhaps not quite sane" and had a history of making violent threats towards prominent people.
Chiesley ended up before Sir George in a case concerning aliment to his wife, Margaret Nicholson. The couple, who had 10 children together, had an unhappy marriage and it is thought that at the time of the case they were separated. Sir George ultimately found for Margaret in a decision that enraged Chiesley. He vowed to take revenge and kill the Lord President.
Although warned of these threats, Sir George continued to go about his daily business, paying no heed to them. On Easter Sunday 1689, he attended a service at St Giles' Cathedral. Unbeknown to him, however, Chiesley was following as the judge proceeded to his house in Old Bank Close. Despite being accompanied by his cousins, Lord Castlehill and Daniel Lockhart, Chiesley shot Sir George in the back with a pistol.
Lady Lockhart, who had been in bed unwell, rushed outside when she heard the gunshot. Having suffered a wound which penetrated the left side of his back and pierced through his chest, Sir George died instantly. He is buried in a tomb at Greyfriars Parish Church Kirkyard.
The arrest and death of Chiesley
Chiesley was captured at the scene and confessed immediately. He boasted: "I am not wont to do things by halves, and now I have taught the president how to do justice."
He was then tortured to determine if he had any accomplices. Since he had been caught red-handed, the Lord Provost of the City, Sir Magnus Prize, sentenced him to death. Chiesley was dragged by hurdle across Edinburgh to the Mercat Cross on the Royal Mile. As an additional, particularly gruesome punishment for shooting the Lord President, the hand that fired the pistol was cut off while he was still alive. He was then hanged in chains and left to die, reportedly with the pistol hanging around his neck.
The place of his burial was not officially recorded – though it was speculated that Chiesley's family had secretly retrieved his body from the gallows and buried him somewhere on his estate. There was a skeleton found near a cottage in Dalry Park a century later with a pistol situated near the neck. It is thought these are the remains of John Chiesley.