Our Legal Heritage: Revealed – the Scots deported in America's first Red Scare
Graham Ogilvy reports on new research by US historian Kenyon Zimmer identifying for the first time some of the Scottish trade unionists caught up in America's first Red Scare.
They were the targets of America's first Red Scare when, following a campaign against immigrants that would make Donald Trump blush, up to 10,000 people were arrested – many on illegal warrants and 3,500 were jailed on trumped up charges.
The infamous Palmer Raids organised by US Attorney General A. Mitchell Palmer and his protégé, a young J Edgar Hoover, were aimed at smashing trade unions and halting a growing tide of industrial militancy after World War One.
Palmer's first attempts at quashing a burgeoning socialist movement were defeated by US courts which asserted the right to free speech. But he soon settled on immigration legislation as a more convenient tool to repress the American left and specifically the powerful and militant Industrial Workers of the World (IWW).
Hoover set up a Bureau of Investigation to hound foreign-born workers. It would eventually morph into the FBI and red-baiting would become Hoover's stock-in-trade, allowing him to acquire immense power and influence in the USA.
A list of 60,000 names was compiled and, to boost the atmosphere of hysteria, Palmer maintained that an insurrection was planned for May Day 1920.
In the ensuing spate of raids across the country, a total of only four handguns were seized and the insurrection was quietly dropped from Palmer's campaign.
Francis Fisher Kane, the US Attorney for the Eastern District of Pennsylvania, resigned in protest at the raids. In his letter of resignation to the President and the Attorney General he wrote: "It seems to me that the policy of raids against large numbers of individuals is generally unwise and very apt to result in injustice. People not really guilty are likely to be arrested and railroaded through their hearings…We appear to be attempting to repress a political party…By such methods, we drive underground and make dangerous what was not dangerous before."
Palmer was undeterred, claiming urgency took priority over legal process – a view that was endorsed by The Washington Post which advised: "There is no time to waste on hairsplitting over infringement of liberties."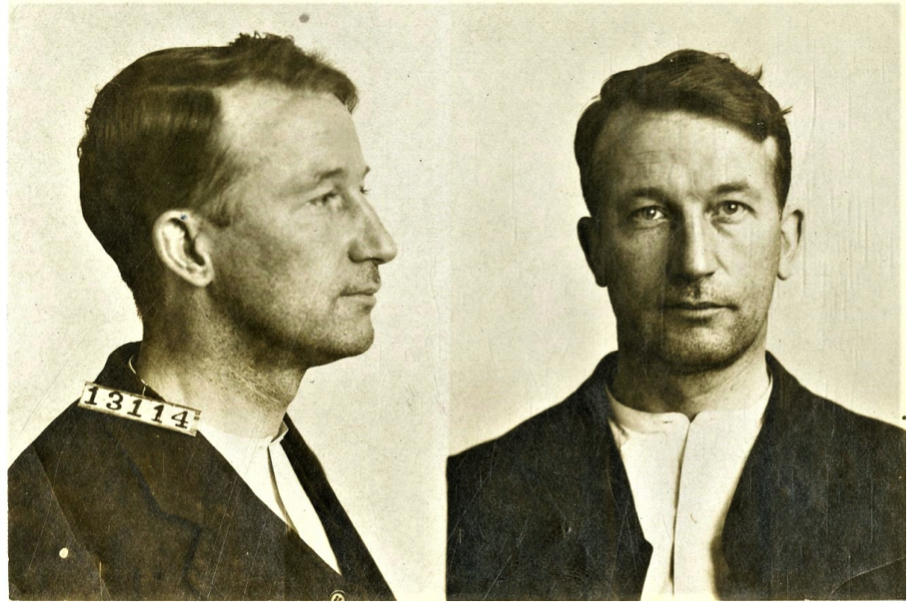 Now Kenyon Zimmer has drilled down and put faces on the names of those deported detailing their amazing lives. Kilmarnock-born Sam Scarlett was among the Scots deported.
Scarlett became a professional revolutionary and Zimmer gives his biography: born 1883, Kilmarnock, Scotland. Machinist; union organizer. Migrated Canada 1903; from there migrated to US 1904. A member of the International Association of Machinists before being radicalized and joining the IWW in 1911. Became prominent IWW speaker and organizer; reportedly arrested around 160 times for his activism, including his arrest with other IWW organizers during 1916 Mesabi Iron Range strike on specious charges of murder, but charges dropped. Defendant in federal IWW trial 1917-18; sentenced to 20 years and $20,000 fine. 1923 sentence commuted on condition of deportation; deported April 1923. August 1923 migrated to Canada, where he resumed organizing for the IWW in the Vancouver area, especially among miners. 1924 the Canadian government attempted to deport him, with the aid of evidence supplied by the US Bureau of Immigration, but eventually dropped the case. 1931 he joined the Communist Party of Canada and became an organizer for the CPC's Mine Workers' Union of Canada; arrested October 1931 in connection with violent Estevan Strike and sentenced to a year in prison, during which his health suffered. Circa 1938 became chairman of the CPC in Toronto, and of its newspaper The Clarion. When the CPC was outlawed in 1940, Scarlett lived underground to avoid arrest and clandestinely crossed border into the US, where he lived illegally until his death in 1941.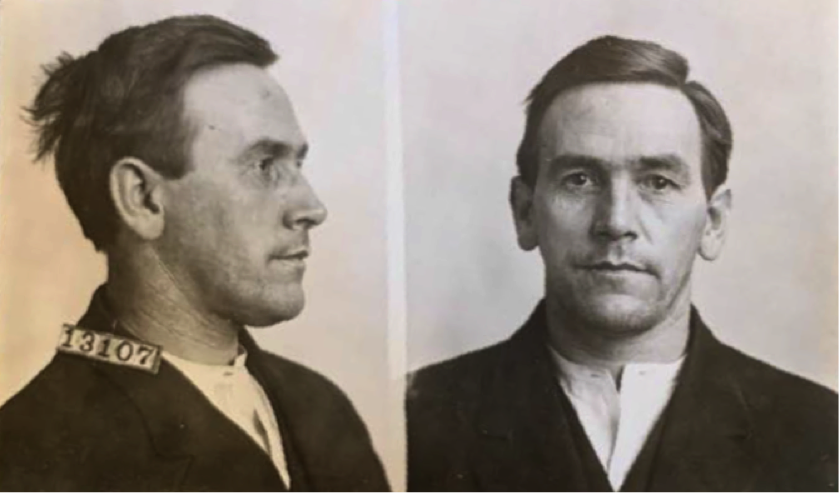 Arbroath-born Charles Lindsay Lambert was another of Palmer's victims.
Zimmer provides details of Lambert's colourful career: born 1881, Arbroath, Scotland. Baker; oil worker. Migrated to US 1901 or 1902. Joined the IWW in 1911; secretary of Local No. 453 of the Oil Workers' Industrial Union in Taft, California, 1913, then of IWW mixed locals in Sacramento, 1914-1917. Secretary-Treasurer of the Wheatland Defense Committee 1914-1915, in which role he advocated sabotage; elected to IWW's General Executive Board 1916. Defendant at federal IWW trial 1917-1918; sentenced to 20 years imprisonment. 1922 sentence commuted in exchange for "voluntary departure" to Scotland; sailed March 31, 1923. Upon arrival he began "attending meetings of various trade unions…persuading them to send protests to President Harding, the Ambassador and the Consul General against the imprisonment of the I.W.W.'s in the United States". May have travelled to Tampico, Mexico to work in the oil fields in the 1920s; appears to have illegally returned to the US undetected, then returned to Scotland via New York in 1926. 1930s employed as oil worker in the Caribbean; returned to UK 1933. Appears to have dropped out of radical politics; later a diamond prospector in British Guiana and then worked as a runner for a bookmaker in London, where he died circa 1961.
Then there were the sisters from Milnathort – Janet and Margaret Roy. Of Janet, Zimmer writes: Born 1895, Milmathort, Scotland. Supporter of the Independent Labour Party before emigration. Laborer. Migrated to US 1916 with her sister, Margaret. Worked in Lawrence, Massachusetts, where joined the Socialist Party of America and then, in July 1917, Textile Workers Industrial Union No. 1000 of the IWW. Moved to Chicago where worked for the IWW's bindery, then October 1918 moved to Seattle, where arrested with sister in police raid on IWW two days later. Married a Scottish-born Ian V. MacKay on January 21, 1919 to attempt to claim US citizenship and avoid deportation, but deported with her sister regardless on July 23, 1919. Migrated to British Columbia, Canada, where reunited with husband. Ian died 1941; she died in British Columbia in 1972.
Edinburgh-born Donald Fraser was also deported. Born 1888, he migrated to Canada 1908, spent time in US and Mexico before migrating to US (via Canada, without inspection) 1915. Joined IWW 1909; became secretary of Astoria, Washington IWW local. Wrote on his 1917 draft registration card, "Don't believe [in] militarism." Arrested February 1919, Portland. Deported March 1919. Subsequent activities unknown.
And, finally, miner William Milligan, born 1874, in Edinburgh, was a typical IWW militant and drifter. He migrated to South Africa circa 1900; then Australia and Mexico; migrated to US circa 1901. Took out a declaration of intent to naturalize, but never did so, explaining, "I travelled all over the country and saw too much." Joined the IWW circa 1910; also an admitted anarchist. Worked in mines and acted as IWW propagandists on both sides of US-Mexico border. Arrested in Deming, New Mexico, September 1919. Deported April 3, 1920. Subsequent activities unknown.
Mr Zimmer is to be congratulated on providing these fascinating snapshots and, in the process – to paraphrase EP Thomson – rescuing these individuals and their struggles from the 'condescension of obscurity'.