Our Legal Heritage: Indian Peter Williamson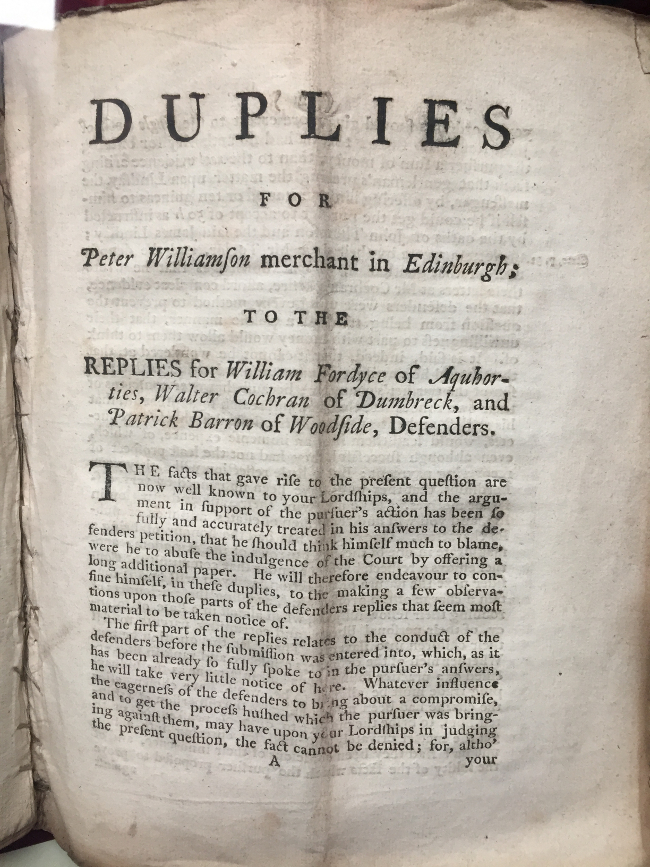 In the latest in our occasional legal heritage series, Graham Ogilvy reflects on the remarkable story of 'Indian' Peter Williamson.
A document presently on display in the library of the Faculty of Advocates records one of the most shocking episodes of human trafficking in Scottish history and sheds light on the amazing life of 'Indian' Peter Williamson, one of the most remarkable figures of the Enlightenment.
As a boy in 1743 Williamson was kidnapped in Aberdeen and sold into slavery in North America – one of an estimated 600 children to be abducted and trafficked by corrupt Baillies in a racket which flourished in the Granite City from 1740 to 1746.
After a harrowing voyage, he was sold to a Scottish carpenter who had also been abducted as a boy in Perth and who sympathised with young Peter's plight. Hugh Wilson looked on Peter as a son and left him a modest inheritance.
Williamson married and set up home on the frontier of Pennsylvania. Domestic bliss was interrupted by marauding Cherokee Indians who captured the young Scot and subjected him to a shocking ordeal as a slave on their brutal raiding parties. Williamson's account is said to have inspired the Richard Harris movie, A Man Called Horse.
After his escape from the Indians he joined the British army to fight in the French and Indian War. He rose to the rank of Lieutenant but was captured in the siege of Fort Oswego, immortalised in another movie – The Last of the Mohicans.
Repatriated to Britain, Williamson wrote his story, dressed up as a Delaware Indian and used the proceeds to finance his return to Aberdeen in 1758 where he set up a stall at the Mercat Cross and was promptly arrested by the corrupt city fathers. The city hangman burned copies of Williamson's book and made he was made to sign a paper declaring his story was false and fined five shillings before being kicked out of town.
Edinburgh advocates he had befriended on his trip north persuaded him to sue the Baillies. After a lengthy legal battle, the Court of Session finally awarded him £200 damages and 100 guineas in legal costs – a hefty sum in 1763.
Enterprising Williamson used the money to establish a number of ventures including Edinburgh's first coffee shop, on the site of what is now the Laigh Hall in Parliament House and Scotland's first postal service – probably inspired by Benjamin Franklin whom Williamson is likely to have met in Philadelphia or on one of his two visits to Edinburgh.
Williamson ultimately sold his postal service to what became Royal Mail for £25 and a small life pension.
He died in 1799 at the age of 69 after a truly remarkable life.