Lawyer of the Month: Rosalie Chadwick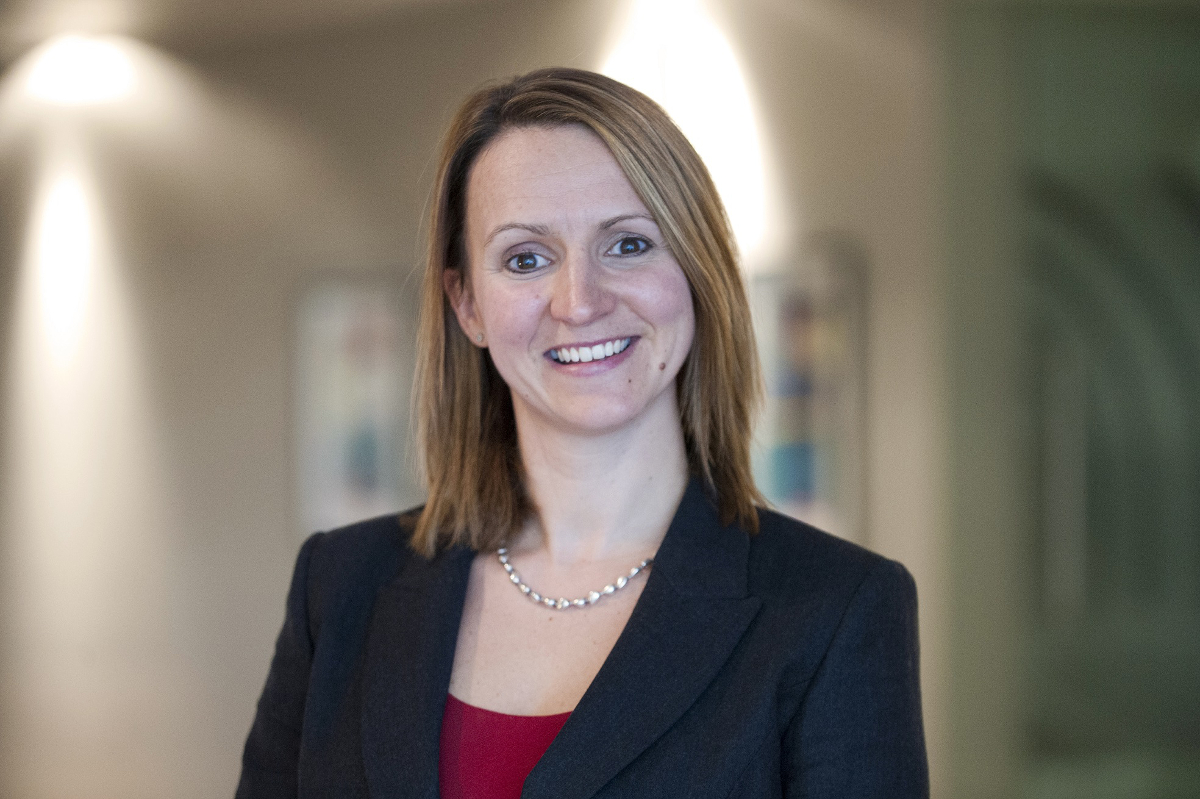 Although Rosalie Chadwick had aspirations of being a fighter pilot, not a lawyer, she eventually decided to take the latter option partly because of what she describes as her stubborn streak. That desire to stand up to opposition, rather than shy away from heated discussion, is likely to serve her well in her role as global head of oil and gas at Pinsent Masons.
Glasgow-based Ms Chadwick was appointed to that position in May after 20 years of working on multi-million-pound mergers and acquisitions and capital markets deals in the United Kingdom Continental Shelf (UKCS) and across international energy hubs.
As well as having successfully made her way in a relatively male-dominated world, she is used to working in a sector that is coming under more scrutiny than ever as the world tries to reach net zero on carbon emissions. And the global spotlight is now firmly on Scotland with the COP26 climate change conference bringing the great and the good of politics and business to Glasgow in the coming weeks.
The oil and gas sector is engaged in high profile disputes and is under attack from climate activists who would like to see no further investment in fossil fuels, rather than a steady transition to renewables which the industry says it is focused on delivering.
But Ms Chadwick is approaching this with a calm demeanour. At the time of her appointment, she said: "I am very confident that energy transition is another development in the energy sector that our clients, and we as a firm, will take in our stride."
Looking back to when she was making her career choices, Ms Chadwick explains that she changed course on her dreams of a pilot: "I was very keen on all sorts of sciences, maths and analytical subjects at school so it was a debate between medicine and law. My parents, who were both partners in a law firm, said 'whatever you do, we don't want you to become a lawyer'. The die was cast at that point. I had quite a stubborn streak, so I decided that I most definitely wanted to be a lawyer."
She moved from her home city of Edinburgh to take her first step towards a legal career as a law undergraduate at the University of Glasgow. She joined McGrigors (now Pinsent Masons) as a trainee straight from university in 2000. Then, as a newly qualified lawyer, her next relocation was to the higher-octane environment of the Georgian capital Tbilisi.
Ms Chadwick completed a two-year secondment as global general counsel to an independent oil and gas company with assets in the former Soviet Union and Middle East, during which she guided the business through the process of floating on the New York Stock Exchange. In 2007 she was seconded to Sir Tom Hunter's private equity firm West Coast Capital in a corporate finance role where she led a series of takeovers and investments across a range of sectors. This included the group's sale of PSN for $1 billion to Aberdeen-based Wood, which at that time was one of the three largest services companies in the UKCS.
She says: "My work with West Coast Capital combined legal and corporate finance roles. I was an observer on the board of various companies it had invested in, as well as being its general counsel. This was great in giving me exposure to a wider range of industries, from house builders to commercial property firms. I'm in oil and gas but it's good to compare and contrast what you learn from different sectors."
Despite its obvious challenges, or perhaps because of them, Ms Chadwick relishes working in oil and gas: "It's a very dynamic industry. There's always something new going on, from incredible engineering feats to changing commodity prices, or geopolitical unrest in different parts of the world."
She is now responsible for setting Pinsent Masons' strategy for oil and gas, both internally and in how the firm interacts with clients. With more than 500 lawyers and support staff based in Scotland, and offices in Aberdeen, Edinburgh and Glasgow, Pinsent Masons is, unsurprisingly, to the fore in much of the merger and acquisition activity in the UKCS.
"We're entering the next phase for the sector around energy transition so that's obviously a big feature of our strategy that we're setting-up and implementing," she adds.
According to Ms Chadwick, Pinsent Masons is in a good position to help clients meet net zero challenges. "We're fortunate as we have a well-established renewables team who specialised in renewables when it wasn't a hot topic," she explains. "We're working very closely with the renewables team and our climate change group to get on the front foot on various issues that need to be navigated. We're working alongside clients to help them map how they tackle the latest twists and turns for the sector and how they look to progress towards net zero as businesses."
Although she agrees that energy transition and reaching net zero are big challenges, she also describes them as massive opportunities for the oil and gas sector and its supply chain. She gives the examples of engineering consultancy big names Wood and Worley that are looking to pivot into renewables. "We're looking at how we can help companies see what opportunities there are. It can be a combination of helping them exit basins or hydrocarbons, or divest of higher carbon intensity assets and reinvest in other areas," explains Ms Chadwick.
"There a lot of deals to be done, and a lot of general advisory where we pull together the expertise we have around renewables and climate change as well as the core oil and gas skills."
She says such core skills are still going to be relevant as the likes of carbon capture and storage (CCS) and hydrocarbon involve the same infrastructure that is in place for oil and gas. "It's really a combination of three sets of sector skills and we have 30 years of experience of being in the basin across our firm," she adds.
She's predicting a busy time as she surveys what's on the horizon in the ever-changing oil and gas industry. "I'm looking forward to getting stuck into implementing our refreshed strategy. And it's a very active deals market with a lot of complex projects."
In terms of deals, she is involved in fundraising for a range of listed oil and gas clients. One of them is an interesting newer entrant to the UKCS called Jersey Oil and Gas. It is embarking on a project in the Greater Buchan Area which aims to be the lowest carbon intensity development in the North Sea.
Ms Chadwick adds: "My expectation is a lot of people will be looking to exit the North Sea as many bigger players don't see it as a strategic priority just now. So, another big opportunity for us is working with younger entrants. I mentioned the renewables aspect of energy transition as businesses pivot there, but we shouldn't forget the opportunities for new entrants coming into the basin. We're well equipped to help the new guys."
While there will also be the inevitable North Sea disputes to deal with as the drive to net zero intensifies, Ms Chadwick sees it as both interesting and challenging. "We're fortunate to have great clients," she says.