Lawyer of the Month: Patrick McGuire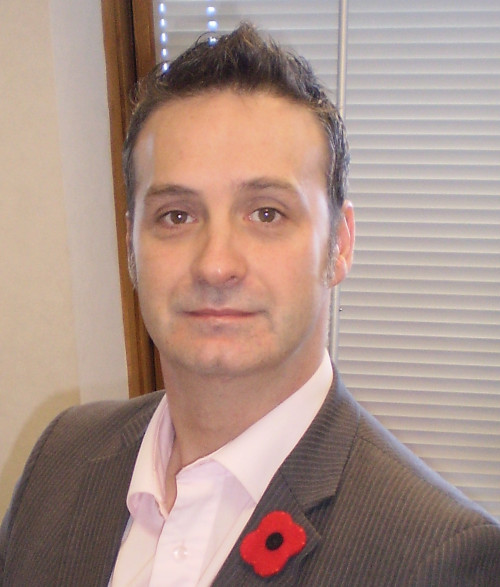 Though he studied law at university, Patrick McGuire never really wanted to be a lawyer. Politics was his first love and, while he had enjoyed the intellectual rigour of his studies, he had imagined himself entering the political rather than the legal sphere.
Joining personal injury specialist Thompsons Solicitors, where he is now a partner, changed all that, with the opportunity to work on cases focused on collective redress enabling him to combine the political with the legal in such a way that he could "make a difference and help people".
"The opportunity to join Thompsons seemed like the most natural fit in the world and once I was at a level where I could look at class action-type cases it seemed natural as it's the ultimate David and Goliath," he says. "It's about representing a whole lot of people who individually have been badly treated by very big organisations and who don't know where to turn. It brings them together, gives them strength in numbers and gives them a way to use the court process to get justice."
Over the years Mr McGuire has worked on countless group actions, representing scores of people impacted by everything from historical sex abuse to botched medical procedures. But he has never had the opportunity to work on a true class action until now. Under legislation passed by the Scottish government in 2018, US-style class actions are expected to be introduced in Scotland later this year and Mr McGuire plans to be one of the first lawyers in the country to file a relevant case.
"Along with a group of other lawyers we have a large number of clients who are raising a class action against Volkswagen," he explains. "The Scottish Civil Justice Council are working on the rules and everything we are hearing suggests that they will be ready in time for us to take advantage of for the purposes of this action. We normally raise all [group] cases individually and then speak to the court about appointing a judge to unofficially manage the whole thing with selected cases. We know how to do it, but it manipulates the system. If these rules come in and they are clear and they are crisp all the Scottish clients on this will be on the same footing as those across the border and across the world."
In total around 4,000 Scottish motorists are seeking to join the action against Volkswagen, 1,500 of whom are represented by Thompsons. All claim to have been caught up in the so-called Dieselgate scandal, which first came to light in 2015 when the US Environmental Protection Agency accused the company of installing cheat devices in diesel vehicles so they would pass emissions tests. The Wolfsburg-headquartered company conceded and has been embroiled in litigation ever since.
Though the Scottish action has yet to be filed, claims in other jurisdictions are further advanced. Last month the English High Court ruled the software Volkswagen installed in its vehicles did amount to a "defeat device", meaning an action being brought on behalf of 90,000 motorists in England and Wales can proceed. Just this week a German court ruled that the company must partially reimburse motorist Herbert Gilbert for buying an affected vehicle, paving the way for 60,000 other claimants to stake a similar claim. The company has already settled a separate €830m class-action suit with 235,000 German car owners.
"Germany effectively created group proceedings to allow for this," Mr McGuire notes, referring to the German Act on Model Declaratory Proceedings, which came into effect in 2018. "There have also been group actions in Australia and Canada that have opened the door to some form of negotiations. The whole point of a group action is it allows you to have a hearing and debate in a way that's efficient and cost-effective."
The Scottish case, which Thompsons is bringing alongside Drummond Miller, Lefevres and Slater & Gordon, will seek to prove the same point as other lawyers working on similar cases around the globe: that Volkswagen's customers were left out of pocket because of the software the company installed in their vehicles.
"We will be arguing that the Volkswagen Group, through various models and brands, installed a cheat device into the software to allow them to beat and subvert emissions tests with the effect that their customers, for that period of time, were hoodwinked into purchasing cars that performed very differently to what was expected," Mr McGuire says. "The claims are on that basis: for the losses people made in terms of running costs and the value of the car and also that those vehicles were presented as being particularly green but that that was not so and there are losses arising from that."
The expectation is that the new class-action regime will be up and running by the end of this year, just in time for the Scottish cases to be brought within the five-year limitation period. As yet it is not clear what model of class action the Scottish Civil Justice Council is likely to adopt, though Mr McGuire says the body is expected to be influenced by the rules already in place south of the border.
"In the English Civil Procedure Rules there are two different types of class action," he notes. "There's a representative action, where one person brings one claim on behalf of however many people, who either opt in or opt out. In that process there's one case, one judgment and one sum. The alternative is a group litigation order, which is used more often and would be more relevant to the Volkswagen litigation. That's where there's a register of claimants and the court determines what the key issues are across all the cases and they are considered first. There will be one, two, three lead cases dealing with those high-level issues and once you have a judgment on those it's applied to the individual members on the register. Those two models work in England and we'd hope and expect that in Scotland there will be something similar."
While the lawyers working on the Volkswagen cases are proceeding on the assumption they will be able to file the action under the new rules, Mr McGuire concedes there is no guarantee the change will come in time for that to be the case. If it comes to it, he says, each matter will be raised individually, but he stresses how transformational the class-action regime will be for individuals seeking group justice when it is finally in place.
"There are huge amounts of work being done getting all these cases ready to go, either through group litigation or individually," he says. "At the tail end of summer a decision will be taken on how to proceed. There may be alternative ways to do it by grouping the cases into hundreds. Everyone who had a particular model or dealership could assign their rights to one claimant. It's clunky, but as well as being ready to react to the new rules coming in we are thinking imaginatively.
"The change in the rules that we now expect to see will make it better for us and easier for us, but most importantly it will improve access to justice for these types of victims. It will mean that in future other people who experience these mass wrongs will be able to more effectively find final justice."