Lawyer of the Month: Inna Dzhurynska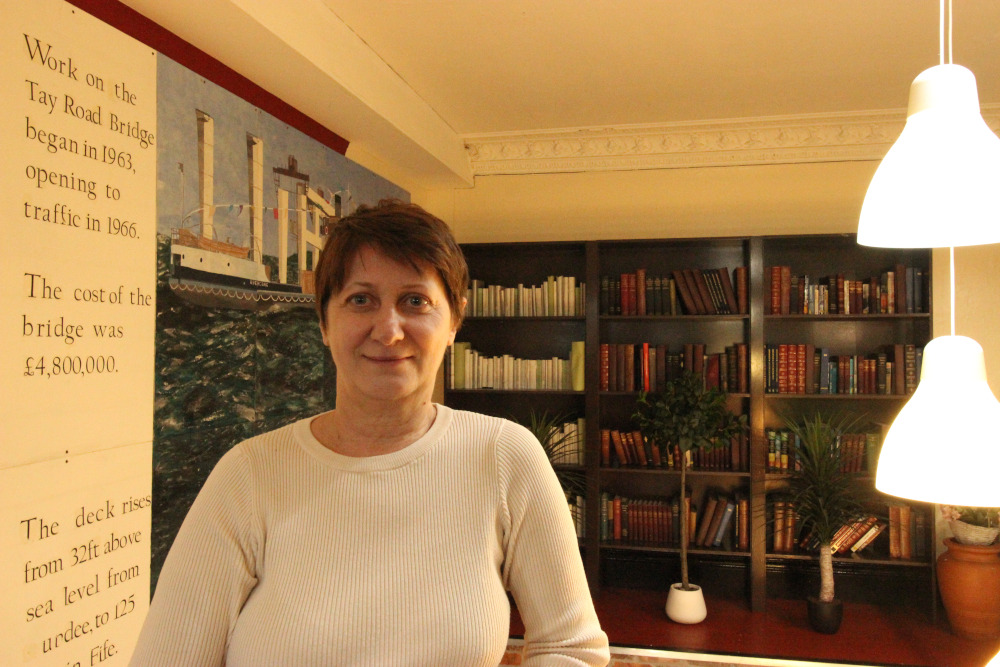 War and the internet … Inna Dzhurynska sits in her Dundee flat, drafting new legislation for the government of Ukraine. She's part of a dispersed project team funded by USAID, working online to ensure that the laws and regulations governing Ukraine's energy markets are compatible with European law. Inna says the Russian invasion has brought new duties. "Because of the war, we do a lot of procurement. We supply equipment and materials to restore energy infrastructure."
Inna's team is currently working on the implementation of a directive on transparency and the integrity of the energy market. "It's to prevent manipulation of the market and it's part of our anti corruption laws," she says.
Ms Dzhurynska's 15-year-old daughter is working online too. She studies simultaneously at Dundee's Harris Academy and her old school in Kyiv. The Dundee school is recently built and the classrooms are flooded with daylight. Nobody is bombing Harris Academy.
In Ukraine her teachers work out of shelters in basements. Inna is emotional when she thinks about the teachers who are still in danger in Kyiv. "We have very dedicated teachers. They do their jobs even in shelters. Ukraine is a unique nation, I am very proud of it."
When it became clear that a Russian invasion was imminent, Inna gathered up her family and left her home in Kyiv to seek refuge in a village. Generally people thought they would be safer in villages than in the cities, but the war crimes inflicted on Bucha swiftly changed that perception. In any case, Inna and her two daughters were sharing a small house with about 20 people, and she decided to head to the west of Ukraine where they would be safer.
So many refugees from conflict followed the same path that finding accommodation was impossible. She notes: "There were no places for us. We slept on the floor of the school, it was very cold, and there was a hundred other people there. Next day we decided to go to Europe." They were able to find transport to get them out of Ukraine, through Moldova and Romania and across Europe to Italy and France — and then to Scotland.
Inna was pleasantly surprised that the UK customs officers were so accommodating; the family was transferred from Edinburgh airport to a hotel in Inverness where they spent several months. As thousands of refugees in the UK know, living in a hotel can be difficult, but Inna says: "We had very good comfortable accommodation. We were in a safe place, with good food and wonderful nature all around."
The next move was to a rented flat in Dundee, whose university hosts the Centre for Energy, Petroleum and Mineral Law and Policy (CEPMLP). Inna studied there for her master of laws degree in the 2000s, so Dundee was a familiar and welcoming destination. "I like Dundee," says Inna. "I never thought I would come back as a refugee."
The centre's Professor Stephen Dow has been a consultant to the Parliament of Ukraine, advising as the draft law was brought into line with the practical reforms required for a liberalised electricity market.
Inna also holds a law degree from Odesa State University, and an MA in International Relations from the Fletcher School of Law and Diplomacy in the USA.
As it happens the international nature of her employment means that Inna can continue to support her family, in spite of the huge disruption and upheaval which Russia's war has brought into her life. Other Ukrainian lawyers have found work in different ways. Around 100 are part of a WhatsApp group in Scotland, with 10 of those in Dundee.
She says: "Some who can speak English have been able to do paralegal or other office jobs in places like the city council or the refugee council. Others have found jobs as researchers in universities. Your government has provided opportunities for apartments and for jobs … probably it's one of the best programmes for refugees."
Even so, there are some who have had to put their qualifications aside and work as housekeepers or catering staff in outlets such as McDonalds, and earn a living any way they can.
The legal community here has been welcoming, with several events organised to bring Ukrainian lawyers together with solicitors, advocates such as Kenneth Young, judges and government lawyers. There have been sessions on the workings of the Scottish legal system organised by Rob Marrs from the Law Society of Scotland; his work was recently praised by Murray Etherington, President of the Law Society, who described the Ukrainian lawyers in Scotland as "inspiring individuals".
When the war is over and the lawyers go home, Inna believes they will apply what they have learned of the Scottish system to reforming legal practice in Ukraine. Many laws need to be replaced to comply with EU 'acquis', the collection of common rights and obligations that constitute the body of EU law and are incorporated into the legal systems of member states.
Inna acknowledges that corruption has been deeply embedded in parts of the judiciary and believes it will take a new generation of lawyers to bring the required change. "Corruption created a huge, huge threat to Ukraine's survival. Unfortunately people don't trust our court system, and some of our state bodies. This will still be an important issue after the war is over. New, ambitious and honest people with a good legal education may be the answer."
Ms Dzhurynska is positive about being in Scotland and is reading up on history and culture; her current book is "How the Scots Invented the Modern World" by Arthur Herman. Her daughters are enjoying Scotland too, with the eldest applying to Dundee University. She notes that Scotland has some of the oldest and best universities in the world, and that people do not have to be rich to study in them.
For all that, Inna wants to be back in Ukraine by the summer. Places which are precious to her such as the Mykolaiv region, Odesa and of course Kyiv have suffered in the war, and she wants it all to be over. She is a long way from home.