Lawyer of the Month: Elaine Motion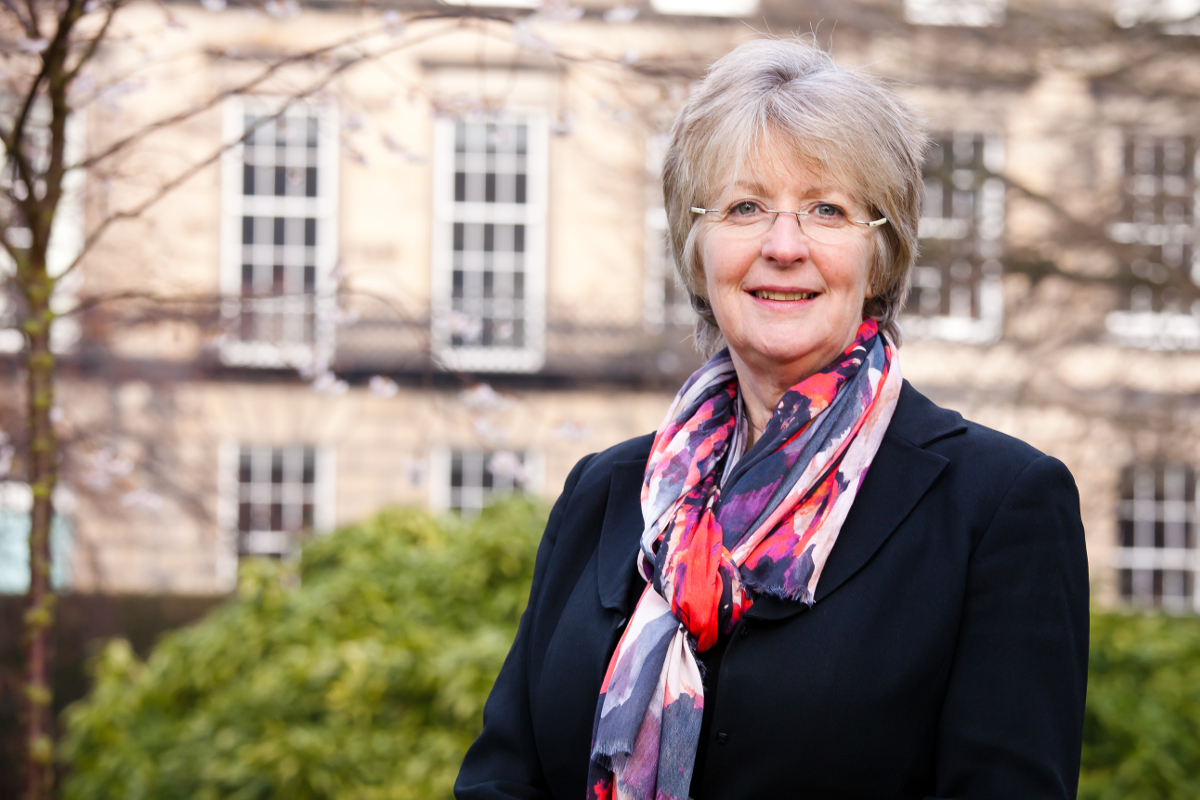 At the age of 12, Elaine Motion, chairman of Balfour and Manson, knew she wanted to be a lawyer. She admits to being slightly embarrassed about having that ambition at such a young age, and she isn't completely sure if it was a film or her father who most influenced her decision.
"I always wanted to be a lawyer," says Ms Motion. "I watched a film at school called 'A Man for All Seasons'. There was a bit in that triggered something in me and I thought 'I want to be a lawyer'."
Ms Motion didn't come from a family of lawyers, with her father being an accountant and her mother an award-winning hair stylist. As well as the film, she says it might have been partly a reaction to her dad wanting her to follow in his footsteps that made her go for law. Ms Motion says: "I wonder if it's also because my father wanted me to be an accountant and I knew I would fail miserably at that. I don't have a mathematical bone in my body."
Whatever the motivation, Ms Motion has carved out a long and successful legal career - with several high-profile cases focusing on human rights and civil liberties - that has taken her from Scotland to New Zealand and back home again.
She knew at school that she wanted to go to the University of Edinburgh to study. She wrote to Stephen Woolman, now Lord Woolman, the associate dean of the Law School, and started studying law at the age of 17. Ms Motion says her interests lay in personal injury law and after she qualified she chose to join Thompsons, before deciding she needed to widen her experience.
"I wanted as much breadth and depth as possible, and not to solely be a PI lawyer," explains Ms Motion. "I think it's a worry for the profession that too many people specialise far too soon in their career."
After doing commercial litigation at what was then McGrigor Donald, Ms Motion made a move to New Zealand to be a barrister and solicitor to expand her career.
Explaining why she moved to the other side of the world, she says: "In the 1980s you joined a law firm and tended to stay for life. We wanted to go somewhere else. We didn't fancy Hong Kong – we had just had Tiananmen Square – and we didn't want to go to London. We met some friends from Auckland, decided to go to New Zealand, and we loved it."
On returning to Scotland Ms Motion had decided she wanted to work for Balfour and Manson and, again, achieved her aim. "Some people say things are meant to be, and some say it's just luck, but I suppose it's a combination of both. I got a job with Fred Tyler at Balfour and Manson and rest is history, as they say."
Since joining Balfour and Manson in 1993, and becoming a partner in 1997, she is proud to have been involved in a number of ground-breaking cases, from regulatory to criminal negligence and public work.
Among some of the best-known cases she has worked on are Napier, Somerville and Davidson vs Scottish Ministers, which centred around human rights for prisoners and the practice of 'slopping out', and Valerie Cuthbertson vs Friends Provident. The latter case ended up in the Court of Session after a long battle which had seen the insurer refuse to pay out on a client's critical illness policy.
Ms Motion explains: "Cuthbertson against Friends Provident is one of the biggest cases I've ever done. It's all about life insurance policies and the legal test for claiming payments. The case changed the law across the whole of the UK and it's now statute. The test is now in favour of people who are trying to get critical illness or life insurance payments. It's massive and from a human point of view it's where I come from."
More recently, Ms Motion was the lead solicitor in the legal team that argued in 2018 that the UK could, if it wished, unilaterally revoke Article 50 and cancel Brexit. The European Court of Justice ruling essentially confirmed that the UK could revoke the Brexit process without the agreement of fellow EU states.
Just a year later she took on what must be the case with the highest public profile of her career - in summer 2019 when the UK government tried to prorogue Parliament. Ms Motion and her team acted for a cross-party group of MPs which ruled that Boris Johnson's five-week prorogation of Parliament was unlawful.
"I still pinch myself," she says. "You just can't get a more exciting case than prorogation in terms of the sheer speed and complexity and how it changed on a daily basis. I was called at 7am in the morning to be told a plane was on its way to Balmoral to try to prorogue Parliament.
"It was surreal. I was walking on the beach in Harris in the morning before flying down to be in front of the court on the same day. It was a huge case, but we are a small, tight team and I think that's what works. We're almost telepathic in what we need to do."
This year Ms Motion has represented the School and Nursery Milk Alliance in its landmark action against the Scottish government in a judicial review at the Court Of Session concerning the new Scottish Milk and Healthy Snack Scheme. The scheme aims to provide a free portion of milk and a healthy snack to pre-school children across Scotland. The Alliance said the new scheme had, unintentionally, left many nurseries and childminders out of pocket. It said this could lead to children missing out on their free milk entitlement – the opposite of the scheme's aim.
Ms Motion says: "It's a flagship policy of the Scottish government and for it to fail on both lack of consultation and irrationality is really very big. Our clients made clear they want to make sure the children get their milk - this is what it's all about. The government said they would consult, in black and white, and they didn't. And the way they went about assessing the costing of the scheme was found to be irrational, for example it didn't price non-dairy alternatives for children."
Another case Ms Motion highlights is Canon's White successful action against the Scottish government on church lockdowns during the pandemic. The Catholic priest along with almost 30 Protestant Ministers argued through lawyers in the Court of Session that banning Christians from attending church breached human rights. The judge ruled in their favour that what the government was doing was unlawful.
Ms Motions says: "We won on the day. My counsel are phenomenally knowledgeable and among the best in the game. It's the only successful coronavirus litigation.
"It's fantastic to be involved in cases that still spark your interest."
Looking at the legal profession as a whole, Ms Motion believes that one of the biggest issues at the moment is around access to justice. "For individuals and for small organisations and businesses, it's prohibitive," she says. "It's very hard for organisations and individuals to be able to litigate.
"Another thing is access to courts and whether hearings will be remote or face-to-face. I'm a great supporter of face-to-face where possible. There is nothing more important than face-to-face for witnesses, clients, the courts and the judges."
In terms of opportunities, she believes crowdfunding has great potential. She explains: "A lot of our public law challenges are now crowdfunded. There are always innovative ways of getting backing to take some challenges."
Personally, Ms Motion says she was feeling a bit weary after the Brexit and prorogation cases. Balfour and Manson offered her a three-month sabbatical that she planned to take in 2020 – but then the pandemic hit. "She says: "My aim this year is to take that sabbatical and have some proper downtime. I want to recharge and come back reinvigorated."
She's also keen to recognise the people she has worked with over the years. "It's not about one person, it's the group of people you work with that make things a success. I've been incredibly fortunate. I've been with Balfour and Manson for 29 years. It's a fantastic place to work. We've people that have been for 30 or 40 years and that staff loyalty speaks volumes. I've praise for predecessors in Balfour and Manson who built up that culture and the team. I wouldn't be where I am today without them or my family."