Lawyer of the Month: Christopher Knudsen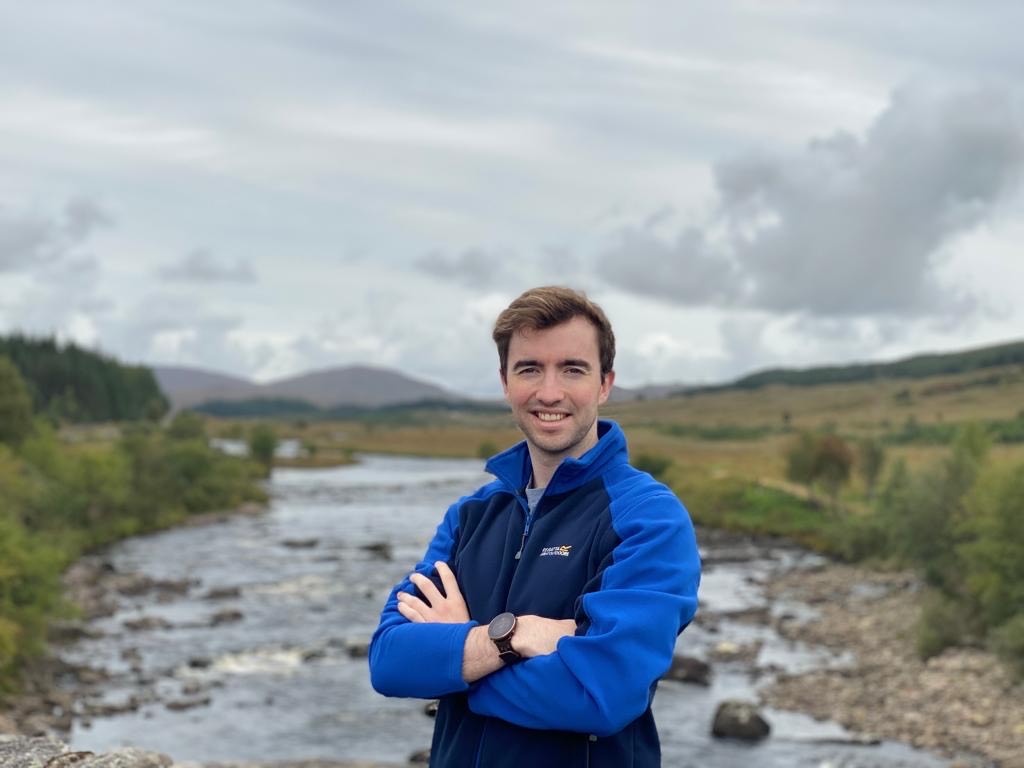 When he was named the Law Society of Scotland's In-house Rising Star of 2023, Too Good To Go global legal counsel Christopher Knudsen said the achievement was down to the help he had received from others and that he would equally like to "help others in the legal profession in the same way as I've been supported in my career".
That career nearly didn't get off the ground. Though he knew he wanted to be a lawyer after joining the debating society at Uddingston Grammar School and doing work experience in South Lanarkshire Council's legal department, Mr Knudsen's route to where he is now – running the UK legal function of a food-waste app – has not been a conventional one.
"I finished my diploma in 2015, when training contracts were extremely hard to find," he says. "I'd got a 2.2 for my law degree and a lot of the advice we got was that it would be impossible to get a traineeship with a 2.2, but I felt so deeply passionate about this career that I tried to work really hard and take on any opportunity I could to learn. I was fortunate that there were people who gave me a chance to do a little bit of work experience or a little bit of paralegalling and that helped me to step up.
"I don't see myself as very academic but I am hard working. The requirement for a 2.1 was very challenging and I was looking for inspiration from others in the same position that had managed to get over that hurdle. I found it really hard."
Having completed both his degree and diploma at the University of Dundee, Mr Knudsen's first law-firm role was at Cumbernauld practice Norrie Moore, where he spent several months as a paralegal before moving on to a similar position at commercial practice Anderson Strathern. The roles were, he says, eye-opening and gave him enough on-the-job experience to be able to land a traineeship at North Lanarkshire Council just a year after completing his diploma.
"Paralegalling was really eye opening in terms of the expectations of the legal word," he says. "At university you have an expectation of what law is like when you transition to the workplace but it's almost a different set of skills you have to learn. I'm really grateful that I had that time paralegalling because it helped me to feel more confident when I reached the next stage.
"From having done work experience at South Lanarkshire Council I knew I really liked the in-house community and culture so I knew when I started my traineeship at North Lanarkshire that it was an environment I'd really enjoy. It was an incredibly practical traineeship and they gave me a lot of opportunity and responsibility to learn on my own. I had to wait for it but it was the perfect opportunity because I was able to do so many different things."
After qualifying, Mr Knudsen stayed in-house, joining the Scottish Fire and Rescue Service before incorporating his passion for sport – he is a keen runner, snowboarder and rock climber – into his career with a job as senior legal officer and company secretary at national sports body sportscotland. A move to London also saw him move into the tech sector, with his first day at rating app Trustpilot coinciding with the first day of the first coronavirus lockdown.
"I moved to London because I didn't have any personal commitments in Scotland and wanted to experience the life down here," he says. "I had practised my commute to the office but my first day at Trustpilot was the first day of the lockdown. It was actually surprisingly easy to settle in because the legal team at Trustpilot was so welcoming and everyone was so kind with their time to help me get up to speed."
Like Trustpilot, Too Good To go, which alerts users to shops and restaurants where they can cheaply buy food that would otherwise go to waste, is a Danish tech start-up. Mr Knudsen says he was attracted to it not just because the global legal counsel role offered him the opportunity to expand his skillset, but because the organisation's ethos matches with his own too.
"In terms of my moral compass, I have a real passion for wanting to contribute to societal issues and the environmental challenge we are facing with climate change," he says. "Too Good To Go is an app that works by partnering with restaurants, cafes and grocery stores. They will have food waste at the end of the day that has not been purchased during business hours and that normally would go in the bin. Globally, a third of the food that's produced goes into waste and that accounts for about 10 per cent of global greenhouse gas emissions.
"The app connects consumers with those businesses — they go to the restaurant or café at the end of the day and pick up a surprise bag. We're trying to create a win, win, win — the business doesn't waste as much food, the consumer gets the food at a good price, and Too Good To Go contributes to zero food waste. We've saved 250 million surprise bags, which is something like 625,000 tonnes of CO2 emissions."
Mr Knudsen is the sole in-houser in the UK but works as part of a nine-strong legal team that is spread out across North America and Europe.
"It's genuinely been an incredible experience to be part of the journey of Too Good To Go," he says. "Everyone is so passionate and the culture is really positive. It feels really positive to be part of a team that celebrates making a positive impact on the world. Being part of the legal team is an incredible learning opportunity. It's opened my eyes beyond the UK legal world to see a more global approach to being a lawyer."
Away from work, Mr Knudsen is stepping up his sporting focus too, recently taking on his first 100km race across the South Downs National Park and tackling a mountain race in Glencoe. It is, he says, the perfect counterbalance to the legal life.
"The joke is that as a lawyer you are very anti-risk in the day job but when I'm not at work I'm very pro-risk — I do ultra-running, rock climbing, snowboarding," he says. "It could be partly because I'm living in London, but whenever I spend time in nature I find it really relaxing. It's a great escape from the city. It could also be the kind of personality I have — when I do something I want to try my hardest. I soon as I learned about ultra-races I tried it and loved it. Work can be quite high-pressured and stressful but running in nature is a great way to find headspace."