International Women Human Rights Defenders Day: A tribute to women in Kenya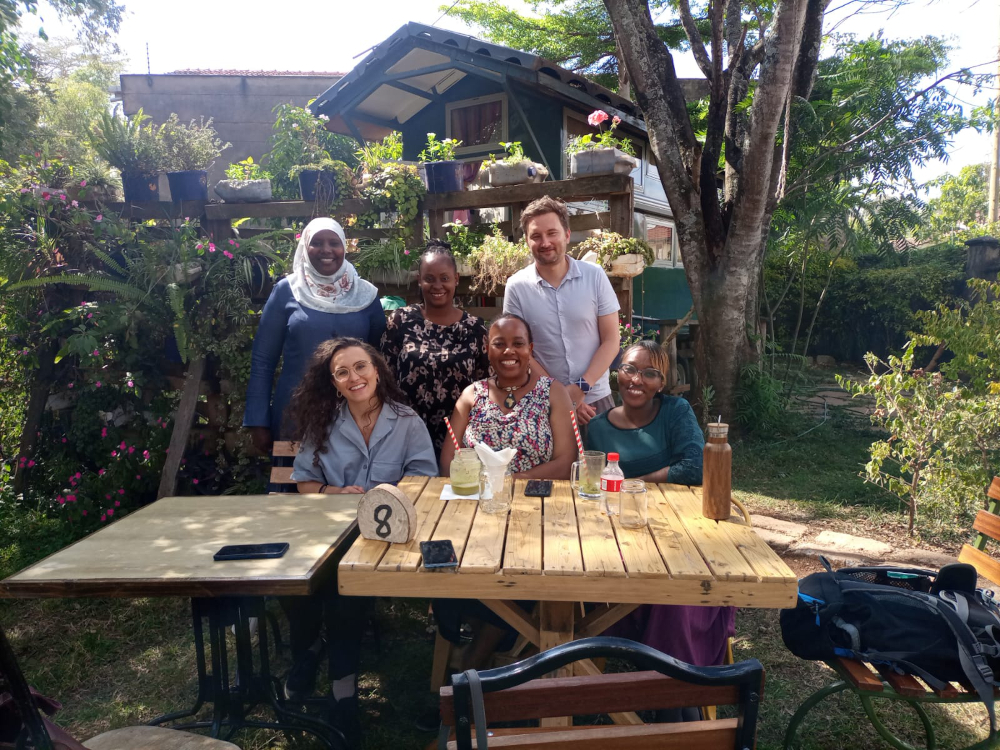 On International Women Human Rights Defenders Day Arnot Manderson Advocates pays tribute to women in Kenya who stand up for equality and human rights.
Every 29 November, International Women Human Rights Defenders Day highlights the efforts of hundreds of thousands of women who work tirelessly to defend women's rights around the world. As recognised by the United Nations Human Rights Council, woman human rights defenders (WHRDs) face deep rooted discrimination.
The Convention on the Elimination of All Forms of Discrimination Against Women (CEDAW) states that the "full and complete development of a country, welfare of the world and peace requires the participation of women on equal terms with men in all fields".
During a recent visit to Kenya, lawyer Caitlin Fitzgerald and AM Advocates' Simon Crabb saw the essential role being played by WHRDs as agents for meaningful change, participation, justice, and equality.
Kenya
Kenya has a population of 54 million people. It is the largest economy in Eastern and Central Africa. It became independent in 1963. Swahili and English are the official languages. It adopted a new constitution in 2010 which contains significant human rights protections.
Article 27 guarantees equality before the law and the full and equal enjoyment of all fundamental rights and freedoms for citizens of Kenya. Kenya is a monist State, meaning that any treaty or convention ratified by Kenya directly forms part of its constitution. The country has ratified multiple international instruments including: the International Covenant on Civil and Political Rights ("ICCPR"); CEDAW; and the Rome Statute of the International Criminal Court. It is also a member of the African Union. Kenya has ratified the African Charter on Human and People's Rights and the Protocol to the African Charter on the Rights of Women in Africa.
The legal system is largely adversarial. The High Court which sits around the country has approximately 150 judges and has first instance jurisdiction in all criminal and civil matters. Despite the introduction of the Legal Aid Act 2016, access to justice remains limited: funding is scarce and institutional capacity does not meet demand. While some lawyers offer pro bono services on a part time basis, many human rights defenders and grass roots organisations have stepped up to tackle unmet legal need in their communities.
Salome Nduta and the Women's Human Rights Defenders' Hub
Salome Nduta is the inaugural winner of Faculty's Scottish Bar International Human Rights Award. In November 2019, Salome visited Scotland to receive the award. She undertook advocacy training and shared her own expertise in human rights. She told members of the Scottish legal profession about her work in the informal settlements in Nairobi where she trained as a paralegal and fought unlawful evictions. In her address to members of Faculty, she evoked Desmond Tutu's words that:
"It means a great deal to those who are oppressed to know that they are not alone. Never let anyone tell you that what you do is insignificant. As a defender, I know the work that I do is not insignificant and there are many people who will stand by me in good and bad times."
Since returning to Kenya, she has continued to make sure that other WHRDs do not stand alone. She has created the Women's Human Rights Defenders' Hub ("the Hub") to promote the safety and security of WHRDs through mentorship, empowerment, and wellbeing. As Salome states: "most human rights activists are living in fear as attacks on human rights activists, especially women continue to rise in the country." The rise in attacks mean that "we are now living in fear, and we can't perform our duties in peace especially when no action is taken against the perpetrators".
The Hub is currently run by volunteers. Salome and her colleagues take on paid consultancy work and they dedicate their free time to protecting WHRDs. Everywhere we go, women organisations tell us that they rely on the Hub for protection, welfare, and advocacy support. The Hub has recently collaborated on practical guidance to strengthen civil society's response to Gender Based Violence in crisis situations.
Despite her heavy workload, Salome has kept in touch with colleagues in Scotland. She firmly believes that international solidarity makes a difference to her work and to her security. She also believes in the value of exchanging knowledge and experience. In her own words, if she survived freezing November temperatures in Edinburgh, there is no reason why Scottish lawyers should wilt in the heat of Nairobi. We decided to take Salome up on her offer.
Human Rights Training in Korogocho
The Hub arranged for a day's training in Salome's home community of Korogocho. Korogocho is one of the largest informal settlements in Nairobi. In Swahili, Korogocho means 'shoulder to shoulder'. It's an appropriate name: around 200,000 people live in an area of around 1.5 square kilometres in the northeast of the city centre. International organisations have expressed concerns about sanitation, inadequate housing, and insecurity.
We were invited to attend a human rights training session with 30 WHRDs. AM Advocates provided funding for the venue and travel and subsistence costs for the WHRDs. For the first part of the session, WRHDs set out the context in which they worked. As foreign lawyers, we were there to listen and learn about their reality. Salome divided the WRHDs into different groups with each group to report back on the main challenges faced in their area of work. Many of the WHRDs were in their teens or early twenties but already have many years of experience. They describe themselves as community paralegals, many of whom are largely self-taught in law and other disciplines. What follows are some of the main concerns which were raised.
Gender based violence (GBV)
WHRDs reported an increase in violence against women and the failure by the State to investigate and prosecute the perpetrators. In 2021, Human Rights Watch reported on the increase in of GBV during lockdown and the failure of the Kenyan State to safeguard the rights of victims. WHRDs who accompany complainers of GBV reported that the police and prosecutors would often refuse to investigate. Many reported that the authorities had a de facto policy of placing an evidential burden on the complainer and refusing to investigate unless supporting medical evidence is available at the time of making the complaint.
Discrimination against WHRDs
Many of the WHRDs reported fears for their safety, as well as discrimination from family members, their communities and state officials. They relied on the Hub to provide them with safe spaces, training, and psychosocial support. The risks faced by WHRDs in Kenya are evident. Frontline Defenders has expressed concerns about escalating attacks against women and in particular WHRDs in Kenya. In January 2022, WHRD Elizabeth Ibrahim Ekaru was stabbed to death while attending a burial. Her death allegedly took place while she was working on defending land rights in Kenya.
Trafficking in persons
WHRDs reported that many women and girls have been trafficked to the Middle East. Those who travel are lured under fraudulent offers of employment and then subjected to violence and sexual abuse. While some women have been able to contact the Hub through social media, the whereabouts and wellbeing of many women and girls are not known. Female Members of the Kenyan Parliament have called on government agencies to produce a list of all girls who have travelled to the Middle East and to ban others from travelling there as domestic workers. The US State Department's 2021 Trafficking in Persons Report concludes that Kenya does not currently meet the minimum standards for the elimination of trafficking.
In the second part of the session, we looked at how international human rights standards and best practice might assist in documenting cases including informed consent, safeguarding evidence, interactions with state authorities, and compiling data on impunity mechanisms for regional and international human rights bodies.
Dandora Community Justice Centre
We also met the members of the Dandora Community Justice Centre. We were put in touch by Junia and the Scottish Human Rights Defenders Fellowship at the University of Dundee. Dandora is another informal settlement in Nairobi whose inhabitants have long suffered human rights abuses. Human rights defenders have set up community justice groups to advocate for the promotion of human rights and community empowerment. There is a lot of work to do. Missing Voices has documented 1296 extrajudicial killings and 244 enforced disappearances in Kenya since 2007.
We were fortunate to meet members of the Mothers of Victims and Survivors Network there. Like the Madres de Plaza de Mayo in Argentina and Madres de Soacha in Colombia, women in Kenya have taken a leading role in the fight against impunity for serious human rights violations. Mothers of Victims and Survivors Network was created in 2017 to document cases of extrajudicial killings, enforced disappearances and police brutality. As well as campaigning on human rights issues and providing pyschosocial support to families, they have managed to take 22 cases of alleged human rights violations to court in Kenya.
We met their coordinator Mama Victor whose two sons Victor and Bernard were allegedly killed by police officers on the same day in 2017. The pain in her voice when she spoke of her sons' murder was only surpassed by her steely determination to ensure that all mothers see their rights to truth, justice and reparation become a reality.
Amongst the darkness there are rays of light. Early this year, Kenyan Prosecutors charged senior police officers of murder rape and torture of as crimes against humanity in the context of the 2017 elections. This is the first time that Kenya has used the International Crime Act to prosecute crimes against humanity in domestic courts.
Looking ahead
After 10 days in Kenya, we were only scratching the surface in terms of the challenges faced by WHRDs. However, it is clear that being a WHRD in Kenya means working in a lonely, hostile and often dangerous environment. Organisations such as the Hub are vital to give WHRDs the oxygen to continue to provide access to justice and promote equality in Kenya. While the battles on the ground must be won by Kenyan lawyers and human rights defenders, there is a role for international solidarity. Salome and her colleagues at the Hub are keen to keep working with the Scottish legal profession. We're grateful to AM Advocates who have already committed to providing further support for the Hub going forward. Salome can be contacted by email: salome.nduta@gmail.com.