Inaugural Theresa Hunt Prize in Excellence awarded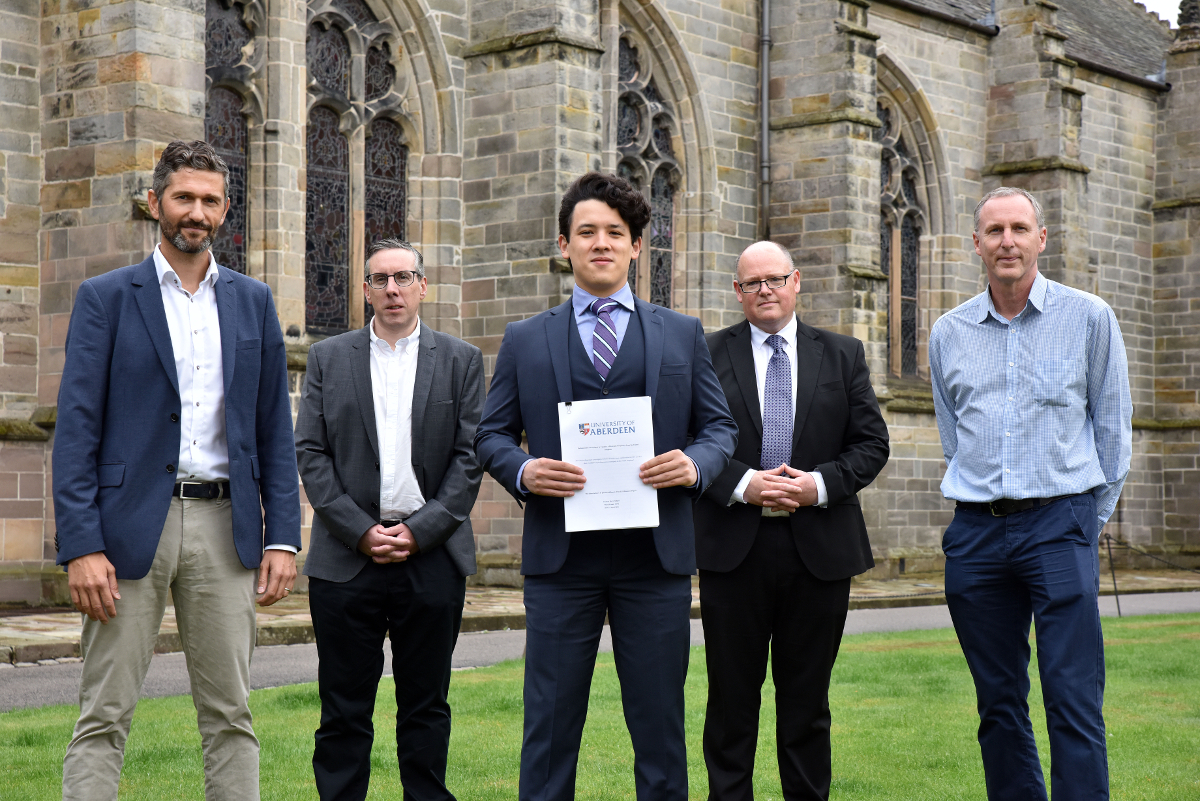 A student of law at the University of Aberdeen has become the first ever recipient of a new annual award in honour of a successful lawyer from the city who passed away last year.
Tarken James Moore, who hails from Edmonton, Alberta, has been chosen for the Theresa Hunt Excellence Prize in Public Law after he graduated with First Class Honours.
His dissertation entitled Parliamentary Sovereignty in the Dominion of Canada: A Divergent Perspective was chosen by assessors as worthy first winner of the award - which was established by lawyer Theresa Hunt's family to create a lasting legacy in her memory by supporting students who show strong academic performance in line with her professional interests.
Theresa, who was a leading member of Burness Paull's specialist planning law team, passed away on Friday July 24 2020. She was 40 years old.
Professor Greg Gordon, head of the school of law at the University, said: "I was delighted to work with Burness Paull to establish The Theresa Hunt Excellence Prize in Public Law.
"Theresa is remembered here with great fondness and it is an honour for the Law School to be able to celebrate Theresa's memory in a way that also recognises our students' achievements.

"Tarken is a very worthy recipient of the inaugural prize, and has set a high standard for future winners.

"I would like to take this opportunity on behalf of the School to congratulate Tarken once again on his achievement, and to thank Burness Paull and Theresa's family for their generous support of our students."
Tarken James Moore was in the Canadian armed forces for over three years before he moved to Aberdeen to begin his undergraduate studies.
During his senior honours year, he was convenor of the school of law and sat on the University of Aberdeen Senate's Undergraduate Committee.
Since completing his studies, Tarken has been working as legislative and policy director to David Yurdiga MP in the Parliament of Canada.
Commenting on receiving the award, which is accompanied by a cheque for £1,000, he said: "I am delighted to be the first winner of the Theresa Hunt Excellence Prize, it is a huge honour to win a prize in the name of someone who contributed so much to the profession during her career."
Theresa spent her entire career at Burness Paull, joining its legacy firm Paull and Williamsons in Aberdeen as a trainee in 2002. She became a partner in the firm in February 2019 – a notable achievement for a lawyer so young.
She often represented clients involved in major planning projects in the northeast and went on to lead the firm's licensing practice, appearing regularly in high-profile hearings across Scotland and in England.
John Strachan, head of the Burness Paull's commercial real estate division, said: "Theresa is a greatly missed friend and colleague to all at Burness Paull and many others in the legal and property communities.
"Theresa was well-known both for the high standards she set for herself and others, and for her generous devotion of time to encouraging, mentoring and developing new entrants to the legal profession.
"The prize is a fitting reflection of Theresa's talents and interests. It is pleasing to see the first award of the prize go to such an impressive winner in Tarken, who we congratulate and wish well in the next stage of a promising legal career."
Chris Hunt, Theresa's husband, added: "The whole family would like to thank Burness Paull and the University of Aberdeen for making this award possible.
"Theresa would have been humbled to have this award in her name. She is missed every day, but this is an unbelievably positive thing to come out of the sadness of her passing.
"It was lovely to meet Tarken, a worthy winner of the award, we wish him all the best for the future."