Former DPP Alison Saunders rebuked by government committee over Linklaters appointment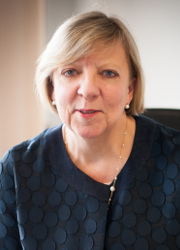 Former Director of Public Prosecutions Alison Saunders broke Whitehall rules after leaving public service to join City law firm Linklaters last year, a watchdog complained.
Ms Saunders, 58, whose tenure at the Crown Prosecution Service was controversial, failed to inform Whitehall officials that she was joining the Magic Circle firm as a business crime partner.
The office of the Advisory Committee on Business Appointments was highly critical of her in a statement only published recently by the government rebuked her severely.
It registered its "concern that Ms Saunders sought advice on this appointment after it was announced she was joining Linklaters at the end of her term as DPP".
Whitehall rules, it explained, specify "that individuals should not accept or announce a new appointment/offer of employment before advice has been received; and that retrospective applications will not normally be accepted".
While it acknowledged her apology, the committee banned her from participating in cases involving the CPS or the Serios Fraud Office for two years from beginning her role at Linklaters.
Furthermore, she is banned for the same period from adivsing on CPS contracts and lobbying the government on behalf of Linklaters' clients.
A spokesman for the firm said it "noted the committee's routine guidance and the conditions recommended in this instance. Both the firm and Alison will remain in full compliance with these".