Brian McConnachie QC hails success of first Glasgow jury trial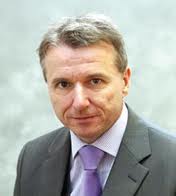 Brian McConnachie QC has reflected on the success of the first trial since lockdown in Glasgow, saying we must "ensure that trial by jury survives the pandemic as it survived [the] World Wars".
Mr McConnachie tweeted that while it was "odd at first to see an empty jury box" it quickly became "inconsequential".
The trial was conducted using multiple courtrooms.
He said: "The strangest part of the process was addressing the jury in the large expanse of the public gallery. It was hard to ensure that you were engaging with everyone scattered as they were in the room. However, ultimately it did seem as if they were, despite the circumstances engaged.
"At the conclusion of the trial they were rightly thanked profusely for their attendance and hopefully they left feeling that their care had been considered and appreciating what an important part they played in the proceedings. Trial by jury is of the utmost importance."
Mr McConnachie praised the efforts of the Scottish Courts and Tribunals Service in getting the trial up and running and also those of the judge, his clerk and macer.
The QC added: "This arrangement might not be perfect, the fact that two courtrooms were used is a downside. Whether this arrangement or the remote jury used in the Edinburgh trial is the future will be for others to decide in due course. However, the trial concluded without any issues arising.
"Whichever method is adopted it has been proven that jury trials can take place. We now need to press on in a collective effort to get as many trials up and running as possible and to ensure that trial by jury survives the pandemic as it survived World Wars."