US judges make a big impression in Scotland after 'therapeutic justice' talks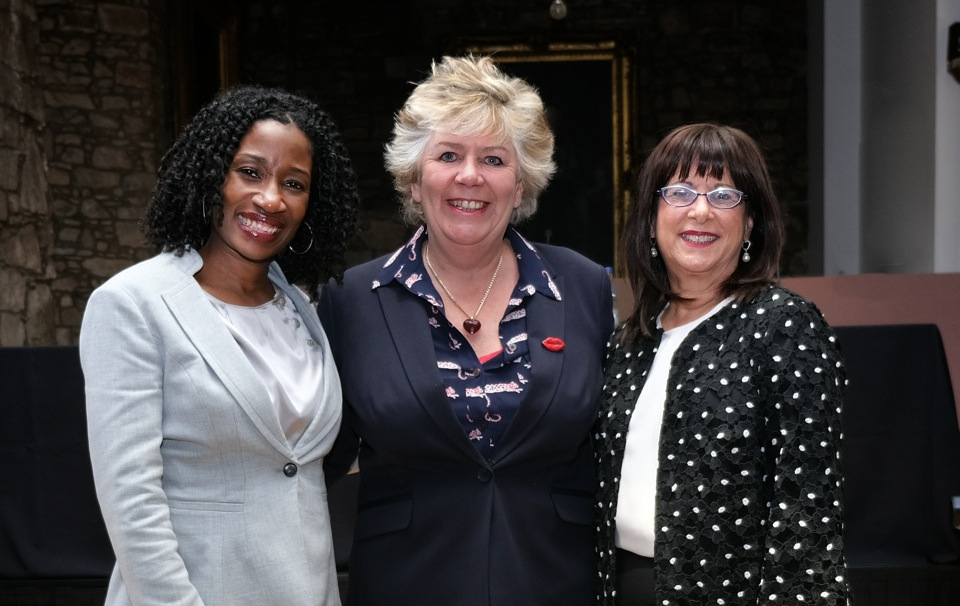 Two innovative judges from the US made a big impression with talks on "therapeutic justice" at a Faculty of Advocates seminar - and it seems Scotland made a big impression on them.
Judge Ginger Lerner-Wren spoke of pioneering America's mental health courts, while Judge Victoria Pratt discussed her commitment to procedural justice - treating people with dignity and respect within the court process - as they ended a week-long visit.
"We have had an intense, whirlwind tour, and to cap it off here (at the Faculty) is just really overwhelming," said Judge Lerner-Wren. "I have had an amazing time, unforgettable, and I can't wait to come back."
Judge Pratt added: "It has been great to see all the work you are doing here to provide and dispense justice for citizens, and how you are identifying gaps in your system and innovative ways of filling those gaps."
The Lord Justice Clerk, Lady Dorrian, chaired proceedings in the Laigh Hall, and welcomed "two terrific speakers".
Judge Lerner-Wren said a diverse task force had been set up in Florida in the mid-1990s to address the issue of people with mental health problems finding themselves in trouble with the law and being jailed because they could not get treatment.
"Judges were really not equipped to respond to the complex and special needs of people with serious mental illnesses being arrested. So, we had the endless recycling where they were put in jail, came out to homeless shelters, back on the streets, back in trouble and then back in jail," she said.
The first mental health court, focusing on treatment rather than punishment, was set up with Judge Lerner-Wren at the helm, and the model has been followed globally.
"In 22 years, we have diverted over 22,000 people out of jail into care, back to work, back to school, back to their families. I have never been more gratified working in the law than I have been doing problem solving work. It is absolutely amazing not only working to deliver justice but to see people thrive, and coming back to your court, saying, 'Thank you. You have saved my life.' "
Judge Pratt said she had been taught by her parents to treat everyone she met with dignity and respect, no matter how they looked, how they dressed or how they spoke.
The concept of procedural justice, she went on, involved the court participant believing they had been treated with dignity and respect, and as a result they respected the courts and were more likely to obey the law in future.
"You give people a voice, an opportunity to speak…they must perceive the court process is neutral…it is important they understand the court process and what is expected of them. But, above all is respect. Without it none of the other principles work. And respect is contagious," said Judge Pratt.
She recalled one long-term addict, a seemingly lost cause, who had returned to her court a changed man to tell her: "I came back to court because you showed me more love than I had for myself."
Judge Pratt added: "When you treat somebody with dignity and respect, you are saying, 'I see you.' "
Her court dealt with people who had been addicted to heroin for 40 years, and enjoyed a 70 per cent compliance rate.