Thorntons promotes three to partnership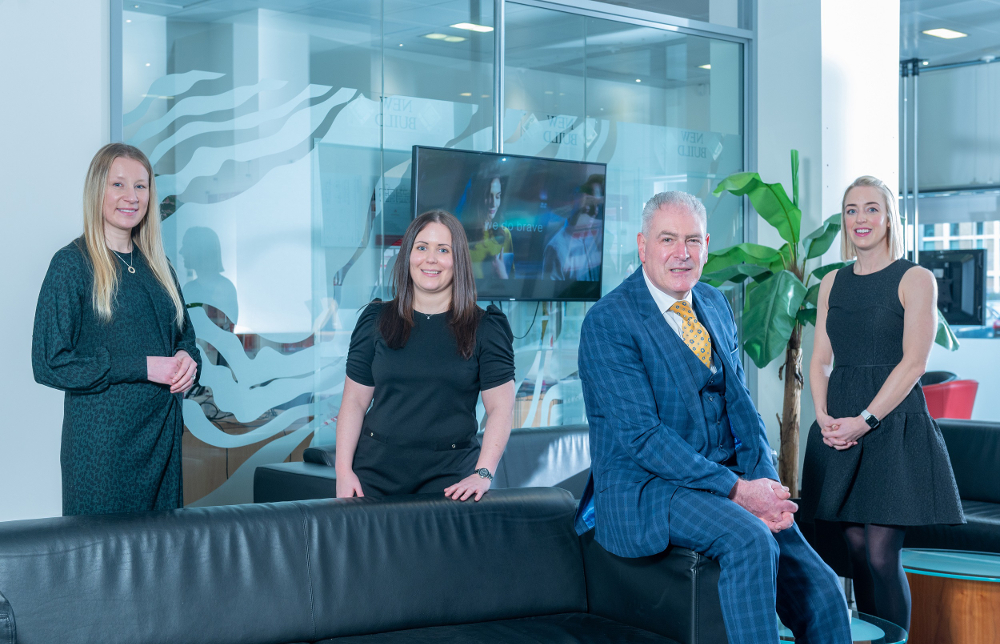 Thorntons has strengthened its specialist property teams with the promotion of three new partners.
Nicola McCafferty in Dundee and Aimee Gibbons in Glasgow have been appointed as commercial real estate partners while Hannah Fraser in Edinburgh has been elevated to residential property partner.
Managing partner Lesley Larg said: "It is always a privilege to promote from within as we pride ourselves on offering excellent training and development opportunities for all of our people across the firm.
"Nicola, Aimee and Hannah are fantastic examples of three different avenues to senior leadership at Thorntons as Nicola was an external hire who was appointed as an associate, Aimee started with us as a trainee and Hannah joined following one of our strategic mergers. Their achievements in a traditionally male-dominated area of Scottish law are highly commendable and will be a great boost for our network of colleagues and clients in Glasgow, Edinburgh and Dundee.
"I have every confidence they will each continue to lead the firm to help our clients, colleagues and communities succeed."
Ms McCafferty started at Thorntons in 2016 as an associate following a traineeship with Blackadders. She has played a leading role in several high-profile projects in Dundee including supporting the acquisition of the Michelin Scotland Innovation Parc where she continues to advise on tenancy matters. The new partner has also been involved in the purchase of former school sites for a residential developer constructing private and affordable housing, and recently completed the sale of two multi-let building in St. Andrews for more than £1.4m.
She said: "Commercial real estate can be so varied from multi-let office blocks and retail units to caravan sites or petrol stations but advising on unusual and complex development sites certainly keeps things interesting.
"I've felt very supported throughout my career and coming out the other side of the pandemic as a leader within the business is something that I am extremely proud of. I have now also taken on a role to help trainees when they join the firm to support the next generation of leaders in the profession."
Ms Gibbons started at Thorntons as a trainee solicitor in the commercial property team nine years ago. At 31 years old, she is one of the firm's youngest partners with a key role in leading the firm's Glasgow operation.
She said that the firm had been supportive of her career ambitions, commenting: "I've benefited from great mentors and training opportunities throughout my career with Thorntons and it's fantastic to be awarded partner status this year.
"I have a particular interest in investment deals, portfolio management and real estate finance and will continue working with investors and funders alike as I look to drive the firm's growth and development in Glasgow."
Examples of some of Aimee's recent deals include acting for Shed5 Limited in its acquisition and estate management of three Scottish Industrial Estates for a combined total of £9.5m, and a further acquisition, lease and subsequent disposal of a 52,000 sq. ft. unit in Cumbernauld, leased last summer to one of the UK's leading rocket manufacturers. The new partner also acted for the James Hutton Institute in its acquisition of an Invergowrie site from the Scottish Ministers for £3.6m and has completed numerous finance deals for a mainstream lender, predominantly in the healthcare sector.
Ms Fraser joined Thorntons in 2017 following the Pagan Osborne merger and has recently returned to the Edinburgh office following maternity leave.
She said: "In a competitive and often crowded property market, it is so rewarding to help my clients secure their dream home, whether it be a first-time buyer or a growing family. Building relationships with clients, our community and colleagues is at the heart of conveyancing and something that I am passionate about.
"It is an exciting time for our team, increasing in size through the Stuart & Stuart WS merger and we have a great opportunity to grow our presence and footprint in the property market across Edinburgh and Lothian. As partner I hope to encompass the firm's values in my leadership mentality and be a supportive and positive mentor for the team."