Star line-up as Faculty celebrates 100 years of women in law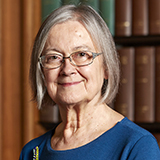 The President of the UK Supreme Court, Lady Hale, and the Lord Justice Clerk, Lady Dorrian, head a stellar line-up of speakers for a special celebration by the Faculty of Advocates of 100 years of women in the law.
The Faculty of Advocates is bringing together a number of eminent women who have made significant contributions to equality, as it marks the centenary of the Sex Disqualification (Removal) Act 1919 which paved the way for women to become lawyers for the first time.
The free event will take place on the afternoon of Friday, 20 September, in Parliament House, Edinburgh - home of Scotland's supreme courts – and will be open to lawyers and non-lawyers.
Those able to secure tickets will hear:
• Lady Hale
• Lady Dorrian
• Lady Cosgrove, the first woman to be appointed a Court of Session/High Court judge
• Lady Wolffe, the first woman to serve as a judge in the Commercial Court
• Frances McMenamin QC, currently the senior woman at the Scottish Bar, having been admitted in 1985
• Ash Denham MSP, the Scottish Government's Minister for Community Safety
• Faculty members Nicola Gilchrist and Ann MacNeill.
Angela Grahame QC, Vice-Dean of Faculty, said: "Since 1919, remarkable changes have taken place in both society generally and the legal profession. This centenary year is an opportunity for us all to reflect on those changes, but also to look forward positively to the next 100 years.
"I look forward to welcoming everyone to what will be a very special event hosted by the Faculty. With so many of my own heroes coming together to share their personal experiences of life in the legal profession, I have no doubt that it will be a highly entertaining and very enjoyable occasion."