Sheku Bayoh public inquiry to begin next week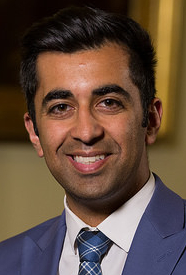 The independent public inquiry into the circumstances surrounding the death of Sheku Bayoh in police custody will begin next Monday, Justice Secretary Humza Yousaf has announced.
Lord Bracadale, a former Senator of the College of Justice, will lead the statutory inquiry and will announce how it will proceed in due course.
Mr Yousaf also appointed Michael Fuller and Raju Bhatt as assessors to support Lord Bracadale.
Mr Fuller is a former Her inspector of the Crown Prosecution Service before which he served 34 years as an officer in the Metropolitan Police Service and Kent Police, retiring as chief constable of Kent Police in 2010.
During his time in the Met he was instrumental in setting up the Racial and Violent Crime Task Force and drew up the force's action plan in response to criticism of institutional racism arising from the inquiry into the Met's investigation into the murder of Stephen Lawrence.
Mr Bhatt is an experienced lawyer, specialising in working with families who have lost a loved one through a death in custody. In 2015, he was appointed to the Reference Group on the Independent Review of Deaths and Serious Incidents in Police Custody by Dame Elish Angiolini QC who reported to the Home Secretary in 2017.
In 2010 he was appointed to the Hillsborough Independent Panel which reported to the Home Secretary in September 2012. In 2009 he was appointed special adviser to the Joint Committee on Human Rights in relation to its parliamentary scrutiny of the bill that became the Coroners and Justice Act 2009.
Mr Yousaf said: "The family of Mr Bayoh have shown remarkable dignity and perseverance during their five-year wait for an inquiry into the death of Sheku. I hope that today's announcement gives them comfort and reassurance that the circumstances surrounding his death will be examined in a public and transparent manner.
"Lord Bracadale and I worked closely together in selecting the assessors and we agreed that Mr Fuller and Mr Bhatt would provide extensive levels of experience and expertise to the Inquiry. The formal start of the Inquiry is a key milestone and I am confident the assessors will ably assist the chair to consider issues relevant to the Terms of Reference.
"The Inquiry will examine the circumstances leading up to the death of My Bayoh, the post incident management process and subsequent investigation. The inquiry will also establish the extent to which Mr Bayoh's actual or perceived race played a part in events, if any."