Chief constable admits Police Scotland is 'institutionally racist and discriminatory'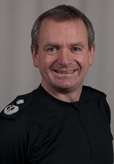 Sir Iain Livingstone, Police Scotland's chief constable, has admitted that the single force is institutionally racist and discriminatory.
The revelation follows a review that revealed instances of racism, sexism, and homophobia by active officers. Reports of staff facing repercussions for flagging these issues were also presented. The acknowledgement from Sir Iain, thought to be the first by a police chief, comes amid debates about the culture within UK law enforcement.
At a Scottish Police Authority meeting Sir Iain said: "It is the right thing for me to do, as chief constable, to clearly state that institutional racism, sexism, misogyny and discrimination exist.
"Police Scotland is institutionally racist and discriminatory. Publicly acknowledging these institutional issues exist in our organisation is essential to our absolute commitment to championing equality and becoming an anti-racist service."
Sir Iain, due to retire on August 10, highlighted the degree of prejudice and inappropriate behaviour within the force, as demonstrated by court and conduct cases and independent reviews. He conceded that individuals from diverse backgrounds and with varying needs "don't always get the service that is their right".
He said: "There is no place in Police Scotland for those who reject our values and standards."
Martyn Evans, chairman of the Scottish Police Authority, identified the chief constable's acknowledgement as a "watershed moment" for Scottish and UK policing. First Minister Humza Yousaf described it as "monumental and historic".
He said: "I hope it also serves as a reminder to all of us that in whatever organisation we lead that we examine and reflect on whether we are doing enough to dismantle those barriers".
In response to recent concerns about its culture, Police Scotland initiated a four-year "Policing Together" strategy last year to combat discrimination within the force and the community, appointing an assistant chief constable to oversee its implementation. A mandatory leadership programme is also being introduced for about 5,000 officers and staff to foster improvements in the existing workplace environment.
Solicitor Aamer Anwar said: "Today's statement by the chief constable is testament to families like those of Sheku Bayoh, Surjit Singh Chhokar and all those struggles fought by the victims of racial violence and injustice."
Chair of the Sheku Bayoh Inquiry, Lord Bracadale, said: "The inquiry welcomes the statement today by the chief constable of Police Scotland.
"The Sheku Bayoh Inquiry was set up to examine the events surrounding the death of Mr Bayoh, including whether race was a factor in those events. I look forward to the continued co-operation of Police Scotland in the work of the inquiry."