Scottish Council of Law Reporting announces new reporters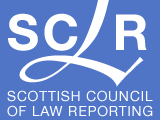 The Scottish Council of Law Reporting has announced the appointment of four additional law reporters to the Session Cases team.
The selection process involved an aptitude assessment as well as interviews conducted remotely by video link.
The new appointees are Megan Dewart of Axiom Advocates, Roddy MacLeod of Terra Firma Chambers, Alex Sutherland of Ampersand Advocates and Neale Tosh (now devilling for admission as an advocate in 2020 and formerly a solicitor-advocate).
They will be trained as law reporters by Emma Toner and Timothy Young, respectively editor and deputy editor of Session Cases, with a view to their first reports appearing in Session Cases later in 2020.