Scots lawyers massively in favour of retaining wigs and gowns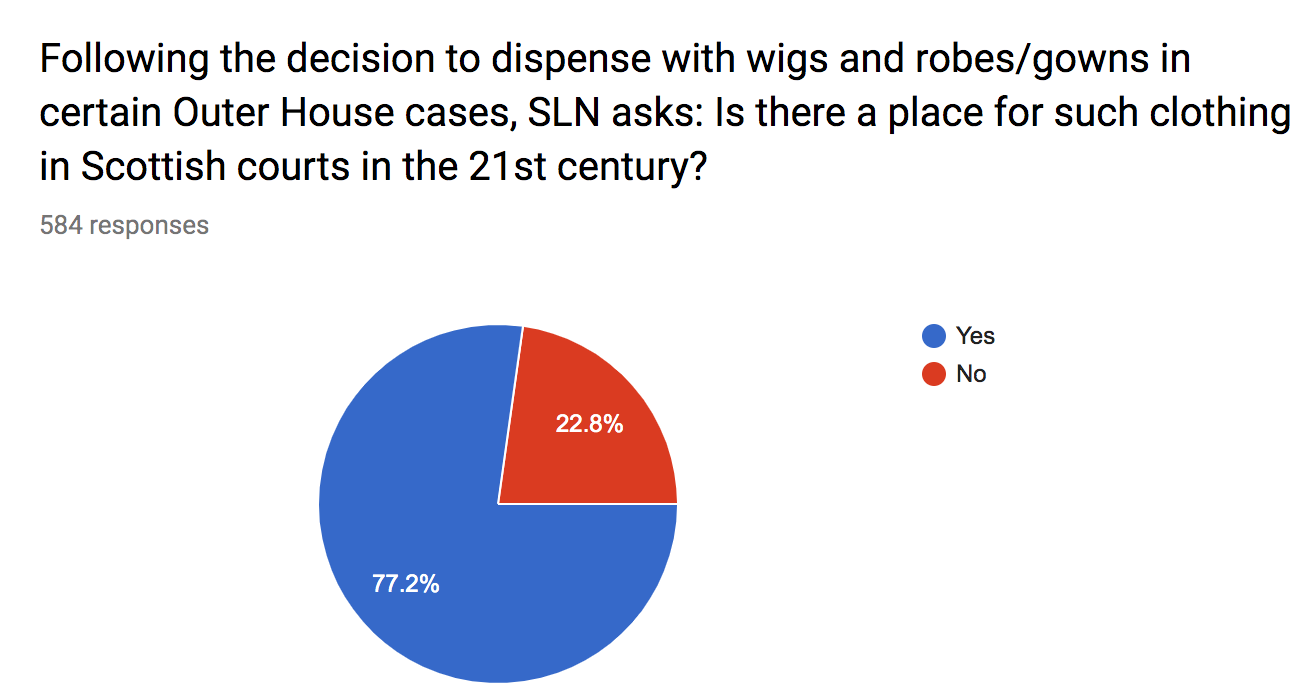 A survey conducted by Scottish Legal News has found that a majority of lawyers favour the use of court dress after a practice note from the Lord President this week precipitated a debate on the wearing of wigs and robes/gowns.
Of 584 respondents to our survey, 451, or 77.2 per cent, said 'yes' to the question "Is there a place for such clothing in Scottish courts in the 21st century?" Only 133, or 22.8 per cent, answered 'no'.
The debate has provoked strong views on both sides – some lawyers defended court dress as being part of a hallowed tradition while others thought it mere wiggery.
Mike Dailly, of Govan Law Centre, tweeted: "I'm all for the removal of gowns in the Outer House of the Court of Session from 1 December. It's worked well in the Inner House. And UKSC. One doesn't need garb for persuasive advocacy. Brilliant to see Court of Session leading on this modernisation."
In a letter to SLN, John Campbell QC opined: "Dumbing down our senior court to make it look just like any old business engagement is absolutely the wrong thing to do. This practice note diminishes the court's status and significance and in an odd way seems to reduce its proceedings to a humdrum event. Are we now to be recognised by the quality of our tailoring?"
Solicitor Mike Kemp told SLN: "I see no real benefit in wearing a wig and gown for hearings where the only people in attendance are the judges and lawyers. For all I know, a wig may bring with it special powers, but I do know that a gown does not."
Family law expert John Fotheringham tweeted: "When I was a new lawyer in 1977 the Glasgow sheriffs wouldn't have known I was qualified without my gown. In [Court of Session] and in smaller [sheriff courts] that problem doesn't arise. Is that argument enough to keep gowns? I don't think so."
Prosecutor Scot Dignan tweeted: "They can take my Court Armour when they pluck it from my cold dead body! Let's not mistake modernisation for barbarism! #TraditionsMatter."
Lawyer and author Willie McIntyre asked: "How can the public take the law seriously if lawyers are not dressed in mid-seventeenth century clobber?"