Review: Capital Punishment and the Criminal Corpse in Scotland, 1740–1834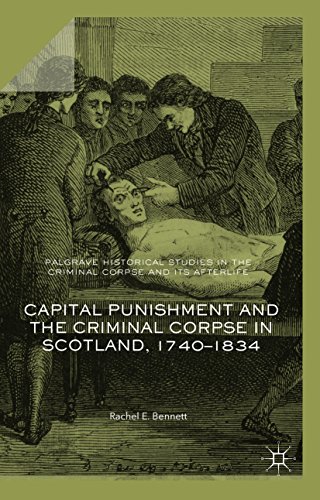 Public execution of a person on judicial warrant after a capital charge had been proved against them at trial was always a deeply moving event. It was notably in the earlier periods of time a remarkably violent episode.
This book provides an in-depth study of capital punishment in Scotland between the mid-eighteenth and early nineteenth century. Based upon an extensive analysis of previously known but unused sources, it provides a comprehensive review of the whole legal process.
The study demonstrates that the period between 1740 and 1834 was one of discussion, debate and fundamental change in the use of the death sentence and how it was staged in practice.
The use of capital punishment is placed in the context of the events the era, including Anglo-Scottish relations after the Union of 1707, the rebellion of 1745 and then urbanisation and industrialisation.
The study provides an innovative investigation of the post-mortem punishment of the criminal corpse, and their use in medical schools for anatomical demonstration.
This book is the result of a major, multi-disciplined project funded by the Wellcome Trust, investigating the meaning, treatment and uses of the criminal corpse in Britain.
While the interesting contribution of Dr Bennett, and those of eight others, may be purchased as books in the conventional sense, access under a Creative Commons BY 4.0 license is allowed for freely here.
Capital Punishment and the Criminal Corpse in Scotland, 1740–1834 by Rachel E. Bennett