Professor Guido Noto La Diega made first chair of IP and technology law at Stirling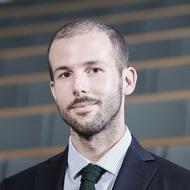 Professor Guido Noto La Diega has been made the first chair of intellectual property and technology law at the University of Stirling.
Professor Noto La Diega has developed an expertise in IoT, machine learning, cloud computing, robotics, and blockchain. Their focus tends to be on the intellectual property, consumer protection, data governance, and human rights issues in these technologies.
They said: "I'm delighted to have received the news of this appointment. As ChatGPT and AI become ubiquitous, it is a really exciting time to be working on the law of emerging technologies and to do so in Scotland, a country that has the ambition and the potential to become a leader in this space.
"I have the privilege to be the first director of the Just AI Lab, a genuinely multidisciplinary team working to ensure the just transition to socially just, trustworthy, responsible, open, inclusive and sustainable AI. Students are benefitting from our research-led teaching that constantly challenges them to understand, criticise, and use new technologies in an honest and responsible way.
"We have the ambition to steer AI in a societally beneficial way and we are committed to do so working with public and private stakeholders in Scotland and globally. It will be an honour to continue to contribute to this work as Stirling's first chair of intellectual property and technology law."