Edinburgh Napier team wins Lord Jones Moot Competition 2023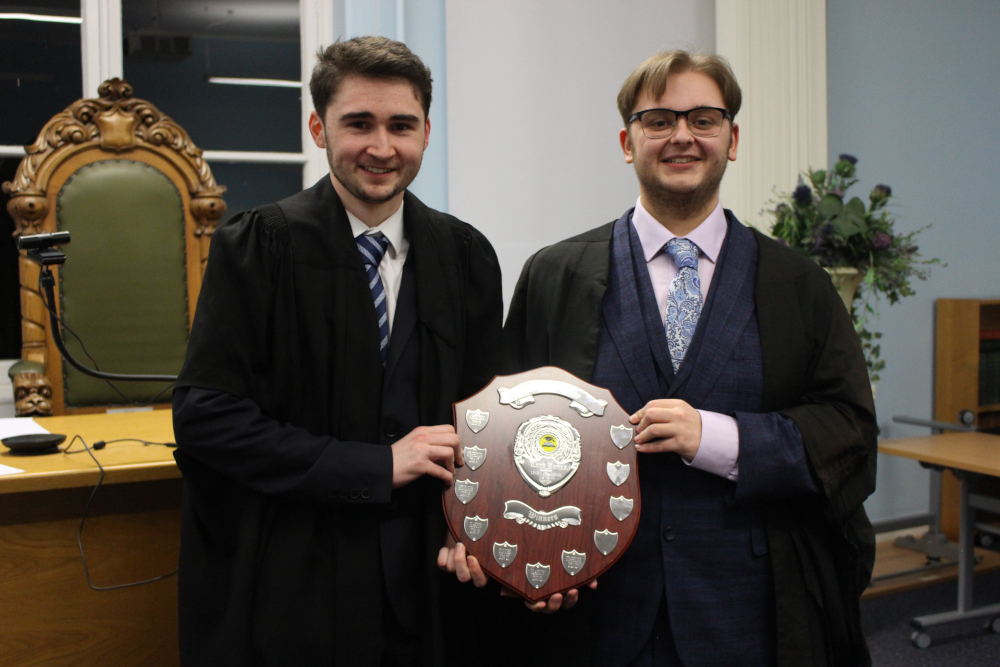 Edinburgh Napier's Lewis Hay and Michael Kerr have won this year's Lord Jones Moot Competition, becoming the first team from the university to do so.
Held at the University of Dundee this month, Napier beat Glasgow's Emily Provan and Sophia Alvi in the final, which was judged by Lady Drummond.
The competition is an annual inter-varsity event hosted by the University of Dundee Mooting Society. Founded as the Scottish Inter-varsity Moot, it was renamed in 2016 in honour of the late Lord Jones, a Dundee Law School graduate and honorary president of the mooting society.
Twelve teams attended the eight edition of the competition, representing eight universities across Scotland – Dundee, Abertay, St Andrews, Stirling, Edinburgh, Edinburgh Napier, Glasgow, Strathclyde, and Stirling. The competition was sponsored by DWF and judged by a variety of academics and advocates.
Organiser and University of Dundee Mooting Society vice-president Alex Anderson said: "It was great to see such a high standard of advocacy across a challenging and rewarding day.
"The hard work put in by all was plain to see, and we are glad the event was such a success. We are very grateful to DWF for their sponsorship, to our judges who made the day possible, and to Lady Fiona Jones and her family for attending on the day."