Glasgow prevails over Dundee to win this year's Lord Jones Moot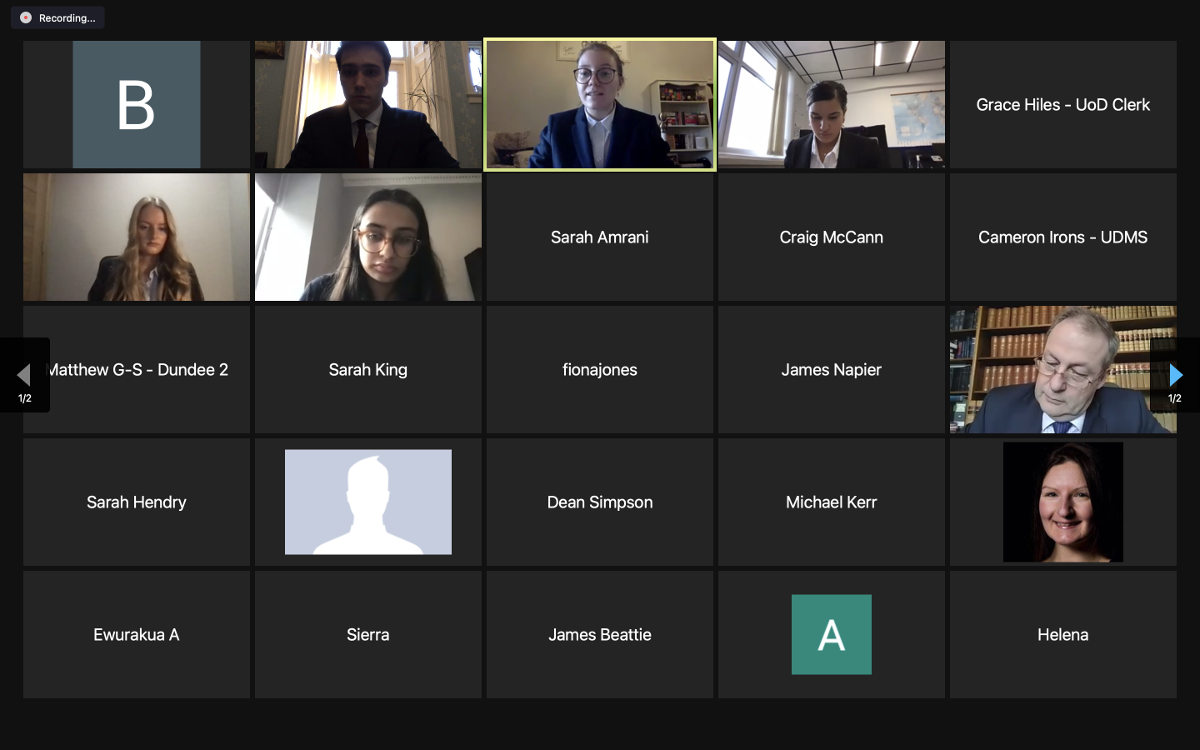 The University of Glasgow has won this year's Lord Jones Moot Competition.
Olivia Mckale and Roop Dhami for Glasgow beat Dundee University's Kelsey Laird and Robyn Mearns at the final of the online moot.
This year's competition saw a record 12 teams competing from eight different universities: Dundee, Abertay, Aberdeen, St Andrews, Strathclyde, Stirling, Edinburgh Napier and Glasgow.
The competition was sponsored by DWF Group.
The Lord Jones Moot Competition is an annual inter-varsity moot competition which is hosted by the University of Dundee Mooting Society.
Previously known as the Scottish Inter-varsity Moot, the competition was renamed in 2016 in commemoration of the late Lord Jones, an alumnus of the University of Dundee Law School and honorary president of the mooting society.
Now in its sixth year, the competition follows the Inner Temple style with teams preparing both sides of the problem and being given just ten minutes' notice of which side they will advocate on behalf of in each moot.
The final round was judged by Lord Ericht, while Professor Herbert Kerrigan QC and Ximena Vengochea judged the semi-final round. The earlier rounds of the competitions were judged by academics across Scotland, along with DWF director Lynne Macfarlane, who delivered a talk on her experience working with Lord Jones and her career as a court litigator.
Professor Kerrigan: said "Mike Jones, Lord Jones was a perfectionist in preparation and presentation. Each year the Lord Jones Moot sponsored by DWF Group based throughout the United Kingdom with an office in Edinburgh and Glasgow and generously supported by Lady Jones increases in stature.
"This year the students were all well prepared and made excellent presentations and particular commendation to Stirling who reached the semi-final on their first appearance. The work was a tribute to an outstanding judge who advanced advocacy leaning throughout his career. Both Dundee and Glasgow were excellent in the final and congratulations to Glasgow as winners and I look forward to them accompanying me in future real-time cases!"
Ruairidh Gilchrist, vice president of the University of Dundee Mooting Society and moot organiser, said: "The University of Dundee Mooting Society were delighted to have hosted the Lord Jones Competition this year and we extend our congratulations to the winners at Glasgow University and the runners-up at Dundee University. This event would not have been possible without the continued support of DWF as our sponsors and we would like to thank all our judges for joining us for the competition. Particular thanks go to Fiona Jones and her family for all their support and advice for the competition."
"Our Mooting Society created the Lord Jones Competition to continue all the hard work of Lord Jones who was passionate about improving the advocacy ability of law students who wished the pursue a career at the bar. We were pleased to have hosted the competition this year even in these difficult times and hope that we can once again host the competition in Dundee for 2022."