Lord Reed to become patron of Aberdeen Law Project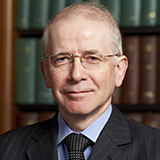 President of the Supreme Court, Lord Reed, is to become a patron of the Aberdeen Law Project.
Lord Reed said: "The Aberdeen Law Project is a remarkable student-led project. Its volunteers provide a vital link between the community and the legal system, by improving access to justice and by working with schools, prisons, the police, women's aid and other organisations. I am filled with admiration for the passion and dedication of the students involved."
Anna Robertson, commenting on behalf of the board, said: "To have such an esteemed member of the legal community become a patron of the project is such wonderful news."
Helena Siebenrock, student director, added: "I know I speak for the whole team when I say how much Lord Reed's comments about our work and the energy we put into it mean.
"Improving access to justice and doing more for local communities is what we're passionate about – but passion is only part of the equation and it's the support of our patrons that makes all the difference and really helps us drive our work forward."