Lord Hodge: Profession must act to avoid 'lasting detriment' for young lawyers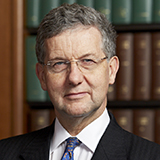 The legal profession must act to ensure there is no "lasting detriment" to young lawyers as a result of the Covid-19 pandemic striking early in their careers, the deputy president of the UK Supreme Court has said.
Lord Hodge spoke on the courts' response to the pandemic at the British Irish Commercial Bar Association's annual law forum, which took place virtually last week.
The senior judge acknowledged the financial problems that the pandemic had caused for many established lawyers, especially criminal practitioners.
He added: "I am also concerned about young lawyers. The pandemic has reduced the opportunities for young lawyers to develop their careers by watching court cases and having easy access to more senior members of the profession from whom they can learn. Training opportunities have been seriously disrupted.
"It is important that the profession bears in mind the difficulties which the pandemic has created for young lawyers when better times return and acts to ensure that there is not lasting detriment.
"I am very aware that in the Supreme Court it has been difficult since March for the young judicial assistants to obtain the experience of working closely with the justices which their job is intended to offer but there is no easy means of remedying this problem."
Lord Hodge's full speech is available from the UKSC website.