Top earners see legal aid fees bounce back after pandemic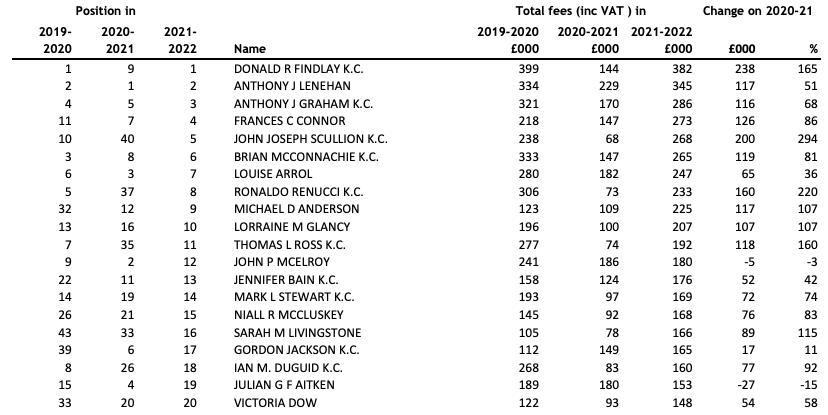 Donald Findlay KC earned the most from legal aid in 2021-22, figures from the Scottish Legal Aid Board (SLAB) show. The grand old man of the Scottish legal profession returned to the top of the table having dropped to ninth place in the previous year. He made £382,000 from legal aid in 2021-22 – a 165 per cent increase on the £144,000 of the previous year.
Following him in second place was Tony Lenehan KC, whose earnings rose by £117,000 to £345,000 in 2021-22.
Third place went to Anthony Graham KC, up from fifth in the last report. His earnings rose by £116,000 to £286,000.
In fourth place was Frances Connor, who made £273,000, an 86 per cent increase on the previous year's £147,000.
John Scullion KC took fifth place. He saw the biggest rise in legal aid fees of any advocate – from £68,000 to £268,000 – an increase of 294 per cent.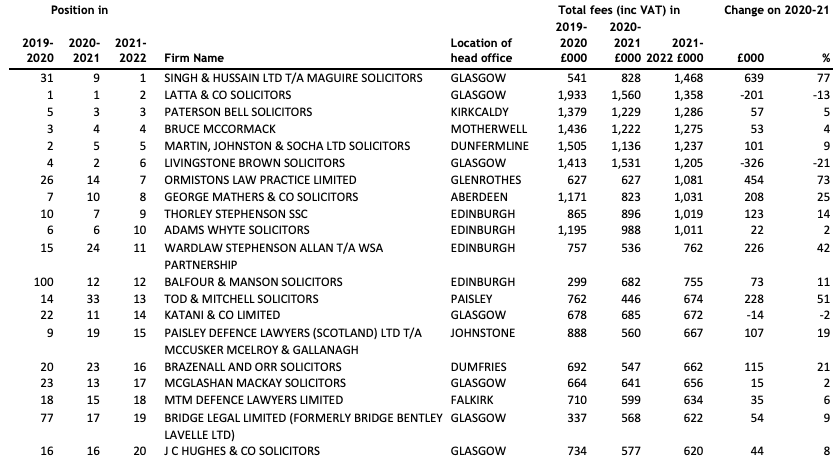 As for law firms, Maguire Solicitors took first place, having risen from ninth, with earnings of £1,468,000, a 77 per cent jump on the 2020-21 figures of £828,000.
Latta & Co dropped to second place after leading the table for two years, with its fees declining by 13 per cent. Its earnings stood at £1,358,000.
Paterson Bell Solicitors retained third place and saw a modest increase in its earnings, which rose by five per ent to £1,286,000.
Bruce McCormack similarly retained its place – at fourth. Fees saw an uptick of four per cent, to £1,275,000.
Martin, Johnston & Socha Ltd Solicitors made £1,237,000, a £101,000 increase on its 2020-21 figures.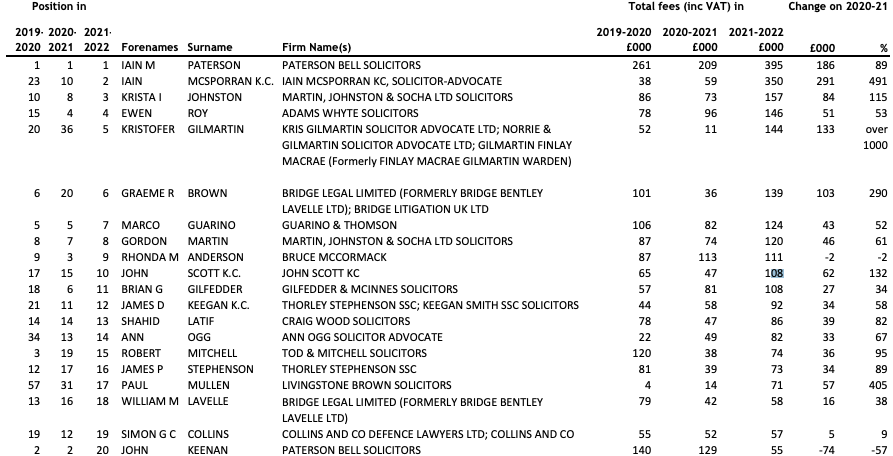 The changes for solicitor advocates were the most dramatic.
Iain Paterson of Paterson Bell Solicitors made £395,000 in legal aid fees – an increase of 89 per cent.
Second place went to another Iain, Iain McSporran KC, who saw a 491 per cent increase in fees, which went from £59,000 to £350,000.
Krista Johnston of Martin, Johnston & Socha Ltd Solicitors, placed third and saw fees rise by 115 per cent to £157,000
Ewen Roy of Adams Whyte Solicitors took fourth place. His fees rose by 53 per cent to £146,000.
In fifth place was Kris Gilmartin of the firm formerly known as Finlay Macrae Gilmarten Warden. His fees went from £11,000 to £144,000 – an increase of over 1,000 per cent.