Lady Hale defends Human Rights Act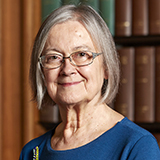 Lady Hale has defended the Human Rights Act, which the UK government wants to replace with a new Bill of Rights.
In an interview with The Guardian, the former president of the Supreme Court said: "The Human Rights Act is a perfectly good piece of legislation. There's absolutely no need to scrap it and doing so is almost bound to mean many more cases having to go to the European Court of Human Rights and more cases that the United Kingdom will lose."
The planned legislation has been widely criticised.
JUSTICE has said it would severely weaken rights protection in the UK, cause unnecessary legal uncertainty, have serious consequences for the devolved settlements and Good Friday Agreement and is inconsistent with the UK's international obligations under the European Convention on Human Rights.
Lady Hale also commented on the overturning of Roe v Wade.
She said: "It's a very backwards step, one that certainly damages women's autonomy over their own bodies. I don't think abortion is easy. I think it's a really serious moral issue. But in my view, that moral question is for women to answer."