Great Scots! Lord Hodge named Deputy President of the Supreme Court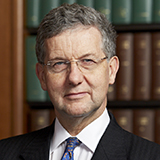 Lord Hodge has been appointed Deputy President of the Supreme Court, meaning the UK's two most senior judges are Scottish.
Her Majesty The Queen made the appointment on the advice of the Prime Minister and Lord Chancellor, following the recommendation of an independent selection commission.
Lord Hodge will succeed Lord Reed as Deputy President of the court.
Lord Hodge will be sworn in at a special ceremony on a date to be announced.
Lord Reed welcomed the appointment, saying: "I am delighted to congratulate and welcome Lord Hodge, on his appointment as Deputy President of the Court. He has made an important contribution to the work of the Court since his appointment in 2013, and his previous experience of judicial administration will stand him in good stead as our Deputy President. I am looking forward very much to working with him in his new role."
Following his appointment today, Lord Hodge said: "It has been a great privilege to have served on the Supreme Court since 2013 and it is a great privilege to have been chosen to follow Lord Reed as Deputy President of the Court. I feel honoured to have this opportunity and look forward to continuing to work with my colleagues from each of the jurisdictions of the United Kingdom in upholding the rule of law."
Lord Hodge became a Justice of The Supreme Court in October 2013. He was admitted to the Faculty of Advocates in 1983 and appointed a Queen's Counsel in 1996. From 1997-2003, he was a part time law commissioner at the Scottish Law Commission. Prior to his appointment to the Supreme Court, in April 2013, Lord Hodge was the Scottish judge in exchequer causes and one of the Scottish intellectual property judges. He was also a judge in the Lands Valuation Appeal Court and a commercial judge.
The role of Deputy President involves working alongside the President to oversee the judicial work of the court, and liaising closely with the chief executive who manages the court's administration. The Deputy President also shares a wider leadership and ambassadorial role with the President, undertaking a range of engagements to promote understanding of the role of the judiciary and senior appellate courts in the UK and to foster international links.
Gordon Jackson QC, Dean of the Faculty of Advocates, said: "What a wonderful tribute this is to the Scottish legal profession, that we have people of such calibre that they can attain the highest judicial offices in the UK.
"I have no doubt that the Supreme Court will go from strength to strength with Lord Reed and Lord Hodge at the helm. Both are exceptional lawyers and the Faculty is very proud of their achievements."