Free Northern Ireland protocol book published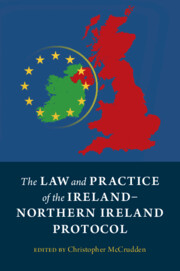 A free book exploring the law and practice of the Northern Ireland protocol has been published online.
Edited by Professor Christopher McCrudden of Queen's University Belfast (QUB), the book was produced in "close partnership" with the Office of the Lord Chief Justice of Northern Ireland.
A foreword by Sir Declan Morgan, former Lord Chief Justice, welcomes the book as "an important and informative Brexit resource for Northern Ireland" as well as "a model for collaborative working" between academics and the judiciary.
Sir Declan adds: "This comprehensive discussion of the issues presented by these new arrangements is of immeasurable benefit to legal practitioners, academics, judges and wider society. On behalf of the Northern Ireland judiciary, I want to thank all of those who have contributed."
The Law and Practice of the Ireland-Northern Ireland Protocol was published this month by Cambridge University Press and is available with open access.