Four new recruits for Pinsent Masons in Aberdeen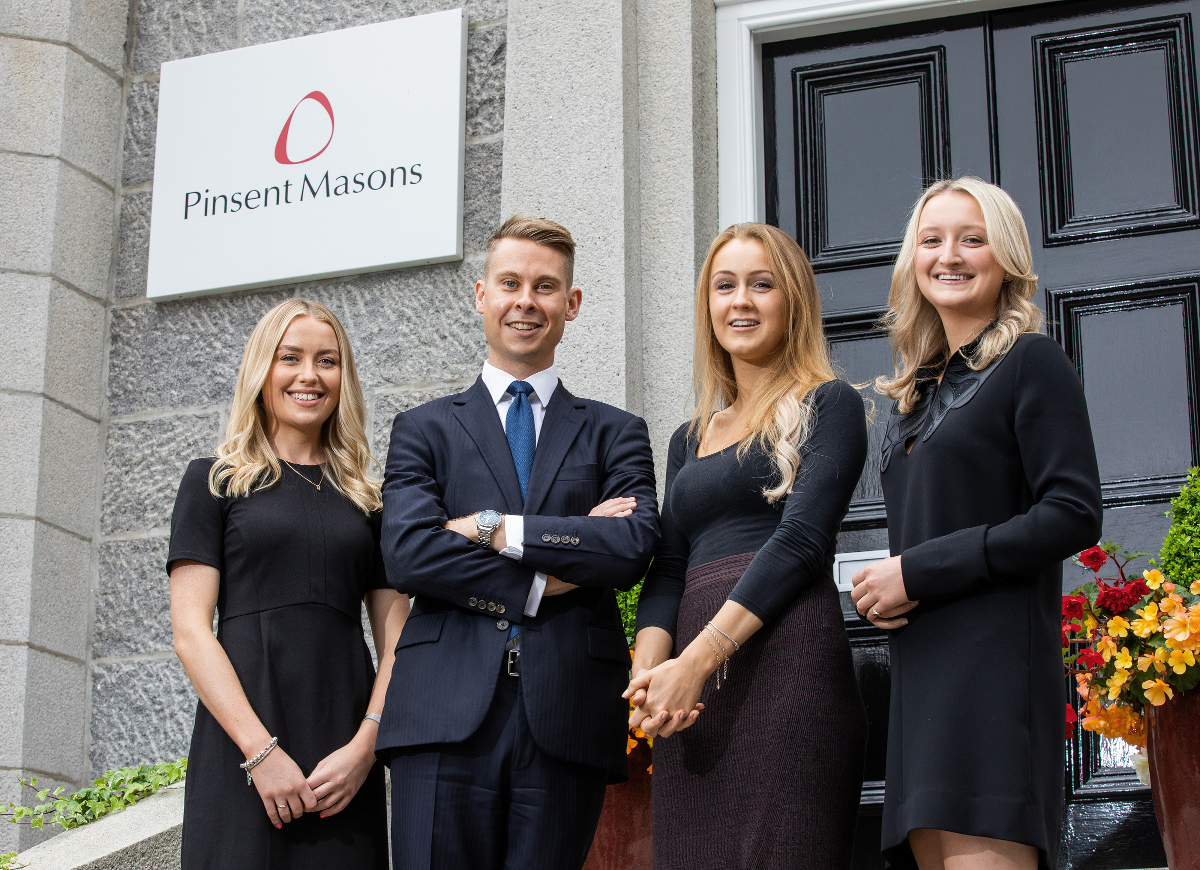 Four young lawyers have taken another step up the legal career ladder after being offered positions at Pinsent Masons in Aberdeen.
The newly qualified quartet had all recently completed two-year traineeships and have now accepted full time positions at the firm's Queen's Road offices.
Natalie McBride joins the firm's banking team; Rachel Trease takes up a position in litigation; Jack Hamilton joins employment, while Jaimie-Jean Hunter will be part of the oil & gas team.
Pinsent Masons' head of Aberdeen office, Richard Scott, said: "All four have made an outstanding contribution as trainees to the work we do across the board and I am delighted that they have chosen to stay with us as they take their legal careers to the next stage. They are joining teams who have been, and remain, very busy with transactional activity and advising clients in the Energy sector in particular.
"Like many sectors, the legal profession faces recruitment challenges, and we need to encourage and support the next generation of lawyers who will bring fresh and vibrant thinking to a fast-changing profession. Pinsent Masons is doing its part by supporting a healthy development programme for potential lawyers, from summer placements, mentoring and through traineeships to professional qualification."
A further 11 newly qualified lawyers have accepted full-time positions in the firm's Glasgow and Edinburgh offices.
Deborah McCormack, Pinsent Masons' head of early talent, added: "Investing in early talent is imperative in supporting the firm's succession plan and optimising the retention of trainee lawyers is a top priority. That all four of the newly qualified lawyers based in Aberdeen, were eager to remain with Pinsent Masons as they progress in their careers, is a very positive sign that our early talent initiative is working well."
Ms Trease explained the attraction of starting her career in Aberdeen: "The litigation and regulatory team has a very impressive and expansive client base, covering matters ranging from health and safety to corporate crime and I really enjoy the variety of work that we advise clients on.
"After leaving school I did a gap year with Pinsent Masons in Aberdeen and I felt I really gelled well with the people in the Aberdeen office and that is why I decided to stay in my home town.
"The firm have invested in the Aberdeen office and recognise there is a lot of potential in the city and that we can play a big role in energy transition, an issue which is important to a lot of our clients, and we can help them drive through that transition."