Editorial: Clive Ponting's timely legal legacy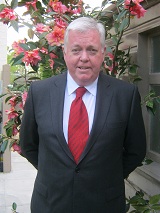 Even by the standards of today's enfeebled and anaemic media, the lack of coverage of the death of Clive Ponting who passed away last week at his home in Kelso is remarkable. It is also lamentable.
Ponting was a young, high-flying civil servant who could not live with the lie Margaret Thatcher told to Parliament – namely that the Argentinian battleship the General Belgrano was sailing towards the Falklands when she ordered it to be sunk with the loss of 323 lives on May 2, 1982.
In fact, the clapped-out cruiser, a survivor of the attack on Pearl Harbour, had been steaming away from the islands. Ponting took the decision to leak the relevant files – not to the newspapers but to Tam Dalyell, the gadfly West Lothian MP, who passed them on to the chairman of the Foreign Affairs Select Committee which had been denied access to them in order to avoid embarrassment to the Prime Minister who had misled Parliament.
Ponting was subsequently charged under the 'catch-all' Section 2 of the Official Secrets Act of 1911 becoming the first person to be prosecuted under the Act for leaking information to Parliament.
The government's appetite for judicial repression had been whetted by the successful prosecution in 1984 of a junior civil servant Sarah Tisdall who was imprisoned for leaking details to The Guardian of the deployment of US cruise missiles in the UK.
The shadow of the penitentiary loomed over Ponting and his cause was not helped by the actions of the presiding judge. Mr Justice McCowan had to be dissuaded half-way through the proceedings from dismissing the security-vetted jury, halting the trial and convicting Ponting.
In his summing up, McCowan essentially directed the jury to convict Ponting arguing that the interests of the state were indistinguishable from those of the government and declaring that "the public interest is what the government of the day says it is".
Happily, the jury accepted the defence argument that Ponting had acted out of public interest and he was sensationally acquitted. It was a victory for trial by jury – and was all the more remarkable given the jingoistic atmosphere that prevailed in parts of England at the time.
As a direct result of the Ponting trial, the Official Secrets Act was reformed in 1989. The terms of the application of the act were narrowed to concern only matters of defence, foreign relations and crime but the defence of public interest that Ponting had relied upon was removed.
Ponting was a decent and honourable man and the actions of the jury in clearing him will forever serve as a reminder that the right to trial by jury – under threat now on grounds of expediency and expense – is an indispensable bulwark of our civil liberties.