Dundee solicitor Ian Davidson struck from roll after being found guilty of professional misconduct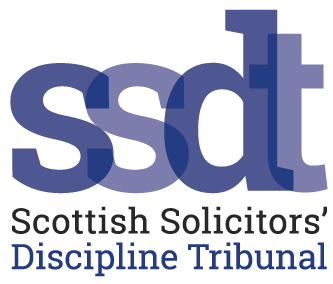 A Dundee solicitor's name has been struck from the roll after he was found guilty of professional misconduct by the Scottish Solicitors' Discipline Tribunal.
Ian Davidson, who is not currently employed by any law firm, was appointed executor of his father's estate along with his brother, the second complainer, in late 2009. Mr Davidson was also appointed as attorney but did not register the power of attorney and continued to control his parents' finances after his father's death in May 2011.
With the permission of his brother, he alone undertook the administration of their father's estate. In November 2016. the secondary complainer became aware of matters in relation to his mother's financial position which caused him concern. He raised these with Mr Davidson, who resigned from the office of executor on 25 November 2016.
The second complainer obtained confirmation in his favour from the sheriff clerk at Dundee on 17 March 2017. The total estate was £161,521 of which £125,000 related to heritage and the balance of £36,521 was moveable.
Mr Davidson failed to tell the Royal Bank of Scotland of his father's death, even though he knew his father had two accounts with the bank, along with his wife. He continued to operate these accounts with the consent of his mother between his father's death in 2011 and 2016.
Nor did not tell the second complainer that their father had a standard security over a property that belonged to Mr Davidson and his wife which had been granted by them in security of money loaned by the deceased to Mr Davidson and his wife.
His father had himself granted a standard security in favour of a lender. Mr Davidson had agreed to pay a sum equivalent to the monthly mortgage payment into his parents' bank to enable their loan to be serviced. He failed to do so. As a result, between May 2011 and November 2016, mortgage payments were missed, and unnecessary charges were incurred. Moreover, repossession proceedings were brought by the lender against the parents' house. The second complainer made a payment of £40,000 to avoid repossession and avoid their mother being rendered homeless.
Mr Davidson also failed to disclose to the second complainer that in or around 11 July 2011 a death benefit sum of £25,000 had been paid by Aviva in relation to an insurance policy held by their father.Instead of following the agreed instructions on how to administer this, Mr Davidson arranged for the sum of £25,000 to be paid into the client account of MML Legal, his employers at the time, and thereafter arranged for this sum lo be transferred into a joint account in the names of his mother and the deceased, from which he subsequently withdrew £25,000 for his own use.
Furthermore, the SSDT pointed out that he misled his brother and mother over the insurance policy. He also encashed bonds of his father contrary to an agreement and then failed to tell his brother about their true value, of only £5,000.
The SSDT found him guilty of professional misconduct for these and other findings and and ordered that his name be struck from the Roll of Solicitors in Scotland.
It stated in its finding: "Taking all this into account, the Tribunal was of the view that strike off was the only appropriate sanction in the circumstances. No other sanction would reflect the gravity of the offence, protect the public and sustain public confidence in the profession."