David J Black: The Curse of the Golden Turd. Will Edinburgh ever recover?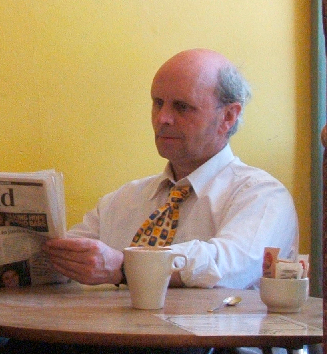 David J Black looks at how the Golden Turd plopped onto Edinburgh's skyline. Read part one here.
It is true that every judgement as to what constitutes good or bad architecture is subjective, yet searching around Edinburgh to find someone who likes the Golden Turd Hotel is a fruitless task. The Scottish Parliament building, believe it or not, even has a few admirers, yet this scrivener has only ever come across one dedicated Golden Turd enthusiast: Richard Williams, professor of contemporary visual cultures at Edinburgh University, who suggested on Radio 4 that Reekie's citizenry was downright "neurotic" about the Capital's built environment.
Richard enjoys stirring up controversy. His book on sex and buildings famously asserted that Morningside's tenements were so crushingly oppressive that no one could possibly indulge in sex there (we'll invite affidavits to the contrary later). This writer was so taken with his assertion that Edinburgh's sensitive indwellers have developed some sort of clinical mass neurosis arising from the perceived abuse of their historic built environment that he's thinking of suggesting to the editors of the DSM-5 standard psychiatric classification manual that they list a new malaise specific to the Scottish capital – PTSD, or Post Turd Stress Disorder. Yes, it really is as bad as that.
The appearance of our very own étron doré on Edina's skyline was, it seems, a defining moment. There was a pre-Turd Edinburgh where, sure, a lot of architecturally bad things were happening – that hideous glass banana they tacked on the to Usher Hall, the unlawful demolition of listed buildings on the south side of St Andrew Square, a toytown tram, several proposals of unutterable mediocrity, such as the scheme to develop the old Royal Bank site at the foot of Dundas Street, or the attempted Mickey Mouse ears extensions to our sedate Royal High School. Yet even these, singly or severally, were never quite enough to raise the civic masses from that prelapsarian bourgeois torpor induced by a hedonistic love of cornices, chandeliers, and fine dining.
We now live in a post-Turd Edinburgh, and the denizens are not only uncharacteristically seething and fed up, but seem to have honed their critical faculties. It isn't simply the abominable hotel. The entire misconceived St James quarter development has been a planning catastrophe. Predictably, its vast North American style shopping mall has devastated Princes Street, now a place of tumbleweed and shuttered department stores with all retail sucked out. Ah weep, weep, ye children of Edina!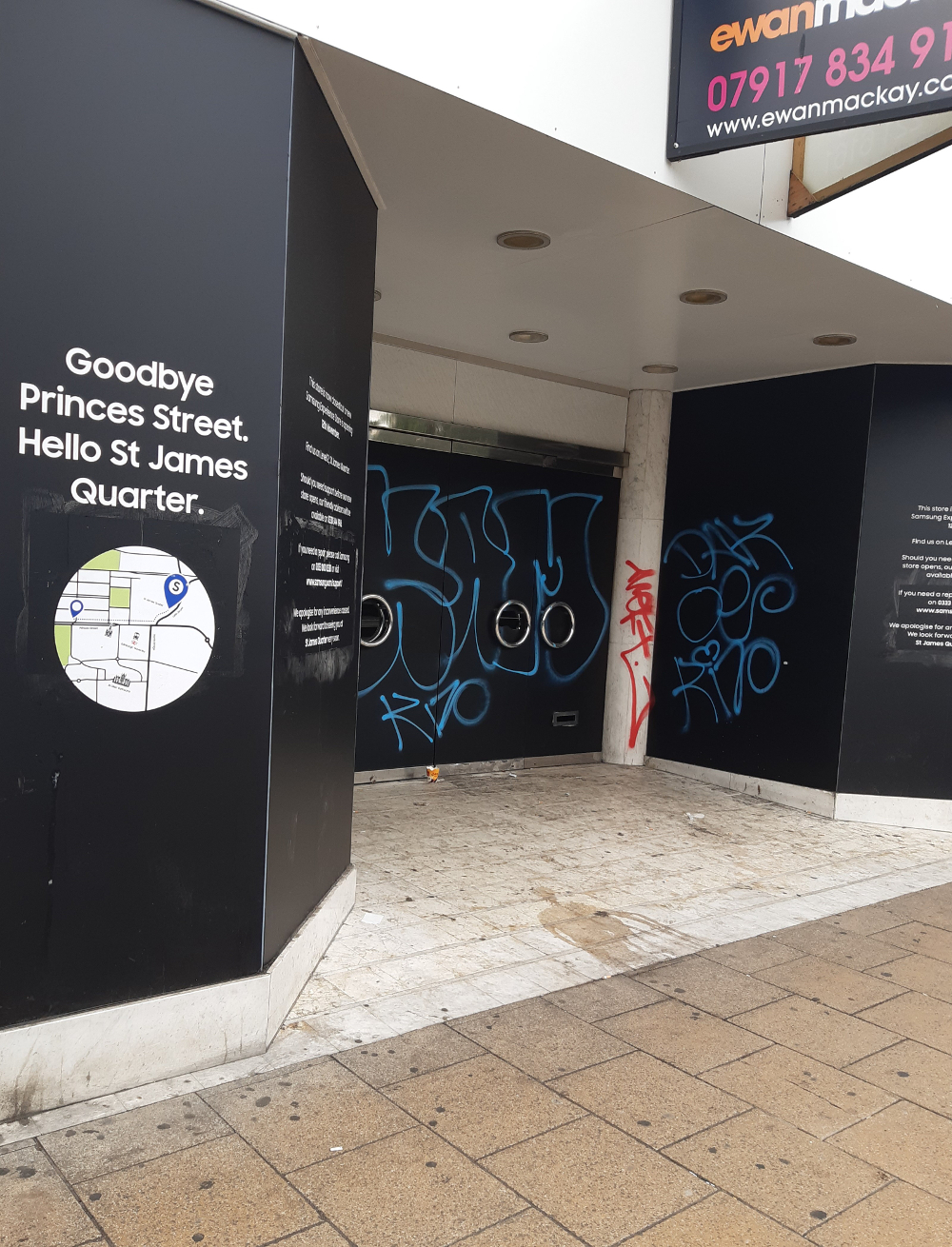 Perhaps the most egregious aspect of the St James Quarter development, apart from the fact that Scottish taxpayers were frisked for its £61.4 million subsidy, is that the so-called 'affordable housing' element was banished to some post industrial site off Broughton Road, thus allowing all 152 'beautifully crafted' concierge-gated St James Quarter apartments to remain as the exclusive preserve of the super-rich at a cost of up to £1,060,000 – at least that seemed to be the pre-Covid plan. Why else were they promoting 'New Eidyn' in Singapore and Hong Kong?
So how did this travesty come about? First, consider the in abstracto possibility that Edinburgh council, the Scottish government, TIAA, its subsidiaries such as Chicago-based Nuveen, and its agents and professional advisers, had been complicit in a prima facie breach of Europe's State Aid rules insofar as the development was a favoured recipient of that public subsidy of £61.4 million under a ruse which, in the USA, is known as a TIF (Tax Increment Financing) arrangement.
TIF was pioneered in 1980s Chicago when that city was in 'white-flight' decline. It has been portrayed by cynics as a ploy for predatory developers pursuing profit through gentrification, rather than a means of delivering improvement to economically and socially deprived communities – in other words, about greed, rather than need. By 2019 Chicago Mayor Lori Lightfoot called time on the arrangement: "The days of the TIF slush fund are over".
A prettification programme for those who like Zagat-rated restaurants and preppy bars, it was more brand enhancement than poverty relief, which would certainly seem to describe TIAA's subsidised activities around the old St James's Square. So why were Scottish politicians looking to Chicago as a beacon of enlightened fiscal stewardship and sound financial engineering, given that Illinois' old governor had been banged up for 14 years jail on corruption charges in 2011, while its credit rating was slashed to junk status by Moody's in May 2015?
This bizarre episode begins with a TIF variant - an "innovative funding agreement" - the 'Regeneration Accelerator Model' (or 'Growth Accelerator Model') between Edinburgh Council, the Scottish government, and THI. It first seems to have caught the attention of council leader Andrew Burns at a MIPIM trade show, this being the acronym for Marche International des Professionels d'Immobilier, a deal-making bazaar which acts as an interface between the property and construction industry and public sector boffins and politicians. It holds an annual jamboree in sun-kissed Cannes and has been slated as a 'property Booze 'n Hookerfest' in Private Eye but a description by The Guardian's Aditya Chakrabortty will do for now.
It's a jaunt so lavish as to be almost comic – where big money developers invite town hall executives for secret discussions aboard private yachts, and whose regulars boast that they get through more champagne than all the liggers at the film festival. Suitably oiled-up, local officials open talks with multinational developers to sell council housing estates and other sites.
MIPIM 2014 was held in London's Olympia (the lavish Cannes junkets were becoming irksome to voters.) There, Boris Johnson lauded developers for providing more housing for London, citing in particular the £9 billion Battersea Power Station oligarch's ghetto where a flat in Boiler House Square could set you back £40 million. Another MIPIM grandee was Edinburgh Council CEO, Sue Bruce, who was declared MIPIM 'Council Leader of the Year' at the same event before gracefully accepting her damehood for services to trams.
At that time, of course, Britain's town hall shenanigans were subject to European regulations, not that they bothered about such things in Edinburgh, where the destruction in St Andrew Square, the palaver over a proposed Virgin Hotel on land reserved for the expansion of the city's Carnegie Library, and the spatchcocking together of a selection process for the putative developer of the Royal High School were all prima facie infringements of the regulations one way or another.
As far as the £61.4 million State Aid bung to TIAA was concerned, some may have persuaded themselves that Europe had left a lovely loophole - 'The Market Economy Investor Principle' [MEIP]. A paper from the EU Commission Directorate General (Competition) states: "The essence of the MEIP is that when a public authority invests in an enterprise on terms and in conditions which would be acceptable to a private investor operating under normal market economy conditions, the investment is not a State Aid." Hmmm. Not so sure, though.
Among exemptions under Article 107(3) of the EU Treaty the only one remotely affecting the St James Development was the one permitting "aid to promote the economic development of areas where the standard of living is abnormally low or where there is serious underemployment, and of the regions referred to in Article 349, in view of their structural, economic and social situation".

But Edinburgh wasn't exactly destitute, even if life in its poorer peripheral housing schemes can be grim. The St James Quarter is in a "Golden Square Mile" of international banks, fund managers, and wealthy companies. Whatever the Scottish government is supporting with its £61.4 million gift of taxpayers money to TIAA, it certainly isn't Muirhouse, or an impoverished area on the official Scottish Index of Multiple Deprivation like, say, North Barlanark.
To express fury at The Turd and those who let it happen is clearly entirely sensible, but it shouldn't be conflated with a phobic disapproval of all things modern. Your writer pleads that he once heaped praise on the Scottish Poetry Library, for which kindness its architect, Malcolm Fraser, griped that it felt like "being patted on the head by Boris Johnson".
Yours truly also had a walk on role in the gestation of Edinburgh's Festival Theatre, a brilliant success, with its old auditorium preserved behind a totally modern glass facade which defers gracefully to its historic context by stepping back from the street line, unlike the same architect's glass banana shrieker on the Usher Hall, which is achingly painful to behold.
If Edinburgh's new architecture can be dire, its planning is often little better. When Lothian University Hospitals Trust banished the Royal Infirmary to a pale of settlement near Dalkeith your scrivener advocated that instead of selling the Lauriston Place hospital to a developer's consortium the buildings and their 19-acre site could become a student village, not only saving a few thousand students a lot of travel time, but also taking pressure off residential areas like Marchmont and the Southside, then succumbing to a surfeit of houses in multiple occupancy and much social discord.
In addition it would have reduced the need for all those ubiquitous student accommodation blocks (or 'roosts') which were beginning to infest every available scrap of land in the city centre. In retrospect, this idea was clearly a no-brainer which would have had clear benefits all round, but Edinburgh, as per usual, threw away the opportunity.
With the St James Quarter the deed is done, and there is no going back. The PTSD may mellow with time. The shopping centre, more Milwaukee than the promised Milan Galleria, will doubtless find its shoppers, the 152 apartments their elite residents, while The Golden Turd Hotel will rack up the bed nights with cheap deals for stag and hen frolics, or whatever.
Indeed, your scrivener would encourage every Scottish taxpayer to book a weekend there, and when the nice girl at reception starts making up the bill, think upon that £61.4 million they filched from our taxes, smile courteously, and say "Oh please don't bother. I've already paid."