David J Black: The triumph of The Turd – Georgian Embra's architectural reputation goes down the pan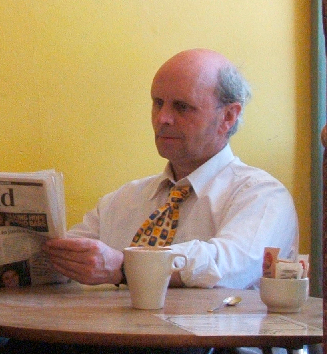 My cool son in the west assured me over a civilised lunch in Cottier's, in Dowanhill, that a leisurely meal at Glasgow's Ka Pau, just off the Byres Road, is an experience to be savoured, and he knows about such things. What a dreadful turn of events, then, that this same culinary icon would seem to have bought themselves something of a pup by opening a new Edinburgh outlet in the St James Quarter, cheek by jowl with that infamous excrescence, the Golden Turd Hotel.
Whether this was the outcome of a tasty preferential rental deal, or a moment's wild misjudgement, need not concern us here, but one thing's for sure. The Observer's legendary restaurant critic, Jay Rayner, was not so much distinctly underwhelmed with this choice of venue as driven to mind-boggled distraction, largely on account of the 'poo-emoji' theme, which I strongly suspect he may have picked up from Guardian architecture gumshoe, Oliver Wainwright, who dished the dirt on this particular building several months ago.
True, Mr Rayner liked the "bold and exciting" menu, but the crackling descriptive style as far as the setting was concerned took us right back to the late A.A Gill at his iconoclastic best – what dear old Edinburgh-born Adrian, one time husband of Conservative minister Amber Rudd, would have made of the Golden Turd rather defies imagination. Never one to resist shooting from the hip, he wrote of one unfortunate outlet that the only way it could possibly improve its sad menu would be to flambeaux everything, including the building in which it was located. It's hardly surprising that A.A was the subject of 62 furious objections to the Press Complaints Commission, none of them upheld.
Mr Rayner does offer a sort of wilted olive branch where the restaurant's interior is concerned by conceding that the brown leather banquettes somehow soften things, though observant locals with long memories might suspect that they are simply upcycled seats from a derelict 1960s Edinburgh Corporation bus. He is otherwise unremittingly hostile to an architecture which, in the words of writer Candia McWilliam, who lives not a million miles away, is a reminder of "something the Edinburgh public are enjoined to pick up after their dogs".
But enough of this scatological banter. The question is, how did a building which would probably have a problem getting a consent at the tacky end of Las Vegas Strip actually end up ruining the middle of a World Heritage Site in the first place. The answer, if we are to properly examine the entrails and poke at matters of fact and law, is a good deal worse than the architecture per se.
But should we call it architecture? The Turd was the creation of a London outfit, Jestico + Whiles (so fashionable that even the ampersand is eschewed) whose other outpourings include the Aqua Shard restaurant on the 31st floor of London's most aesthetically delinquent skyline piercer, apropos which I may as well refer in passing to a (thematically relevant) radio interview with an irate London politician who insisted that there was enough dog mess deposited on the Great Wen's streets annually to fill the Shard three times over, which struck this writer as an excellent use for a particularly life-denying building.
As to where Edinburgh's Golden Turd actually came from, we can probably disregard that bizarre dream of Carl Gustav Jung's in which a giant poo descended from heaven and landed on the roof of Basle Cathedral. It's best just follow the money, as they said in All the President's Men, and indeed according to The Guardian that very advice had been proffered by SAVE Britain's Heritage in respect of another proposed scheme by the self-same developer at Smithfield Market in London.
Since the objectors in that case included the movie-stars Kristin Scott-Thomas and Patricia Routledge as well as writers Alan Bennett and Jeanette Winterson, plus around 5,000 members of the public who signed a petition, the potential political repercussions were obvious. There was a UK election in the offing, and avuncular communities minister Eric Pickles wisely opted to throw out a scheme which would have destroyed Smithfield's elegant Victorian glass roof and demolished other structures to build $220m worth of high rent shops, cafes, bars, and offices.
The developer, TIAA Henderson Investments (THI) had been so miffed by the outcry from what it dismissed as "a disingenuous campaign employed by a small number of objectors" that it reportedly threatened to allow Smithfield to fall into dereliction (apparently a breach of listed building legislation) but as luck would have it another opportunity presented itself – and this one came with a welcoming red carpet attached in the form of a £61.4 million subsidy from (unconsulted) Scottish taxpayers to "kick start" the development of the site of former St James' Square.
Before commencing a forensic examination, we should get back to following the money. Our trail begins at 1800 Andrew Carnegie Boulevard, Charlotte, North Carolina, headquarters of American private pension investment fund TIAA, which caters mostly for teachers and academics, and has, since acquiring global investment company Nuveen, around $1 trillion assets under management. It was founded, as the address suggests, by the Scots-American philanthropist Andrew Carnegie, the begetter of many libraries, but was stripped of its tax exempt status by Congress in 1997, and is now a fine example of amoral global corporate capitalism red in tooth and claw.
Some facts; TIAA, founded by Andrew Carnegie in 1918 as a pension fund for professors and teachers, bought 60 per cent of Henderson Global Investments, developers of Edinburgh's St James Quarter, in 2013, upping its stake to 100 per cent in 2015, putting North Carolina based CEO Roger W Ferguson jr, in the St James's cockpit with ex-White & Case attorney, company president Rob Leary, despite the later sale of 75 per cent of the project's equity to Dutch fund manager APG.
TIAA's dramatis personae are impeccably top drawer. Mr Ferguson, a one-time regulator, should know about good governance and corporate responsibility. Appointed Depute to US Federal Reserve Chairman Greenspan by Bill Clinton in 2006, he was beaten to the top job by Ben Bernanke (who treats him well in his memoirs.) A Trustee of the Endowment for International Peace, the National Bureau of Economic Research, and the New America Foundation, former head of financial services for Swiss Re and former McKinsey partner, he chaired the Committee on the Global Financial System in 2003, a central bank panel that monitors financial markets. He was also on President Obama's Economic Recovery Advisory Board and the influential 'Group of Thirty.'
Mr Ferguson's wife, attorney Annette Nazareth, was a commissioner of the Securities and Exchange Commission (SEC) until 2008, and promoted a voluntary supervisory regime (the CSE program) for America's largest investment bank holding companies. This was abolished shortly after the 2008 collapse of Lehman Brothers. The old SEC link brought little comfort to TIAA in July 2021, by which time Mr Ferguson had been succeeded as CEO by banker Thasunda Brown Duckett, when its in-house subsidiary TC Services was fined $97 million – more or less the equivalent of that £61.4 million Scottish subsidy – "to settle charges of inaccurate and misleading statements and a failure to adequately disclose conflicts of interest to thousands of participants in TIAA record-kept employer-sponsored retirement plans".
Among Mr Ferguson's colleagues who had some degree of responsibility for its corporate governance and social responsibility, may be counted Marta Tienda and Robert C Clark. The credentials are gilt-edged. Marta Tienda was Princeton's Maurice P. During Professor of Demographic Studies, while Robert C. Clark, Austin Wakeman Scott Professor of Law at Harvard and former Dean and Royall [sic] Professor of Law at Harvard Law School, went on to serve as the Harvard University Distinguished Service Professor. The company even has a chief ethics officer, Janice Innis-Thompson, a one-time colleague of former Attorney General, the late Janet Reno.
TIAA's (sometimes TIAA-CREF) company ethos appears to incorporate all usual checks and balances, as per the claim in its Code of Business brochure that its "mission, unchanged since 1918, is to serve those who serve others [by offering] solutions that help provide lifetime financial security and wellbeing on the best terms practicable, consistent with our nonprofit heritage". Such cloying sentiment about serving hadn't stopped Congress from revoking its tax-exempt status in 1997, however, which meant that in reality TIAA was just another huge profiteering corporation. Even so, their PR boffins continued to churn out the baby boomer corporate equivalent of the language of lurve with such comforting bon mots as
TIAA was the vision of the philanthropist Andrew, and founded in 1918 though his Corporation of New York and the Foundation – we use our history to inform our present – and future.
Further vindication of this wholesome eclat was provided in 2015 when (then) TIAA-CREF was declared "The World's Most Ethical Company" by The Ethisphere Institute of Scottsdale, Arizona, – a profit-making enterprise with ties to big business and an award system based on cash-subscribing participants such as McDonalds nominating themselves for awards. To boost their eco-credentials clients can also pay $10,000 for use of Ethisphere's 'World's Most Ethical Companies' logo. This tells us everything we need to know about the reliability of their greenwash endorsements.
With a range of portfolios which have included holdings in the manufacturing of handguns, as well as the bulldozer maker whose heavy equipment enables the Israeli Defence Force to illegally destroy Palestinian homes and farms – not to mention the environmental destruction it has ties with in Brazil – TIAA have won Ethisphere's 'World's Most Ethical Company' award six years running. Some might argue a degree of chicanery is involved. Indeed, journalists such as The Guardian's Rich McEachren and The Los Angeles Times' David Lazarus exposed the entire green farrago long ago, despite which Ephisphere blithely continues to rake in the money and dispense its baubles.
While it's always fun to meet the neighbours and get to know a bit about them, with regard to Jay Rayner's bete noire (surely bete d'or? Ed), The Golden Turd, does the above have any real significance as far as the citoyens écossais are concerned? Some, of course, take issue with the nomenclature. In Scotland, language is always nuanced, with those who have a more demotic outlook on life preferring the label 'Golden Jobbie' – it's like that old Gullane-Gillane thing.
Yet what's in a name? This one, however seems to be sticking so much that we shouldn't be surprised that when it actually opens for business (gerrit?) the proprietors will have succumbed to the public will, and the flashing neon signage will declare the popular sobriquet The Golden Turd across the World Heritage Site.
But does any of this really matter? Your writer suspects that by the time you've finished reading the next instalment of this tale of architectural infamy and moral municipal decrepitude your answer will be a resounding 'Yes'.
Or do I presume too much?