Counsel aids drive to highlight evil of slavery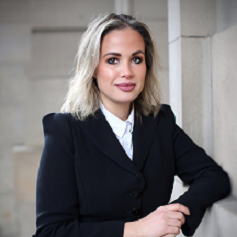 A member of the Faculty of Advocates is helping to put the scourge of human trafficking and modern slavery "In Plain Sight".
Maryam Labaki, advocate, has recorded a vlog which will be used by the charity, Survivors of Human Trafficking in Scotland (SOHTIS), as part of a campaign in the lead up to Anti-Slavery Day on 18 October.
"In Plain Sight" urges the public to #seethingsdifferently and to report any concerns to the Modern Slavery helpline 08000 121 700.
Ms Labaki is a member of the Tumbling Lassie Committee, a group of advocates who raise awareness and funds for two charities fighting modern slavery and people trafficking, SOHTIS and International Justice Mission (IJM).
She said: "Modern day slavery is the greatest human rights issue of our time. There are currently 45 million modern slaves worldwide. That is four times the number of people enslaved during the transatlantic slave trade of the 15th-19th centuries.
"Modern slavery generates over £100 billion per annum for those who deal in the misery of others. A significant proportion of that comes from ordinary people when they unwittingly interact with victims. This could be at a car wash, a nail bar or begging in the street. The 'In Plain Sight' campaign seeks to shine a light on the fact that our lives frequently interact with the victims of modern slavery and to help us to see things differently."
Ms Labaki's vlog can be viewed here.