COPFS joins with Edinburgh University social work students in new initiative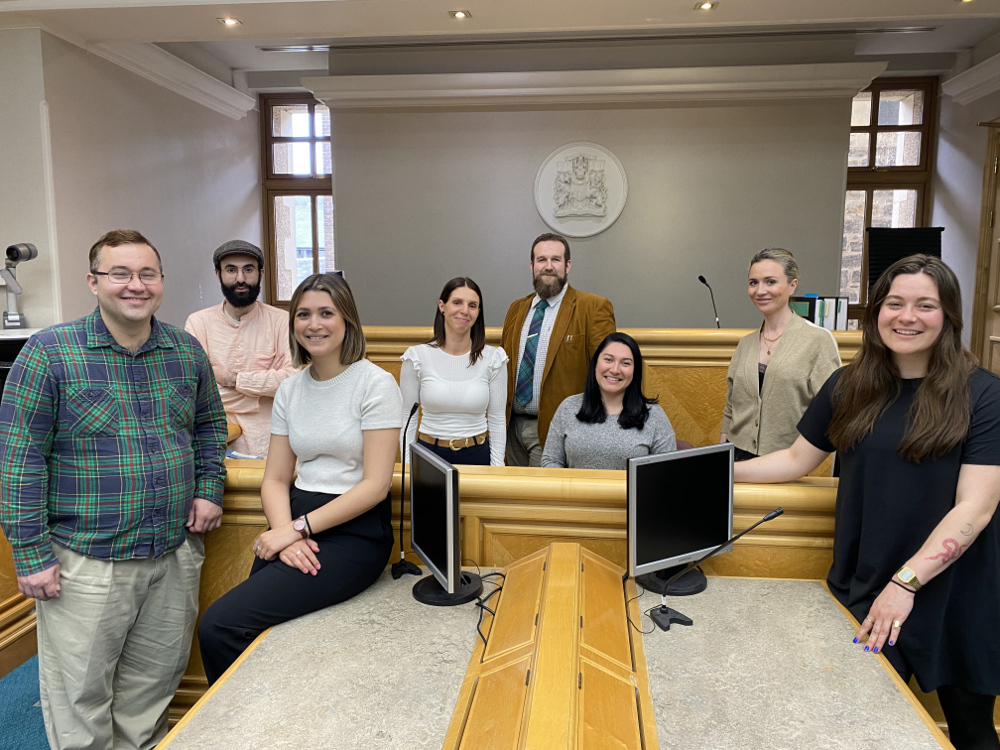 Social work students have been learning how to support crime victims and witnesses in an innovative pilot project at the heart of Scotland's courts.
The Crown Office and Procurator Fiscal Service (COPFS) has teamed-up with the University of Edinburgh for the ground-breaking initiative.
During a unique placement scheme, eight students – masters or final year undergraduates – were matched with officers from COPFS's Victim Information and Advice (VIA) service.
The eight students worked alongside their VIA trainers to gain front-line experience on a 70-day programme – from March to June - split between the High Courts in Edinburgh and Glasgow.
With expert guidance, they supported vulnerable people involved in the criminal justice process. This included victims of serious sexual offences and assaults as well as murder witnesses and bereaved families.
Principal procurator fiscal depute, Lynsay Magro, head of the programme, said the project had provided huge benefit for both the students and the justice system.
She said: "It's the first time COPFS has worked with a university in this way. We're not aware of a placement scheme like this happening in other jurisdictions either.
"But the students tell me it has been an invaluable part of their training, and that they feel better equipped to deal with the challenges they will face as social workers.
"They've learned a great deal from our committed VIA staff as well as from the victims and witnesses they've met.
"VIA officers support people who're going through an awful time in their lives. The students have seen for themselves the importance of this role and the difference it can make to the justice process."
Ms Magro, who is also a student mentor with the Law Society, says the work of VIA is often underestimated.
She said: "In my experience, VIA officers contribute enormously to the delivery of justice. They form part of a two-way process.
"They help us, as prosecutors, understand the needs of the witness or victim while also helping the individuals themselves understand the legal process.
"Witnesses are hugely important to the delivery of justice, and we want to support their contribution.
"The students have been learning from experienced VIA officers how to communicate, advise and guide people during, what is often, a stressful, worrying time. It has been a privilege to offer this opportunity and I'm delighted that the students embraced it wholeheartedly.
"I have really seen them progress and develop over the weeks."
Masters student, Calum Davidson, 32, who's a former policeman, now sees a future career as a VIA officer.
He said: "In the police, I didn't really get to see much of the victim's perspective. There just wasn't enough time.
"With VIA I really got to know the victims, learning their views and helping support them.
"There can be tensions between what victims and families would like to see and what will be delivered by prosecution, but I've seen how transparency, honesty and the ability to connect with people can help soothe these.
"At the end, it all works towards keeping the public safe."
Student Jami Marren, 29, who is from Canada but now lives in Edinburgh, said she has gained important insight in working with next of kin and bereaved relatives.
She added: "You learn a lot about yourself when you sit through a lengthy trial with someone who has lost a loved one.
"I didn't have much experience in working with next of kin but the VIA officers we worked with were so patient and giving. I really feel I've been able to develop my skills as a social worker."
The University of Edinburgh's Avril McIvor, director of social work practice learning, said: "We're delighted to be able to give students the opportunity to learn and develop with other professionals."