BTO to sponsor art exhibition at Edinburgh's Royal Botanic Garden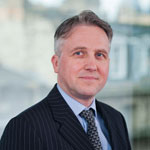 BTO Solicitors LLP is sponsoring an exhibition featuring works of art from the public collection owned by charity Art in Healthcare.
Presented as part of the Connect with Nature Festival at Inverleith House, Royal Botanic Garden Edinburgh, this exciting exhibition presents a selection of work from the charity's collection of 1,600 works of art used to support the charity's mission to transform medical and healthcare environments across Scotland.
The exhibition also includes work for sale by patrons Barbara Rae and Victoria Crowe and some of the many artists who support the work of Art in Healthcare.
Sponsors of the exhibition, BTO and Close Brothers Asset Management, have welcomed the opportunity to work in partnership with the charity to raise funds to support people with health and care needs across Scotland.
The 2019 exhibition will include a programme of free art dementia-inclusive art workshops with nature artist Leo du Feu which are sponsored by GreatArt Supplies and supported by the Tillyloss Trust.
David Gibson, BTO's chairman, said: "BTO is delighted to sponsor Art in Healthcare for a fourth year as we fully support its mission to transform medical and care environments across Scotland.
"It is a privilege to be associated with such a worthwhile cause and with some of the biggest names in contemporary Scottish art, as well as emerging artists."