Bill would allow removal of suspected domestic abusers from homes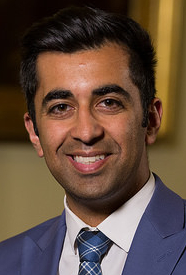 The police and courts could gain the power to remove suspected domestic abusers from victims' homes under proposed legislation.
Justice Secretary Humza Yousaf announced that the Scottish government's Domestic Abuse Bill will be considered "within weeks" and if passed would let police ban suspected abusers from entering property.
Officers would then be able to apply to the courts for protective orders preventing the return of the alleged abuser for up to two months.
Mr Yousaf said: "The COVID-19 pandemic has shone a light on the vulnerabilities of some people in our communities, not least those who endure domestic abuse, whether physical, psychological or coercive, controlling behaviour.
"This Domestic Abuse Bill is important because it lifts the burden of action from those already suffering or at risk from abuse by giving greater powers to police to intervene where necessary."
Mr Yousaf also revealed plans to fund research at Glasgow Caledonian University (GCU) into the experiences of victims of coercive control and stalking within the Scottish justice system.
Dr Nancy Lombard, who will lead the GCU research, told The Herald: "The study will explore the lived experiences of victims of stalking and coercive control as they navigate their way through the criminal justice system.
"Through this research, we want to enable those women to have their say. Taking account of the current climate, we will also be asking about how COVID has impacted on those living with abuse."