Balfour and Manson partner David Flint retires after 40 years in law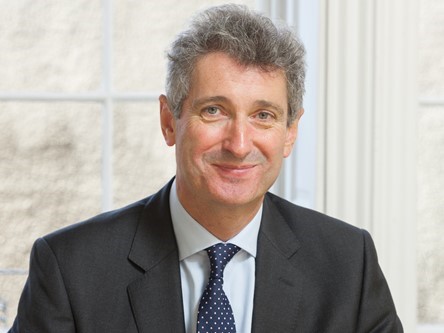 David Flint, Balfour and Manson litigation partner, retired at the end of last month. Here he looks back at his 40-year career in legal practice.
I think I was the last of the apprentice generation starting with Guild and Guild WS in Rutland Square Edinburgh in 1979. Even before I was qualified, I was in and out of the Scottish Solicitors Discipline Tribunal – fortunately, only acting as an usher for those appearing before the tribunal, as one of my apprentice masters was the clerk.
I'd listen to proceedings with complete dread at some of the disasters which had unfolded, frequently rushing back to the office at close of business to make sure I'd not made the same mistakes!
After qualifying in September 1981, I joined Steedman Ramage and Co WS in Alva Street, Edinburgh as an assistant in both litigation and conveyancing departments. At Steedman Ramage, I was able to practise in the Sheriff Court in the morning returning (after post-court coffee) to undertake conveyancing in the afternoons. Useful experience in fact; but completely unmanageable now!
I was asked to join Bonar Mackenzie WS in Hill Street, Edinburgh in 1984 and spent an interesting and varied career in litigation becoming partner in 1986 and latterly senior partner in 2000. There, I was lucky enough to work with some good colleagues and to build up experience in insolvency and liquor licensing law, in addition to general civil litigation, which allowed for a fair degree of travel round the sheriff courts and licensing boards throughout Scotland.
I had a role in developing trainees at Bonars and it was a chance meeting at court with one of my former Bonars trainees Elaine Motion, now chairman of Balfour and Manson, which prompted a move round the corner from Hill Street to Frederick Street in 2007 to join Balfour and Manson's business litigation team, principally dealing with commercial disputes, insolvency, professional negligence, and contentious trust and executry matters.
You may have noticed a pattern of me not wanting to move very far between office locations in the city centre!
I was fortunate enough over my time with B+M to receive rankings in Chambers and Legal 500 for professional negligence work (the feedback given to me by professional colleagues being very gratifying) and to have acted as panel solicitor for indemnity insurers in respect of claims against my fellow legal professionals, which was very rewarding.
Latterly, I was privileged to prepare and attend two cases before the Supreme Court, once for the appellants and once for the respondents, sadly success eluded us in both instances.
I was asked to establish a trainee group to run informal meetings to discuss training requirements and aspirations allowing our trainees to gain confidence in contributing to the development of their careers and helping them establish their futures, not only in the firm but elsewhere.
It has been particularly pleasing to see so many of them go on to establish partnership and key positions within B+M, other legal firms, at the bar, in Scotland and abroad.
For over 40 years I have been lucky enough to work with some of the most respected leaders in their fields within the solicitor, advocate, and accountancy professions. To say that I learned and benefitted significantly from their advice, counsel, and input over my life in practice, is a complete understatement.
It only remains to reflect that the last 40 years have witnessed a sea change in how the business of law has been delivered by the profession to its clients and society in general, the gender balancing, the impact of information technology, the paper light/less office, the pressures of satisfying an increasingly aware and demanding customer base, against a background of ever expanding regulation and oversight and of course coping with a dot com crash, a global financial crash and then a pandemic.
I have practised in interesting times.
Some significant cases involved:
Dooneen Ltd (t/a McGinness Associates) and another v Mond (Scotland) [2018] UKSC 54.
A Supreme Court decision which provided clarity for creditors, debtors, trustees, and financial institutions as to the correct construction of the words "final distribution" in a voluntary trust deed for creditors in insolvency.
Stewart v Stewart's Trs 2013 CSOH 63
A successful defence of a challenge to a will on grounds of incapacity following a lengthy proof.
McGraddie v McGraddie & Anr [2013] UKSC 58
A Supreme Court decision that matters of credibility and reliability of witnesses were pre-eminently a matter for the judge at first instance and that an appellate court should not generally interfere with that judge's findings in fact.
Elaine Motion said: "David has been an integral part of Balfour and Manson since he joined nearly 15 years ago. As one of his former trainees, I have always respected him greatly, both personally and professionally, and I know that this feeling is shared by the rest of the firm. He will be missed by all, but we wish him all the best on his well-deserved retirement."