Arnot Manderson welcomes five newly called advocates with long serving clerk set to retire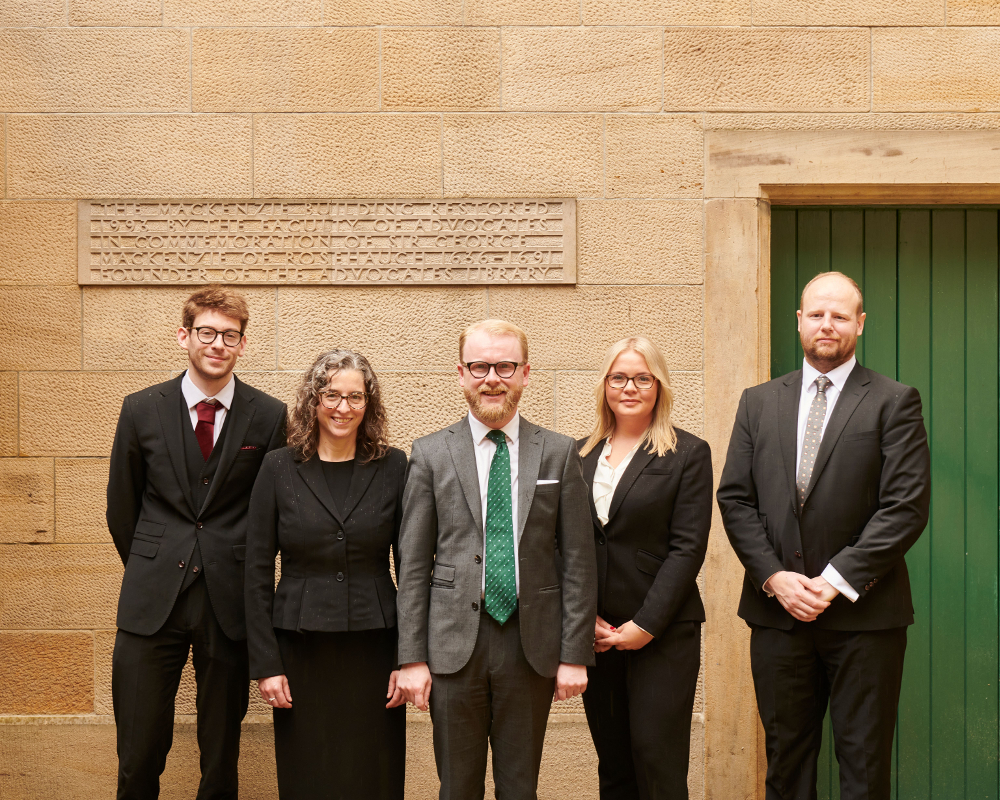 Arnot Manderson Advocates has welcomed Sarah Loosemore, Gareth Reid, Thomas Mulhall, Megan Davidson and Jonathan Deans to the stable following their admission to the Faculty of Advocates in calling ceremonies held over the course of two days in the Reading Room of the Advocates Library.
This follows directly on from the success of the stable's two Better The Devil You Know seminars where the quintet impressed in-person and online delegates with talks on a wide range of legal subjects.
Ms Loosemore calls to the Scottish bar having practised as a solicitor and barrister in Canada from 2003 to 2017. Her principal areas of experience and interest are criminal law, public law, and reparation. She has appeared regularly as sole counsel and has also assisted senior counsel in complex and demanding cases for matters in the most senior courts of Ontario. On moving to Scotland she transferred her existing skills to the field of reparation in Scots law, working on medical negligence and historic child abuse claims, as well as public inquiry work, with a litigation firm in Edinburgh. She continues to maintain interests across a wide range of criminal and civil practice areas.
Mr Reid calls to the bar as a Lord Hope Scholar. Having fulfilled various roles with the Crown Office & Procurator Fiscal Service, he has significant trial experience, having prosecuted both summary and sheriff and jury cases as a fiscal in Glasgow Sheriff Court. He was part of the Crown team assigned to work on the 2015 Glasgow Bin Lorry FAI. Latterly, he was a senior procurator fiscal depute in Crown Office where he focused on civil cases, including the historic five-judge bench case in 2019 where the Lord Advocate's immunity was reconsidered by the Inner House. He also has experience of working on two novel private prosecution cases which were brought before the High Court in 2016.
Before to calling the bar, Mr Mulhall gained nine years of legal experience across a range of mixed practice law firms, primarily representing both pursuers and defenders in personal injury actions. He is an experienced practitioner of civil litigation, specialising in personal injury, credit hire and professional negligence. He has a particular interest in maritime disputes. Just prior to coming to the bar Thomas worked on high profile and complex cases involving allegations of historic childhood abuse.
Ms Davidson was awarded a Lord Hope scholarship. She specialises in child law, criminal law and family law, and has a particular interest in human rights. As a solicitor she gained considerable experience of appearing in court over a period of five years, regularly appearing at all stages of criminal and civil proceedings. She frequently conducted her own trials and proofs in Sheriff Courts, and has substantial experience of instructing counsel in the High Court. Megan acted as instructing solicitor for a child client throughout all stages of a children's appeal which was ultimately heard in the Supreme Court.
Mr Deans arrives at the bar as this year's Lord Reid Scholar and can be instructed in a wide variety of areas of law, but has particular interests in public law and judicial review, professional and clinical negligence, and public inquiries, including fatal accident inquiries. He has experience in niche areas of law including animal welfare, homelessness and housing, and immigration.
Arnot Manderson practice manager Elizabeth Manderson, who is to retire at the end of June after a remarkable 42 years of service, said: "We are delighted to welcome Jonathan and Megan to the Stable today, their presence compliments our other additions Sarah Loosemore, Gareth Reid and Thomas Mulhall who called yesterday. As I am about to bring to an end my career with the Faculty it is lovely to see the brightest new talent coming through and it's nice to know that with these five new members the future success of the stable is secured for years to come."
Ms Manderson's fellow practice manager, Andrew Sutherland, said: "We are delighted to welcome these five new members to the stable. With these new counsel in our ranks we continue to boast an enviably strong presence at the junior end of the bar. They each bring invaluable experience in Scotland's highest courts and beyond and the complete range of work they undertake makes them a perfect fit for our stable. A wide range of Solicitors and their clients stand to benefit from their availability and all these additions further enhance our reputation as the largest full service stable at the Scottish bar.
"At the same time Liz's retirement feel like the end of an era and whilst we are all pleased for her she will certainly be missed by counsel, solicitors and all the members of the Justiciary whom she has served over her long career. Everyone in Parliament House wishes her a long and healthy retirement, her presence around this place will certainly be missed."