Alan Shanks: The year ahead for Addleshaw Goddard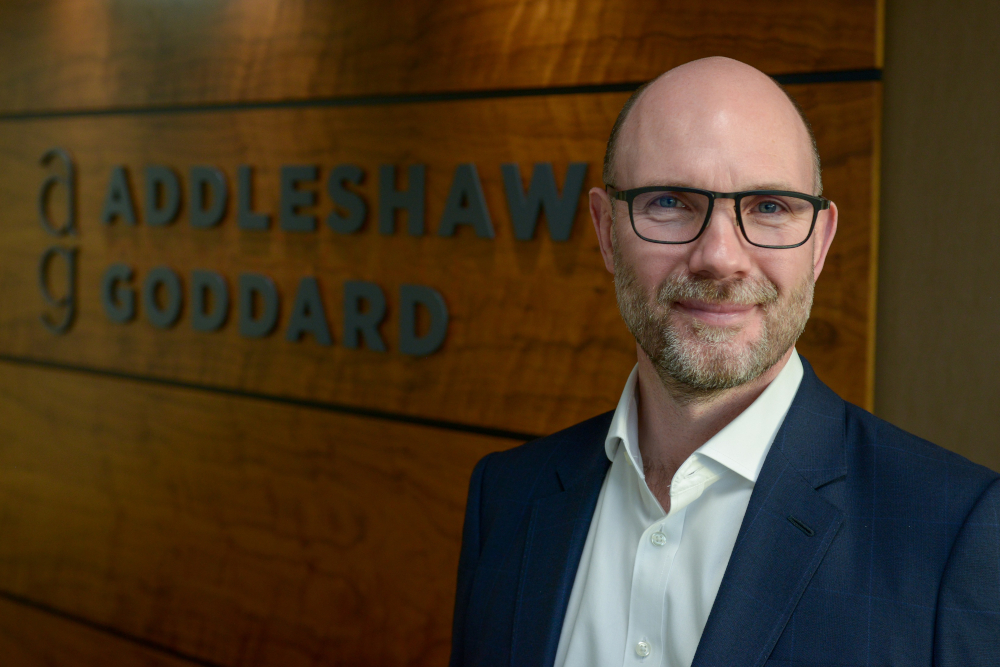 Alan Shanks, head of Scotland at Addleshaw Goddard, reflects on 2022 and looks at what lies ahead in 2023 for the firm and for the wider Scottish landscape.
Like many businesses, we approach 2023 with a degree of caution given the macro-economic and geopolitical challenges that will continue to impact the Scottish and wider UK economy. However, we have a resilient client base and will be working hard to help them navigate an increasingly complex and unpredictable business environment.
However, we do expect some parts of the Scottish economy to continue to perform well which means that there is reason for positivity about the year ahead.
The past year, in which Addleshaw Goddard marked its fifth anniversary in Scotland, saw the firm record growth across all teams with particularly strong performance in sectors such as fintech, energy and transport. Transactional activity for our corporate and banking teams has been very strong and other practice groups such as litigation, projects and construction have performed well.
We expect energy, transport, fintech to perform strongly again in 2023 with an increasing number of opportunities for us to internationalise our practice in these areas. However, all our teams start the year with a good pipeline of work with our three largest practice groups – real estate, corporate and finance – all anticipating good levels of deal activity in Q1 and Q2 while we also anticipate increased demand on our litigation and restructuring teams.
Economic and political uncertainty inevitably have a negative impact on many businesses operating in Scotland. This may affect enthusiasm for investment given how fluid capital is and with other developed economies offering attractive opportunities as an alternative. However, the weaker pound does mean that overseas investors can see potential bargains in the UK so we should expect inward investment to continue.
Through our partnership with the Fraser of Allander Institute on the quarterly Scottish Business Monitor, we have particular insight into the effects of rising energy prices, inflation and a lack of availability of workers on many businesses. However, there are some which do have the wherewithal to make acquisitions and for them the timing may be good.
During 2023 we will continue to expand and develop our business in Scotland and support clients in the local market and beyond. 2023 will be challenging but long-term prospects are positive and we're fortunate to have great clients who are working hard to flourish in difficult conditions
The trends that have been observed over recent years (post global financial crisis) in terms of the Scottish legal market are likely to continue and, if anything, become more pronounced in 2023 – the best work becoming increasingly concentrated with the very biggest independent Scottish and major international firms, with smaller firms finding it harder to attract mandates for major instructions, especially where non-Scottish clients are involved.
Clients are increasingly looking for us to deliver legal services in a way that offers them best possible value. For large scale, complex transactions and projects we look to combine our lawyers, paralegal resources (which we've grown significantly in Scotland over the last five years – as part of our 200+ UK-wide Transaction Services Team) and legal technology teams to provide cutting edge, innovative and efficient solutions to clients. We now offer career paths for legal technologists alongside traditional traineeships and we see this trend continuing in 2023.
Working patterns are still settling down in the post-Covid environment. Office attendance has been steadily growing over the last year and we now see good levels of occupancy every day of the week. We are looking carefully at our office requirements and have recently reconfigured one floor in our Edinburgh office to be an informal meeting/social space for staff which has been a huge success. We expect this trend to continue but that working from home will remain a key element of the hybrid working mix moving forward.

Alan Shanks is a partner at Addleshaw Goddard