Aberdeen law alumna Yorm Ama Abledu wins 2022 IBA Outstanding Young Lawyer Award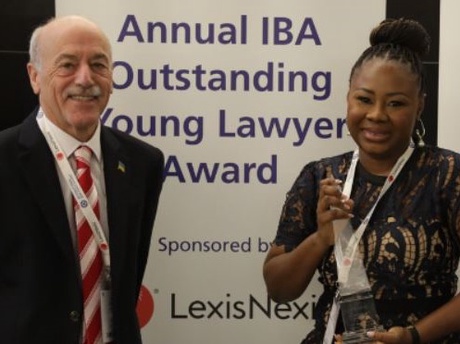 A University of Aberdeen alumna has been honoured with a prestigious international law award in recognition of her work mentoring the next generation of legal minds.
Yorm Ama Abledu, now senior international attorney at Centurion Law Group and lecturer at the University of Professional Studies in Accra, Ghana, has been named recipient of the International Bar Association (IBA) Annual Outstanding Young Lawyer Award 2022.
The award is presented annually to a young lawyer who has shown excellence in their career to date, commitment to professional and ethical standards, and dedication to the community at large.
Ms Abledu said: "It is a privilege to be honoured as this year's award winner. History has been made, as I am the second African, and importantly, the first Ghanaian female lawyer, to win this prestigious award.
"I consider this my greatest achievement so far as a legal academic and lawyer and this victory, I must say, is a dream come true. I know that receiving this award will positively impact young lawyers all over the world and encourage them to do more.
"I know that receiving this award will positively impact young lawyers all over the world and encourage them to do more."
IBA President Sternford Moyo said: "On behalf of the International Bar Association, I offer my warmest congratulations to Yorm Ama Abledu on her remarkable achievements. It is my sincere hope that she will inspire others in the legal community to create positive change both within their own spheres of influence, and in wider society."
A specialist in oil and gas law, after graduating from the Kwame Nkrumah University of Science and Technology, Kumasi, Ms Abledu went on to advance her legal knowledge at the University of Aberdeen from 2013 to 2014.
She returned to Ghana to attend the School of Law in Accra where her academic achievements were officially recognised when she received The Ede and Ravenscroft Academic Prize for Excellence.
In 2017, as assistant public defender for Ghana's Legal Aid Commission, Ms Abledu won 57 human rights cases for those in need over a 12-month period. She continues to work for the commission on a pro bono basis.
Her passion for helping others has led to further voluntary work as policy and advocacy team lead of the African Women in Energy Development Initiative, where she advocates for the inclusion of female legal professionals in the energy sector, and as alumni student ambassador at the University of Aberdeen, which involves helping Ghanian students integrate into university culture.