A breath of fresh Ayr: Legal dreamer who beat the odds helps others do the same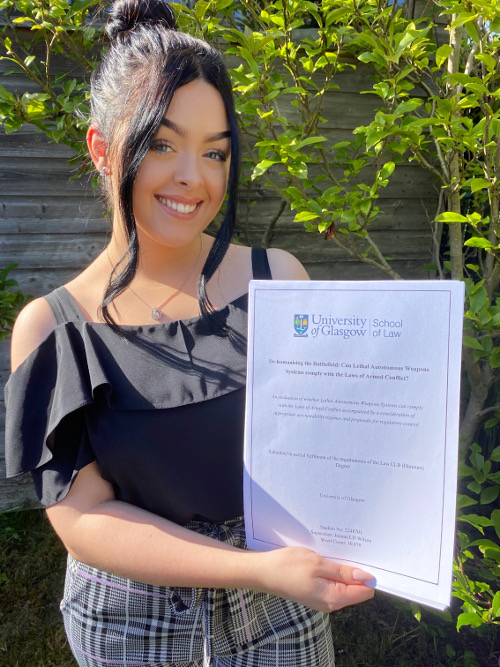 A young woman branded "naïve" for aspiring to a career in law, but who overcame every obstacle in her path to realise her dream, is now lending a helping hand to those following in her footsteps with the launch of online resource Legable.
Lauren Bowie, 22, from Ayr in South Ayrshire, graduated with a first class LLB from the University of Glasgow this year, having already secured a traineeship with Pinsent Masons.
Speaking to Scottish Legal News, Ms Bowie explained that her path to success was not an easy one. She grew up in a deprived area and attended a state school which regularly features at the bottom of educational league tables.
She said: "My school supported me as much as possible, with my headteacher even gifting me my first legal book. However, with law not being a common career choice, teachers at my school had limited knowledge and resources.
"I didn't know anything about the legal profession or even how to become a lawyer, I just knew I wanted to study law so I could make a difference."
And she was told she was naïve if she thought she could pursue a career in law. "I regularly heard comments such as 'law isn't for people like you' or 'people from places like this don't become lawyers'," she said.
Nevertheless, she passed her exams with flying colours and gained entry to the LLB programme at Glasgow.
But as the first in her family to attend university and coming from a low-income background, her success at university was hard-won.
"I really struggled with the transition from school to higher education. In the space of a few months, I moved from a community where my peers all attended state schools and worked part-time to an environment where private education and relying on financial support from parents was the norm," she said.
"As well as the financial advantages my classmates had, they were also thriving academically and socially – I was not. I struggled to balance part-time work with full-time study, trying to make friends and keep my mental health in check. I wondered whether those who criticised my dreams of a legal career were right, and I was simply naïve."
They were wrong, as it turned out. Ms Bowie persevered, "determined not to be defined by my background". She volunteered with Glasgow North West Citizens' Advice Bureau; interned with the Social Mobility Foundation; attended open days, insight evenings and networking events; and was finally offered two traineeships with international law firms.
She graduated with a first and will be undertaking the diploma in professional legal practice this year before commencing her traineeship with Pinsent Masons in 2021.
"I'm still coming to terms with what I have achieved and am trying to overcome imposter syndrome, but now I'm fuelled by a passion to ensure everyone can access a career in law regardless of their background," she said.
Her experiences inspired her to create Legable – a portmanteau of 'legal' and 'enable' – which aims to support other aspiring lawyers and promote social mobility.
She said: "When I was struggling at university, little did I know that there were a wealth of free organisations and resources which were dedicated to supporting students like me to 'get my foot in the door' in the legal profession. I don't want other aspiring lawyers to struggle the way I did, and that is why I have created Legable."
Legable collates resources "exclusive to aspiring lawyers from less advantaged backgrounds" on funding, work experience, and mentoring schemes. The website, which was launched this week, details help available in Scotland, England & Wales, and Northern Ireland.
"By having these resources in one central location, I hope to break down the lack of information which acts as a barrier to succeeding in the legal profession."
Ms Bowie added: "Ultimately, Legable wants to help aspiring lawyers realise that your circumstances cannot dictate your ability to succeed. You can succeed regardless of the traditional barriers to the legal profession that you may face. Your background does not determine your future."
For more information, visit the Legable website and to contribute an article to its blog contact legableuk@gmail.com.