Lord President visits new Inverness Justice Centre
---

---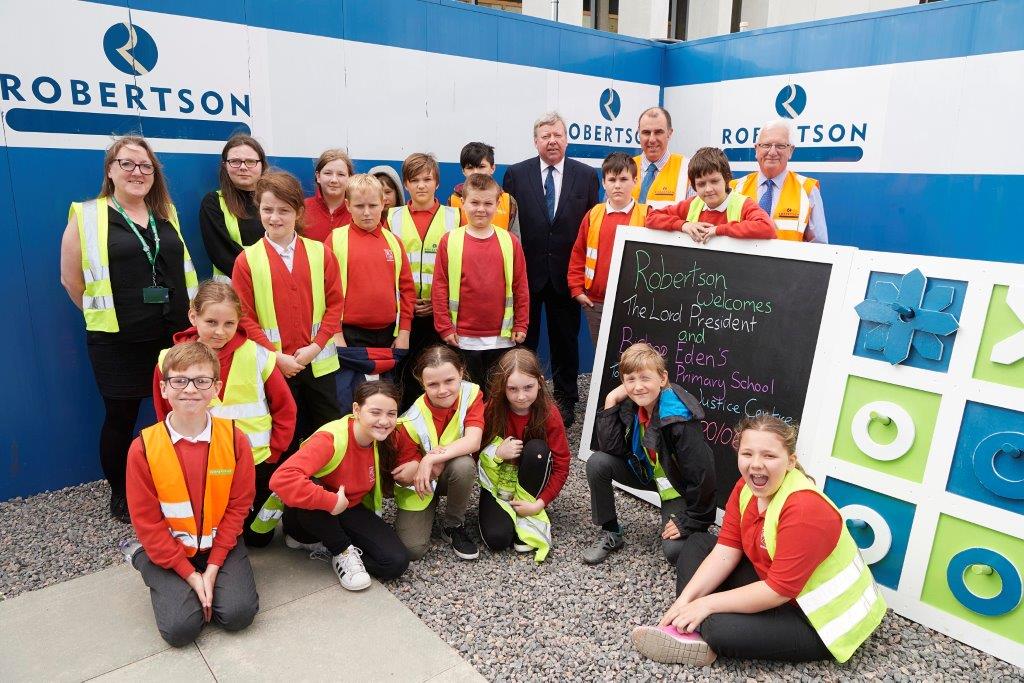 Pupils from the Bishop Eden's Primary School in Inverness had an interesting encounter with Scotland's most senior judge last week.
The children were visiting the new Inverness Justice Centre when they were introduced to a fellow visitor, Lord Carloway, the Lord President.
Having toured the site before construction started, this was Lord Carloway's first opportunity to see the centre taking shape. He was very interested to hear the views of the young visitors and to answer their questions about Scottish justice and the role of judges in Scotland.
The pupils have been visiting the site on a regular basis as guests of Robertson Construction to learn about the building; the construction, and the people and skills involved to deliver a project of this scale, so this was a great opportunity to understand more about the role of the Inverness Justice Centre and what it means for the community.
Lord Carloway said: "My first visit was to view this as a potential site for the Inverness Justice Centre so I am very happy to return and see this imposing building emerge. The building is impressive and you can see the thoughtful and accessible design taking shape. This will be the first purpose built Justice Centre in Scotland and will create new standards, incorporate digital services and offer a fresh approach to delivering justice in Scotland.
With the courts and tribunals, Crown Office and Procurator Fiscal Office, social work, NHS and other third sector organisations based in the centre it can provide a range of specialist services including support and advice to victims and witnesses as well as supporting a wide range of problem solving approaches to help reduce re-offending."
Frank Reid, managing director of construction company Robertson Northern, said "It was a proud moment for the Robertson team to welcome the Lord President to the Inverness Justice Centre. This building is intricate both in its design and architectural elements, and everyone involved has been meticulous in every aspect of their work on this project."