Lord Kerr defends role of judiciary in checking power of government
---

---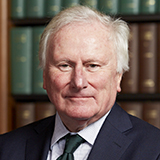 The last thing the UK needs is a government whose ministers exercise "unbridled power", a former Supreme Court justice has said.
Speaking to The Guardian, Lord Kerr of Tonaghmore, who retired from the bench last month, criticised recent comments from the Home Secretary Priti Patel and Prime Minister Boris Johnson that described lawyers as "activists".
Lord Kerr said they were in fact "re-activists".
He added: "People bring problems to lawyers and lawyers decide whether they can be fitted into some sort of legal framework in which a legitimate challenge can be taken."
"I can understand the government is less than pleased when challenges are made to decisions they have taken frequently after very considerable deliberations … But it doesn't seem to me that attacking lawyers who provide the services that allow those challenges to be made … is particularly profitable."
He said that ministers might be "irritated by legal challenges which may appear to them to be frivolous or misconceived" but, he added, "if we are operating a healthy democracy what the judiciary provides is a vouching or checking mechanism for the validity [of] laws that Parliament has enacted or the appropriate international treaties to which we have subscribed … The last thing we want is for government to have access to unbridled power."
"Parliament is certainly sovereign … When the government acts in excess of the powers [parliament] has decided, it's entirely healthy and entirely appropriate that there be some institution to point this out."
The peer said he "fully agreed" with the recent comments of the court's former president, Lord Neuberger, who warned of a slippery slope towards tyranny.